One of the primary values of Feathr Invites is as a lead retrieval source. When your partners share their Invites collateral, their own audience interacts with it and the collateral can collect leads both passively and actively. This article provides an overview of how to collect partner leads from Invites and where those leads are reported.
What is a Lead?
In Feathr Invites, a lead is defined as anyone who both interacts with Invites collateral and has a known name and email address in your Feathr database. The idea behind this definition is that anyone who views an Invites page, open an Invites email, or sees an Invites banner could be worth contacting for followup, and having at least an email address makes contact possible.
Because the Feathr Super Pixel is automatically embedded into all Invites collateral, Feathr natively tracks interactions with the collateral. Associating names and email addresses with Invites collateral interactions works in a few different ways: via Super Pixel-enabled links in an email, via direct contact import, and via form submission where leads volunteer their information.
Therefore, anyone whose name and email have been collected in your Feathr database and interacts with Invites collateral is reported as a lead. Leads can be viewed by you, the Feathr user, as well as shared with your Invites partners.
Where can I see partner lead stats & status?
As the Feathr user, you can always view and export all partner leads directly from the Invites report.
You can also view partner lead stats in an Invites campaign report under the Partner Stats table: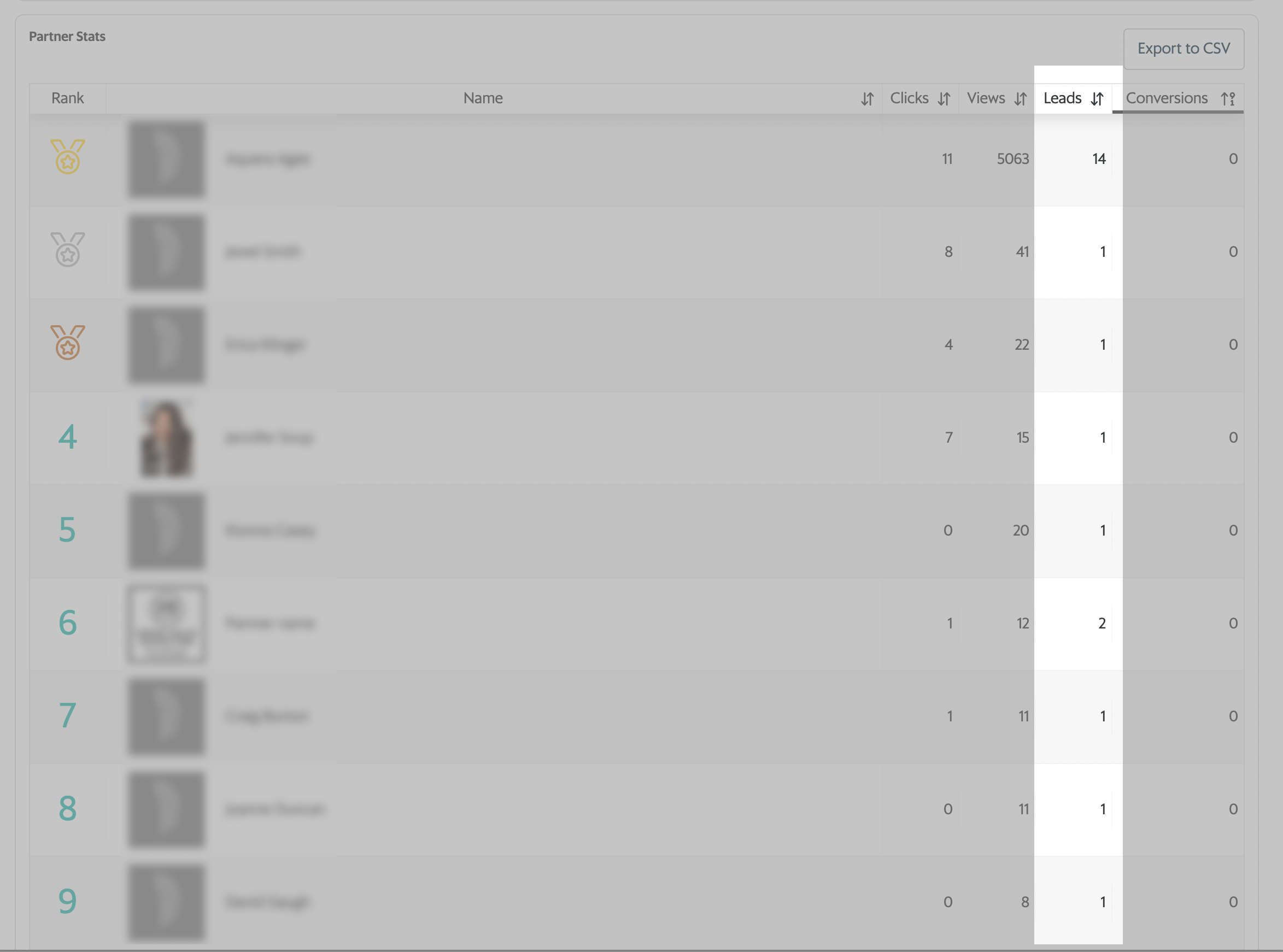 as well as a table of overall lead generation stats for your partners in the Invites campaign:

There are also two locations to view partners that have earned the status of "generating leads" (this is any partner whose Invites collateral has captured data from at least one lead, as defined above).
Under the Partners tab in an Invites campaign, you can view lead generation status in the partner funnel:

You can also sort by lead generation status in the Partners menu of a Project (screenshot blurred to protect personal information):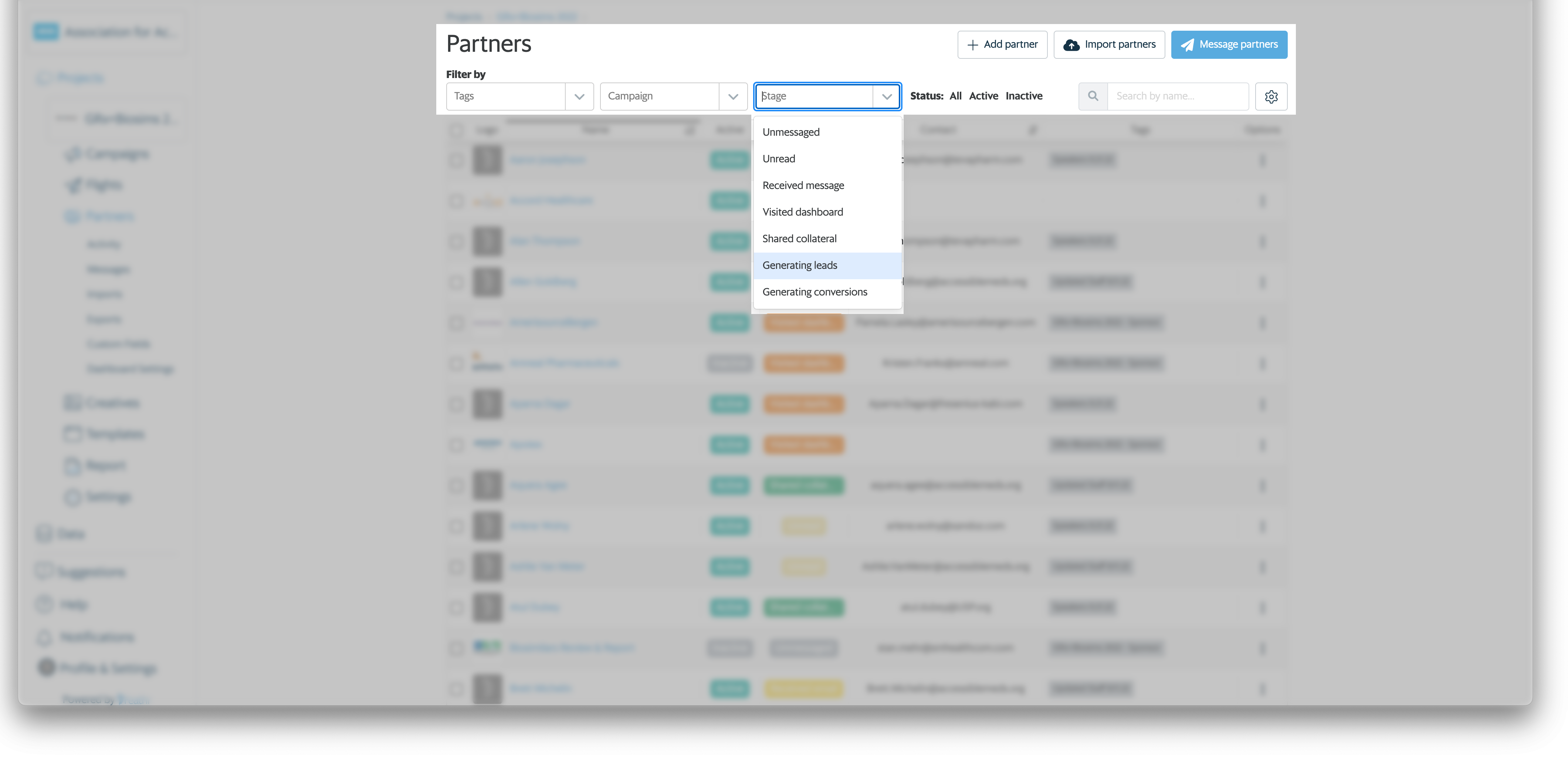 Where can my partners see their leads?
The primary location where partners can access any leads their collateral has generated is in their partner dashboard, under the menu tile See My Leads.
Note: you must enable leads in your partner dashboard settings before linking your partners to their dashboard. This is done in the Partners left side menu, under dashboard settings. Check the box titled show partner leads tile.

Additionally, you may include smart leads reporting in your partner message templates using the merge tags PARTNER_LEADS and PARTNER_LEADS_URL.
PARTNER_LEADS displays the current number of leads that partner's collateral has generated, and PARTNER_LEADS_URL provides a direct link to download a .csv spreadsheet of the leads' contact info.
Using partner leads
The value of leads to your partners is clear: it provides them direct information about who is interacting with their Invites collateral, as well as contact info to reach out to those people.
As the Feathr user, partner leads are also captured in your own people records, allowing you to continue to market to them as well. Additionally, reporting leads to your partners is itself a form of ROI for your Invites collateral. A partner that is generating leads by sharing their collateral will continue to share it, and likely be more ready and willing to share next year, too.