Effective display ads can create more brand awareness, drive traffic to your website, and earn conversions. The individual image files used in any display ad campaign are called creatives.
The first step in designing your creatives is to understand your organization's brand guidelines. It is important that your ads match your branding so your audience makes an immediate connection to your brand upon seeing your ads. If you do not have brand guidelines, start by compiling and reviewing any recent graphic assets to decide how to present a cohesive look in your ads. Always use consistent logos, typefaces, and brand color palettes.
The Four Elements of Effective Creatives
1. Logo
Your company logo should almost always be included in ad creatives. It should be clearly visible but less dominant than the value proposition or the call to action. If your logo is primarily text, be mindful about how much additional text you add in the body of the ad. It may seem counter-intuitive, but effective ad creatives frequently have little text in them.
The logo should have a transparent background so you can place it on a colorful background or image. PNG files allow your logo to have a transparent background as long as it is derived from the logo created from a vector based software file type such as AI, EPS or SVG.
Logos stand out more when they are contrasted on backgrounds of a complementary color or a shade that is much darker or lighter than the logo itself.
Logos that have a lot of small text as part of the name need even greater contrast to make sure the smaller text is visible. Display ads are very small images, and small text can disappear easily.
2. Imagery
This is where you can get creative, but there are some guidelines that will help your campaigns attract more clicks. The first is to always make your creatives eye-catching. Bright colors perform better than dull colors. Smiling faces are one of the quickest ways to attract eyes on your ads, so compile some photos from your most recent conference or event—just make sure you have permission to use them commercially. Stock photos work too, but are easier for your audience to identify and therefore ignore.
Graphics and illustrations are another great option. Just make sure they are at the correct scale and show crisp lines. Similarly to the logo, graphics and illustrations look best when they are first created as vector images and exported as .PNG files for addition to your creatives.
3. Copy/Value Proposition
Write your copy to showcase the value you are presenting and call attention to itself with attractive offers and prices. The value proposition should take up the most space visually and should pull the viewer in immediately. Make it succinct and always use action-packed language. Keeping your ad copy below 75 characters is a good guideline to follow.
Answer these questions when writing ad copy: what action do you want the viewer to take? What is the primary goal of your message? Who is your audience for this campaign? Are they "warm" or "cold" prospects. Your value proposition must complement the goals and match the audience of the campaign. Below are a few examples:
General Message Campaigns are to get the viewers attention and bring awareness to your campaign, so keep the copy simple and focused on very basic info like name of event, date and location. A "learn more" CTA button is also appropriate for this type of campaign.
Registration Drop-out Campaigns are more aggressive and are there to create a sense of urgency for the viewer. Using value propositions like "forget something?" or "finish what you started" with a CTA button directing them to register is good for this type of ad campaign.
Special Features Campaigns give more detail about a special feature that is happening at your event. Maybe it is something like a keynote speaker, specific workshop, networking session.
If highlighting a speaker, include a headshot and a small amount of biographical information (title/position is usually sufficient) about the speaker in addition to your event's logo and date.
A CTA button that says "Register now" can incite action to tell the viewer to take the next step towards registration and learn more about the speaker / event feature.
4. Call to Action
A call to action (CTA) is usually a strongly-worded request that encourages (let's be honest, commands) your audience to perform the action your campaign is intended to influence. It should be terse and feature active language. One of the most common ways to include a persuasive CTA is in the form of a graphic "button."
CTA buttons are optional in your design, but are an industry standard due to their performance. Some guidelines and tips on buttons:
Buttons can increase the click-through rate (CTR) of your ad by functioning as a visual focal point. Although the button itself does not function any differently than the rest of the ad (clicking outside the button does the same thing as clicking inside it), it exploits the innate human desire to press buttons.

Place the button in a position where the eye will naturally conclude its view of your ad. More on this under tips for sizing below.

Keep the color bright and contrasting with background and the rest of the ad content, so a viewer's eyes gravitate towards the button.

Be sure to allow enough padding between the button text and the button edges to maintain a balanced aesthetic.



Technical Guidance
Most common display ad sizes (measured in pixels, WxH)
300×250px - Medium Rectangle (Mobile-Friendly)
728×90px - Leaderboard (Mobile-Friendly)
160x600px - Skyscraper (Desktop Only)
For the full list of sizes and specs Feathr supports, read the Ad Creative Specifications article.
Tips for Sizing
Designing for multiple sizes can be an engineering challenge. Each ad should have the same look and feel, but information may need to be presented differently to work with the dimensions of your ad. The visual hierarchy of each ad should have a natural flow for the eye to follow quickly and easily.
300X250: The viewer reads top to bottom and left to right. Information can be visually communicated in both ways and with a combination of both. CTA button is in the bottom right.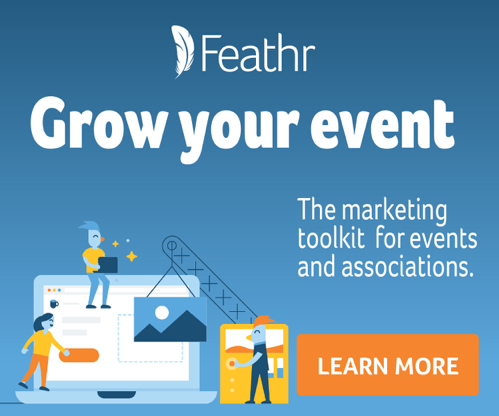 160x600: If you have a logo that is stacked vertically, this is a great place to use it! Information should be presented from top to bottom to work with the dimensions of the ad. You will likely find that you have more room for photos or larger text. Try not to leave too much negative space between elements. CTA button is centered on the bottom.


728x90: Information should be presented from from left to right to follow how the eye naturally reads and because of the wide ad dimensions. CTA button is on the far right.

Note: image resolution (measured in DPI or PPI) is not crucial, since web images only read pixel count. 72 DPI is considered native screen resolution and is a good standard to not go below, but your ads are likely to look the same whether they are exported at 72 DPI or 300 DPI. Find what works best for your (or your designer's) workflow and stick to it.
Example Creatives
Analysis of some good examples:

Logo is visible but not dominant
Copy is succinct and highly legible
CTA is in the correct placement and a contrasting brand color.
Background image is eye-catching but allows CTA to be focal point
Character count is <75

Logo is visible and legible against the background
Value proposition is the most dominant feature
Value proposition subtext, though small, is still legible
CTA contrasts with the background.
Character count is <75

Logo is clear against contrasting background.
Value proposition is dominant and highly legible
Value proposition sub text uses active language.
Background image is attractive but not dominant.
Character count is <75
Analysis of some not-so-good examples

Logo has a white background, probably from being the wrong file type.

Value proposition is too close to the edge. Needs margins between the text and sides.

CTA button is not a contrasting color. It does not stand out and its placement does not flow with the eye.

Logo is too dominant and close to the image.

Value proposition is difficult to read.

Value proposition subtext is too small.

CTA button color does not stand out.

Logo is stretched and in place of the CTA button.

Value proposition is too close to the edge. Needs margins between the text and sides.

CTA color and placement are not visible.






Real Life Examples
Here are examples of successful ad creatives real Feathr customers have been generous enough to share with the greater Feathr community. Do not plagiarize them, but feel free to draw inspiration from their layouts and content.
Downloadable PDF of more real examples (8MB)