Alt-text (alternative text) allows your ad creatives to be read by screen readers and increases the accessibility of your ads. These short image descriptions provide details about the ad and prompt your call to action.
How to add alt-text to creatives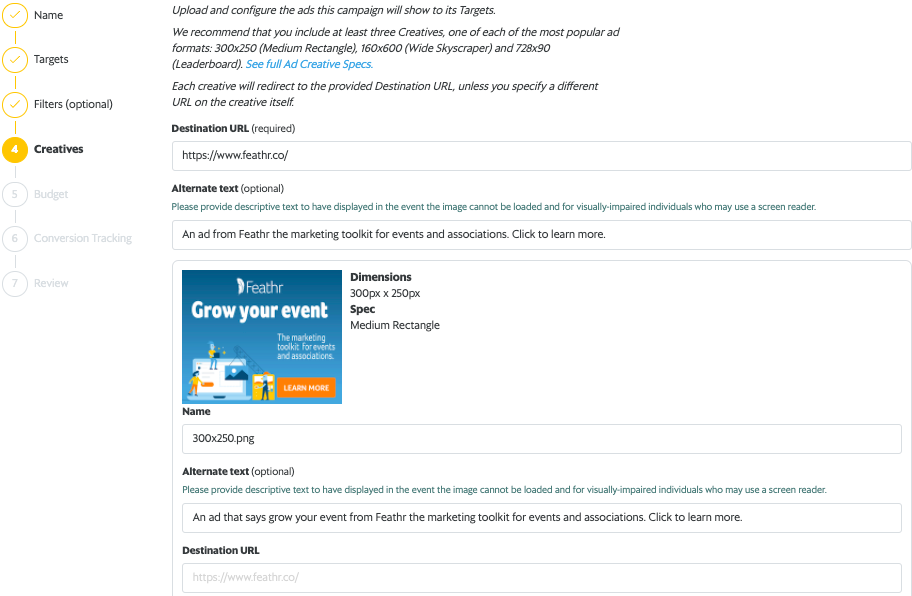 Navigate to the Creatives step of a campaign

Add image description in the alt-text field. This will automatically apply to all creatives included in the campaign

Once creatives are added, specify unique alt-text for each creative, if needed
Best practices
Keep it short and descriptive. Limit description to 125 characters, since most screen readers will stop reading longer alt text

Do

begin with "ad" or "advertisement"

Don't

add "image of" or "picture of"

Focus on the call to action
Examples of good alt-text:
Ad featuring an exhibitor booth at an event. Click here to register for FeathrCon 2021.
Advertisement: Simplify your marketing to save time, money, and increase ROI with Feathr. Click to learn more.
Learn more:
Harvard's digital accessibility site has more tips for writing good alt-text.
The Web Accessibility Initiative has guidelines for web content accessibility.