Smart Send Email Campaigns offer all the same functionality of Single Send Campaigns, but they add behavior-based triggered sends that will ensure your message gets to the right person at the right time. This article walks through the Single Send campaign wizard. Before you can launch a campaign, you'll need to create a segmented audience based on email address. Learn how to import email data in this article.
Create a Smart Send campaign
1. Click '+Add Campaign' from the Campaign table or from a Flight
2. Select Smart Send Campaign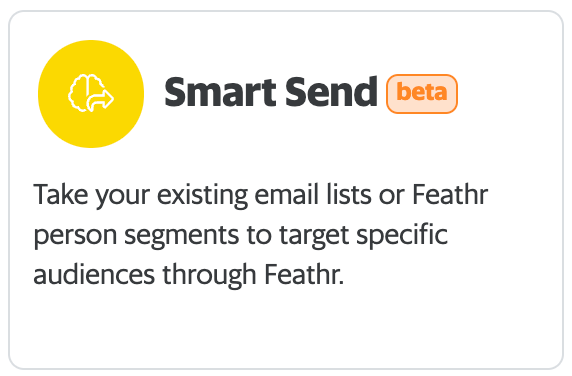 3. Give the campaign a descriptive Name.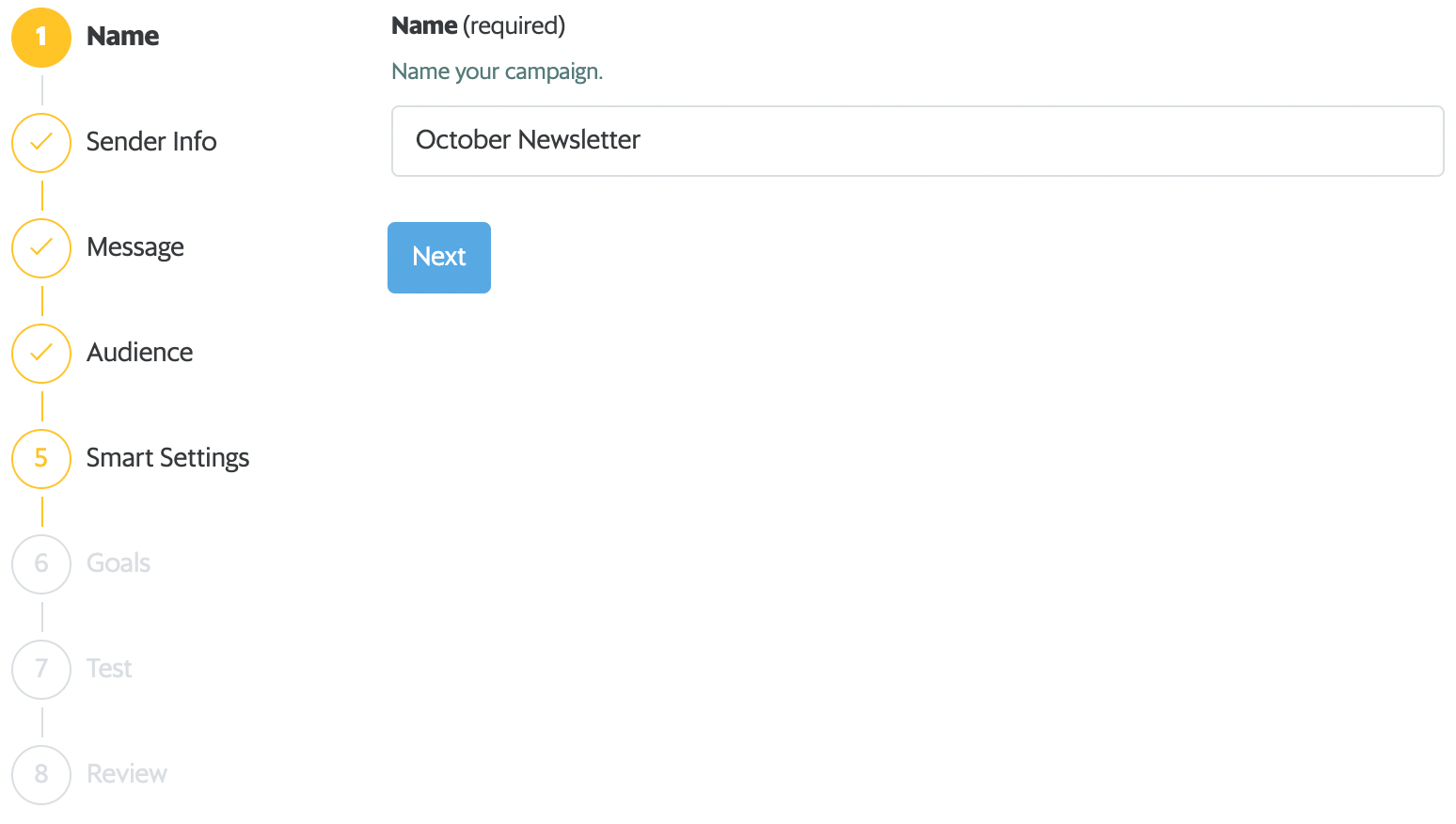 4. Add a verified Email Address to send the email message from. If your email address has not yet been verified, follow the simple prompts or refer to this article. Complete the Sender Info, which will be automatically included at the bottom of each email.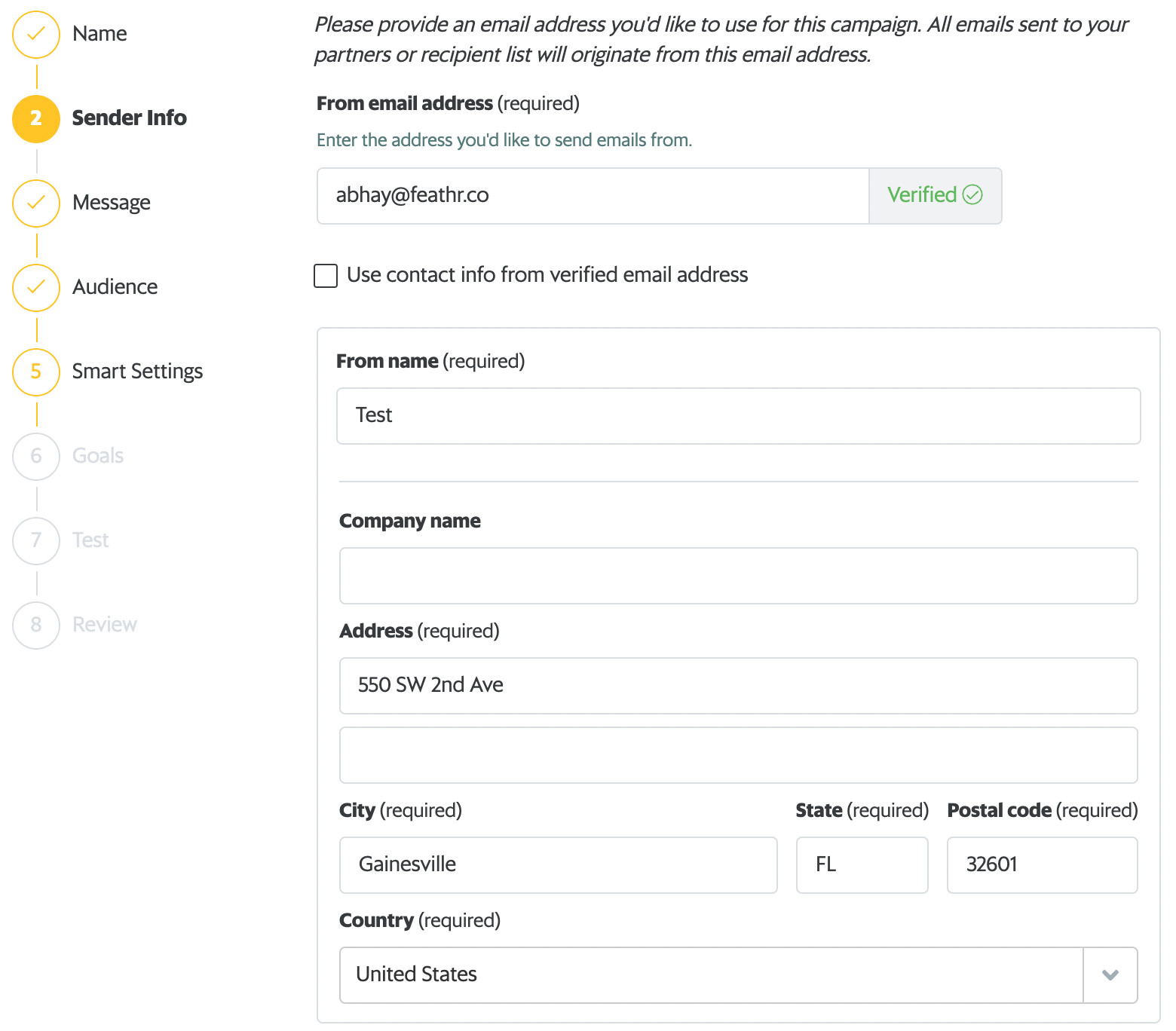 5. Add a Subject Line and Template. You may also choose preview text, which displays along with the subject line in many email clients. This will make up the content of your email. Read how to create a template here.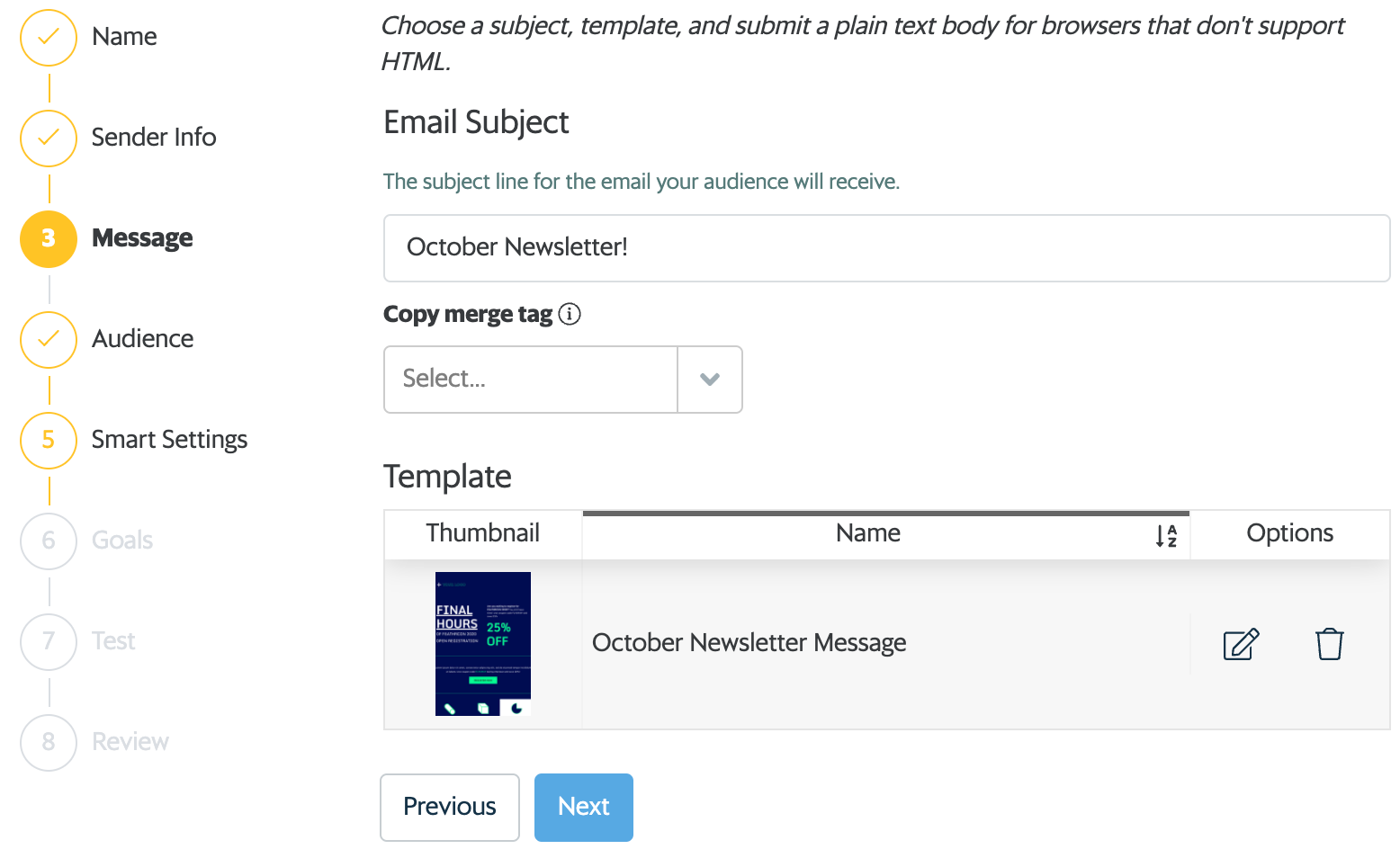 6. Select your Audience. Your audience for an email campaign is the list of contacts you want to email. In any Feathr email campaign, you can choose Groups and/or import a contact list directly. A Group is a set of your total audience either 1) filtered by behavior(s) your Super Pixel has tracked, or 2) a previous contact list import. Read more about Groups here.
You may also import a contact list in the Audience step of the campaign wizard. Read more about importing contacts here.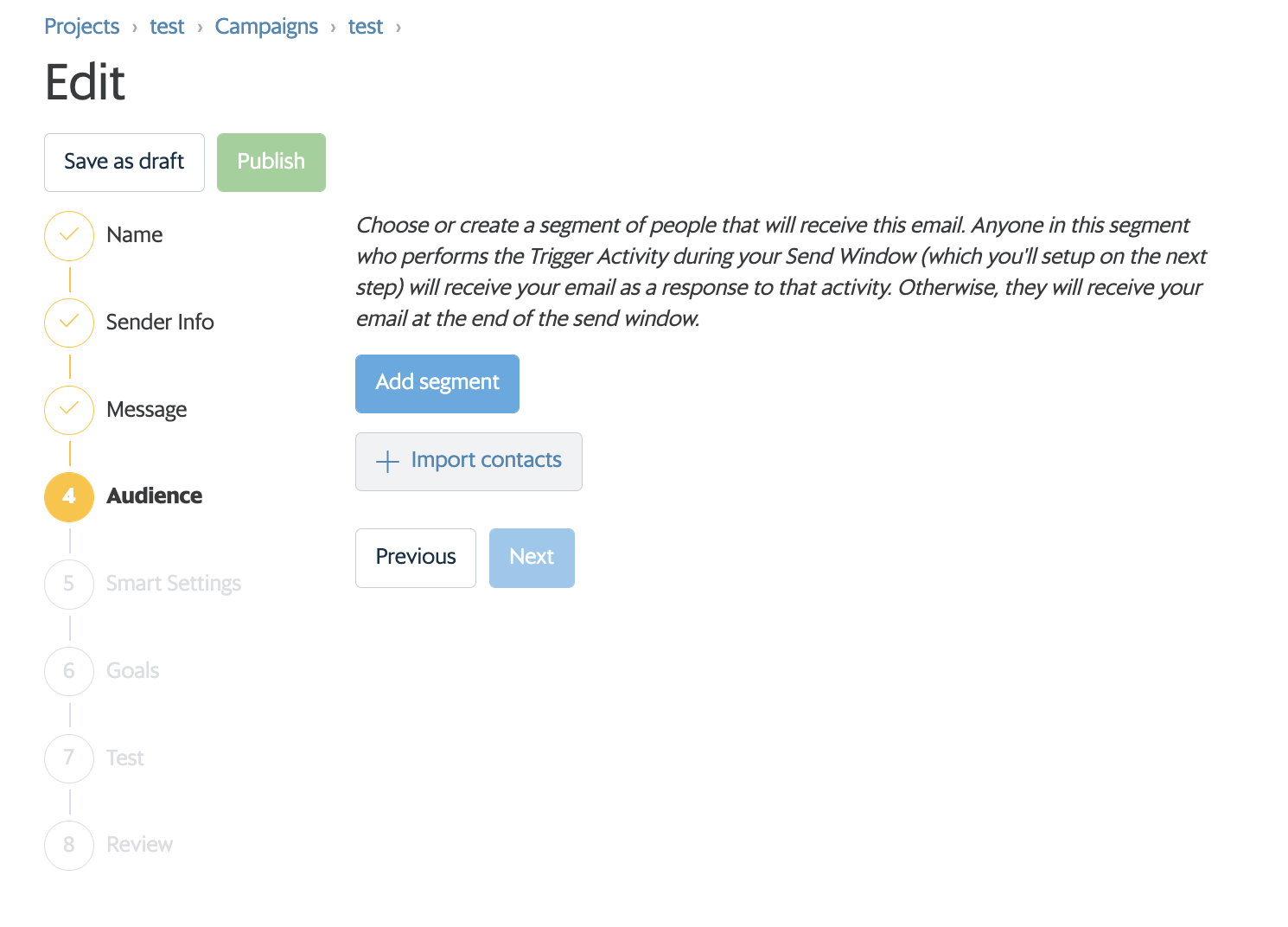 While considering your audience, understand that email campaigns sent through Feathr will automatically exclude certain groups of contacts. These are people who have:
Previously hard bounced (couldn't receive a previous email from the Feathr user because of a permanent issue, like their email address being invalid or expired, or because of the email recipient's server blocking the message)
Marked any previous email as spam
Soft bounced 5 times (couldn't receive a previous email because of some temporary issue like the recipient's mailbox being full, improperly configured, or not able to process the email because of it being too large)
This will improve the deliverability and long term-performance of email campaigns by ensuring that "low quality" contacts do not get sent emails.
7. Customize the Smart Settings activities to trigger an email send. Need some inspiration for your first Smart Send campaign strategy? Check out our blog post for ideas and examples!
Trigger activities include both activities (tracked online behavior) and attributes (data collected about your web audience). Activities and attributes cannot be combined in a single campaign.
Be aware that email trigger filters work differently than Group filters. When combining triggers in an email campaign, Feathr searches only within a single breadcrumb (an individual piece of data, represented in a person record as a single grey box in the Activity Feed), rather than an entire person record (all known data about a visitor). Therefore, we recommending using the "any" logic in email triggers, since it is unlikely more than one meaningful trigger will appear in the same individual breadcrumb.
Triggers based on attributes will not send email to anyone whose person record already contains the trigger data. Emails will only be sent when someone's attribute changes to the identified trigger.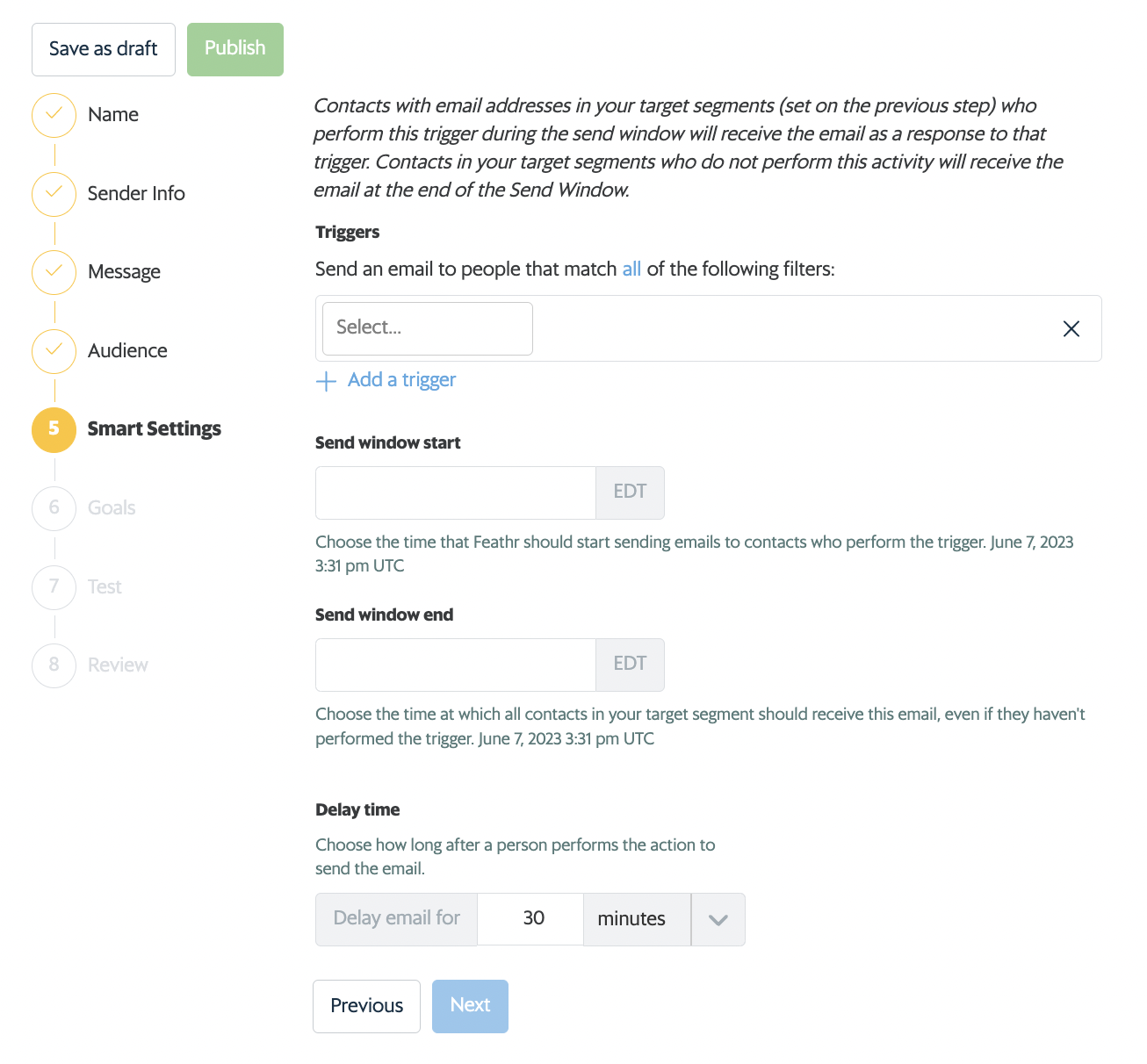 8. Chose conversion tracking mode. Read more about goals and conversion tracking here.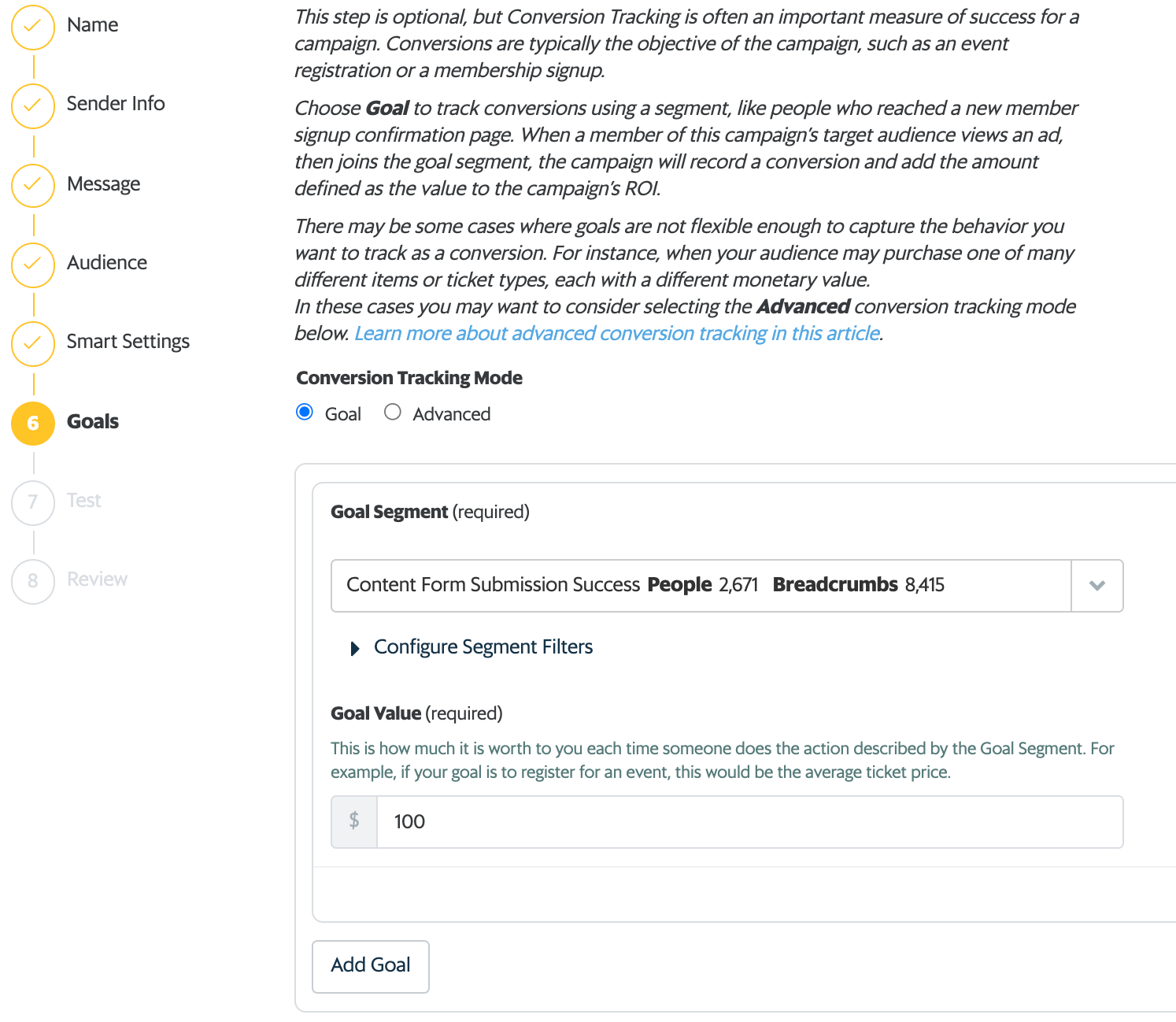 9. Test that your email campaign works and looks as expected. It will take 5-10 minutes to arrive.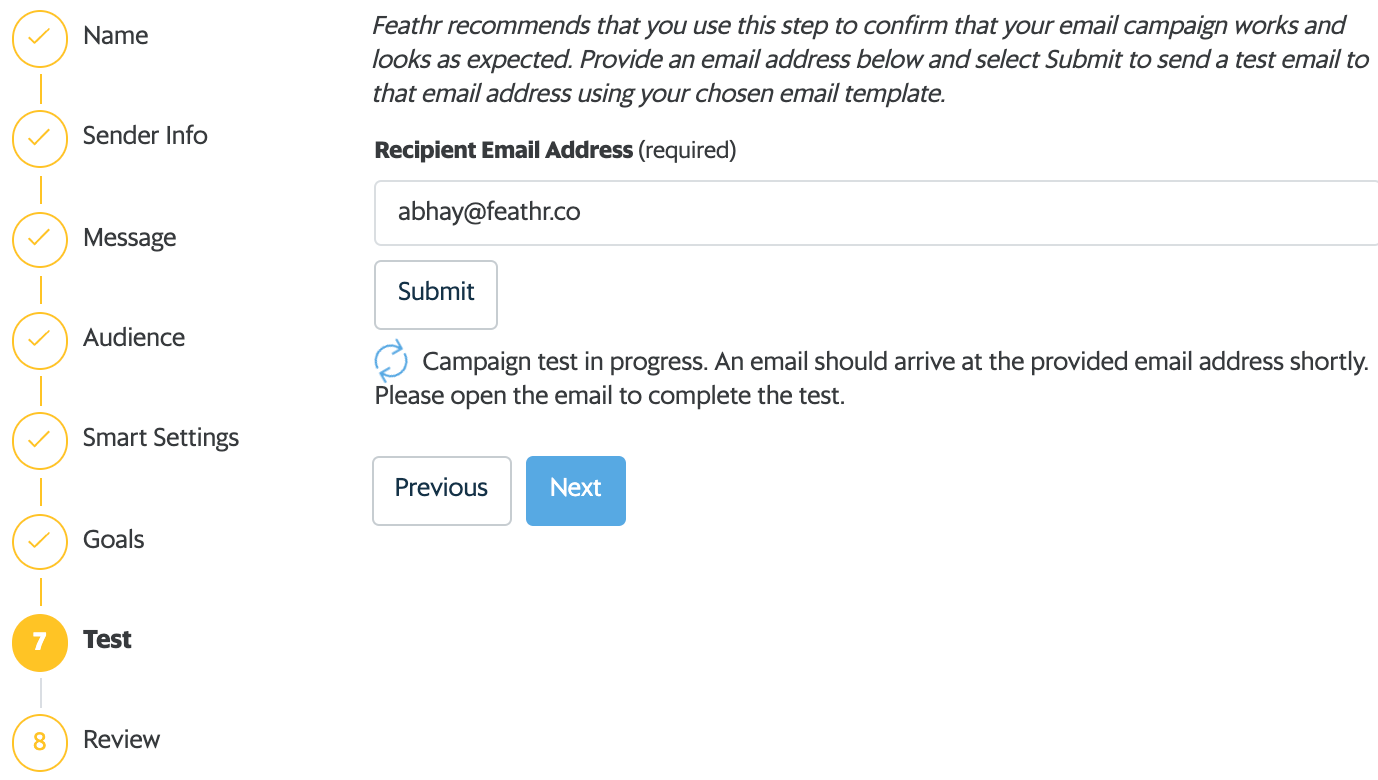 10. Review your campaign details and Publish.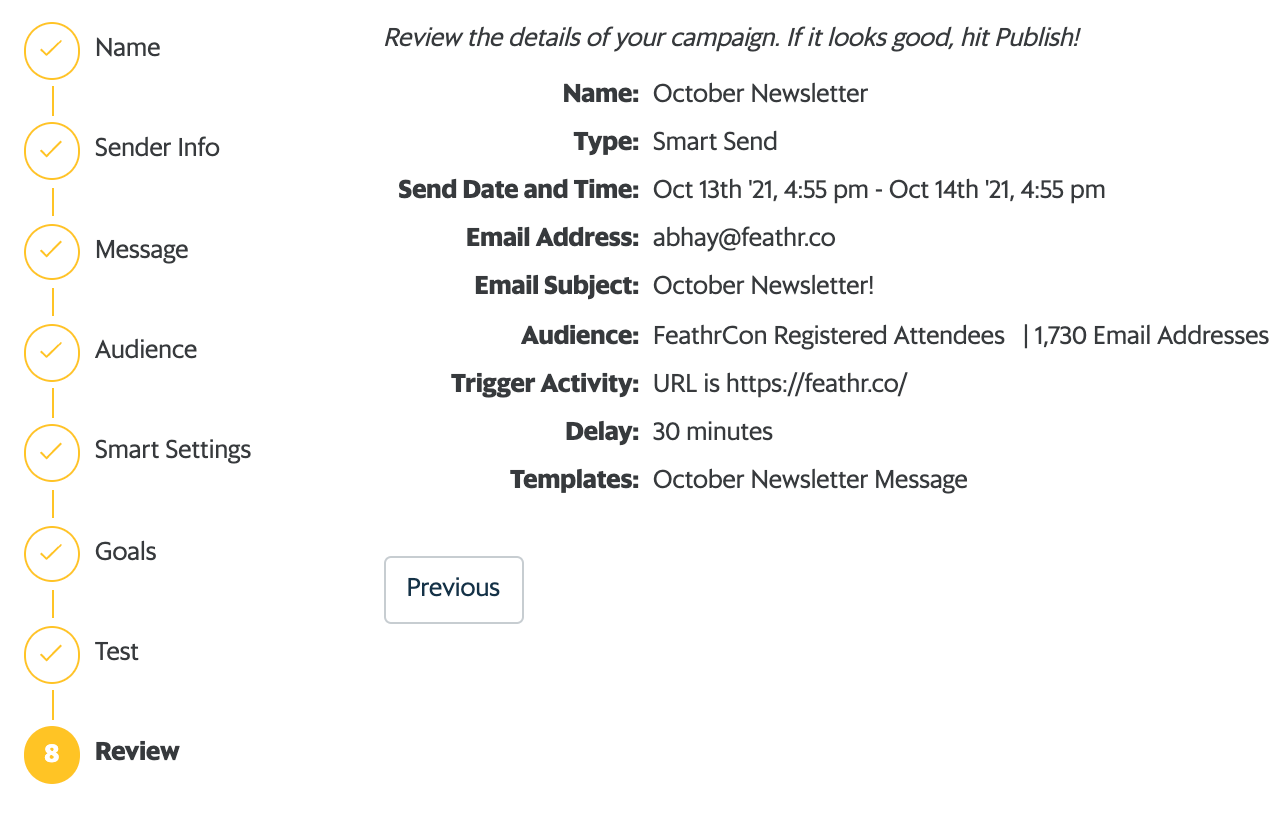 Common Questions
Does Feathr include my contact information and unsubscribe link at the bottom of each email, and how do I edit?
The contact information from the campaign Sender Info, along with a link to update email preferences is automatically included at the bottom of each email. Send a test email to yourself from Step 6 of the campaign wizard to preview the text (it will not appear in the template Preview).

Learn more about customizing your unsubscribe options in this article.