Feathr's Email Campaign reports display the metrics of your campaign. If you've run ad campaigns in Feathr before, you'll find that the reporting looks similar, but with a few key differences specific to email. Read on to learn all about understanding Email Campaign reports.
Accessing Your Report
Once you've published your Email Campaign, you'll be able to access its report. To do so, navigate to Projects, choose the Project where you published your Email Campaign, and click on the Email Campaign's name. This will take you straight to the report once the campaign has been published.
Reading Your Report
In the report, there is a box for every category of information, with data about each. For in-app definitions of each category, hover over the question mark icons in your report, or continue reading for full definitions.
Below is a screenshot of an Email Campaign report. Note the categories of information across the top, as well as the color-coded chronological activity graph.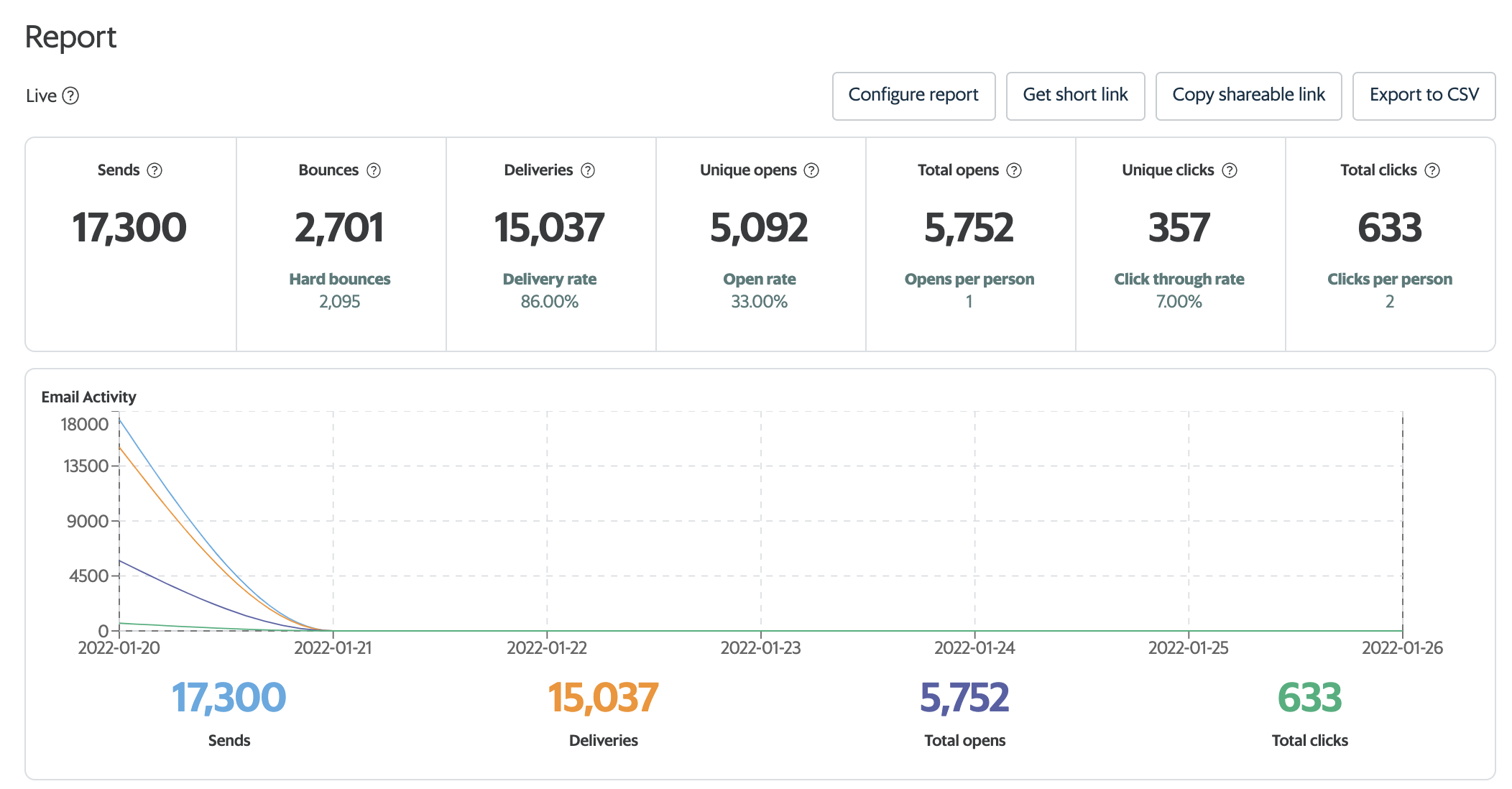 Sends
The number of people this email was sent to
Bounces
The number of people who did not receive your email due to a hard or soft bounce
Deliveries
The number of people who successful received your email
Unique opens
The total number of people who have opened this email
Total Opens
The total number of times this email has been opened. Includes multiple opens by the same person
Unique clicks
The total number of people who clicked on a link in this email
Total clicks
The total number of times that links in this email have been clicked. Includes multiple clicks by the same person
Important note: Email Campaign reporting was updated to include some new metrics as of January 26, 2022. Email Campaigns published before that date are unable to display the new metrics.
Conversions
If your Campaign included a trackable conversion goal, your report will also display a conversions table, listing each conversion by individual. Read more about conversions here.
Personally identifiable information for each may or may not be available, depending on how you've set up your Feathr account and what information each individual has volunteered to your organization. Read more about privacy here.

Daily Stats
Your report also features a convenient daily stats table for quick reference on your campaign's performance over each 24-hour period it is live. Note that there is no data for budget expenditure metrics because email campaigns do not require media budget.