Search Keyword Campaigns are a simple way to quickly connect you with new prospects, grow your web traffic, and add to your retargetable audiences. Read below for some best practices when setting one up.
Budget
Any campaign budget depends on several factors, including audience size, campaign length, and desired number of impressions per person.
Unfortunately, with a Search Keyword campaign, you do not know the number of people you will be advertising to, as you are targeting future search activity. People are only added to your Search Keyword audience after performing a web search for one or more of the words and phrases you've chosen to target.
Tools like Google's Keyword Planner and SEMrush can help you estimate search volume for the terms you'd like to target, but they are not always accurate.
We recommend budgeting at least $100 per month for any Search Keyword campaign you run. It is important to keep an eye on how the campaign is doing on at least a weekly basis. Live campaign reporting will provide you with insights that will help you make budget adjustments on the fly if necessary.
Campaign Length
When choosing how long to run your campaign, first consider what you're promoting. It is ideal for your campaign length to correlate to the marketing message or offer your campaign is promoting. For example, it wouldn't make much sense to run a campaign promoting earlybird pricing beyond the price increase deadline. Let your overall marketing strategy inform your campaign length, and be specific with your offer and your calls to action.
If you choose to run a campaign that is not tied to a specific marketing deadline, and perhaps is only intended to increase awareness, consider your budget and your audience's attention span. Studies show that it takes 17-20 impressions per month for a marketing message to "stick," so consider running Search Keyword campaigns for one month, with enough budget to serve that many impressions to your target audience.
Audience
The audience for a Search Keyword campaign consists of any cookie-able people whose search activity on a wide collection of search engines matches the search terms you've selected as your target. The idea behind a Search Keyword audience is that anyone searching for the terms you've targeted could be a good prospect for what you're advertising, and furthermore may have never even heard of your organization before.
Because of this, it is important to be as specific and targeted as possible when choosing which keywords to target. Read this article for a more detailed look at how to generate a successful Search Keyword list.
To upload a list of search keyword targets in Feathr, simply make a single-column .csv file with no header containing the list of search terms you intend to target.
Read this article for more about generating and formatting your list. It will end up looking something like this: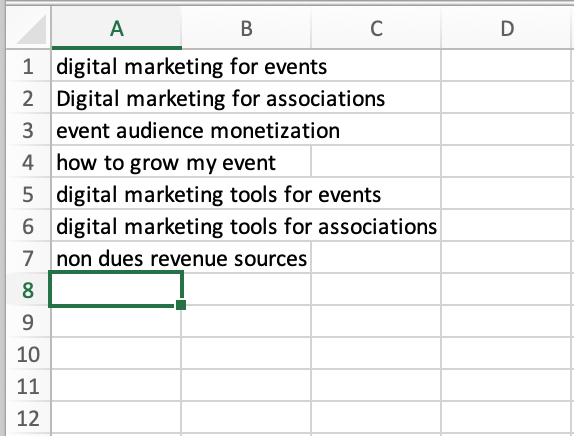 Geographic Filters
Because Search Keyword campaigns tend to have larger audiences than other Feathr campaign types (there's a whole lot of people searching for stuff on the web), consider a tight geographical filter for your campaigns.
Include only the countries, states, or regions where you already know you get good engagement for your organization. That will keep impression counts reasonable and not waste budget advertising to prospects that are too far away to be valuable members of your audience.
Creatives
Your ad creatives should be eye-catching, simple, and contain a direct call to action, such as "register now" or "sign up today."
For simplicity's sake, limit the content of your creatives to a few essential elements: a strong, branded visual, a bold headline, and a specific call to action. It's important to remain on brand with every element of your creative image because you want your audience to instantly recognize your brand.
If you can, create at least one of each of these sizes:
300 x 250

728 x 90

160 x 600

180 x 150
These are the most commonly available ad dimensions across the web and will serve the most impressions in your campaign. For more supported creative sizes, click here.
Your first set of creatives should be the same or a very similar message, even across different sizes. If you have the bandwidth, try creating another set of creatives with swapped colors or an alternate call to action. You can upload more than one creative of any size and Feathr will serve them at an equal ratio. As your campaign runs, keep an eye on how each creative is performing and add more or disable some accordingly.
If you're running a long campaign, consider swapping out all new creatives halfway through, in order to avoid the dreaded "banner blindness" effect.
Goals
A goal is what you tell Feathr to define as a conversion for your campaign. Read more about Goals here. In the Goals section of Feathr's campaign creation wizard, it will ask for a goal segment to be connected to the campaign. This is a segment you would like to see grow as a result of the campaign. As the campaign influences people to perform the goal activity, the segment will grow and each person added will be counted as a conversion and included in your campaign report.
Most often, the segment connected here would be your segment of confirmed registered attendees or members. It could also be exhibitors, sponsors, or other partners, as long as there is a fully digital way for them to sign up. If your registration and/or member databases are managed by a third party vendor, talk to your onboarding specialist or your customer success manager about the best way to track this data in Feathr. It may involve placing the Feathr Super Pixel or Google Tag Manager with your vendor.
Once that data can be tracked accurately, it is only a matter of building a segment of people who have completed a registration and adding that segment as a goal in your campaign.