When using Feathr's email marketing tools, your sender address must be verified before any emails can be sent through Feathr. There are two options for verifying your email address: verifying each address one at a time, or by connecting your organization's domain to your Feathr account. In this article you will learn how to connect your email sending domain and why it is a preferable option.
Quick-Start Steps (scroll for detailed instructions)
Log in to Feathr and navigate to Profile & Settings > Account Settings > Domains.
Click '+ Add New Domain.'
Follow the prompts in the Domain Wizard.
In the domains table, click 'Save records' to download domain records in .csv format.
Paste those records in the appropriate places in your domain registrar.
Wait for domain to show as ready in domains table (~24 hours).
Why Add an Email Sending Domain
Adding an email sending domain immediately pre-verifies any email address belonging to your domain as an authorized sender in Feathr. This saves time in future campaigns, especially when more than one marketer at your organization is using Feathr.
Additionally, adding your email sending domain enables DMARC protection, an industry-standard security measure for email validation designed to protect your organization from email spoofers and spammers who might try to illicitly use your domain.
Because of the above reasons, we strongly urge Feathr customers to go through the simple steps to add their custom email sending domain.
How to Add an Email Sending Domain
Connecting your email sending domain to Feathr is easy and does not require technical expertise, but does require access to whichever domain registrar your organization uses. We cannot provide support information for every domain registrar platform, but the general steps are the same for each, and it's mostly the location within individual registrars that differs. If you have an IT department, either ask them for secure access to your domain registrar or send them the .csv files that Feathr provides for you (more on this below).
Unfamiliar with domain registrars? Click here to find out more.
There are two custom domain options in Feathr: adding a content serving domain (which places any webpage you create in Feathr on your own domain rather than at l.feathr.co), and an email sending domain. This article focuses on email sending domains. Read about content serving domains here.
Start by logging into Feathr and navigating to the bottom left menu where you will see Profile & Settings. Click it and then click Domains that displays in the sub-menu. Once you click, your screen will look like this (if you haven't previously added any custom domains):

Next, select + Add new domain in the top right. This will bring you to the Domain Wizard:

Enter your organization's root domain, omitting the "https://www." You will enter a subdomain in the next step.

In the second step (above), Feathr will automatically create a subdomain for you. This automated process ensures that your domain settings will work. Advanced users or users with a strong opinion about what their content serving subdomain name will be may click the lock and change the subdomain to a different name.
The third step repeats the same process for your email sending domain. Feathr creates one automatically. But like in the previous step, you may override the automatic domain settings and create your own.

The last step of the Domain Wizard is to review your settings and then click Add domain.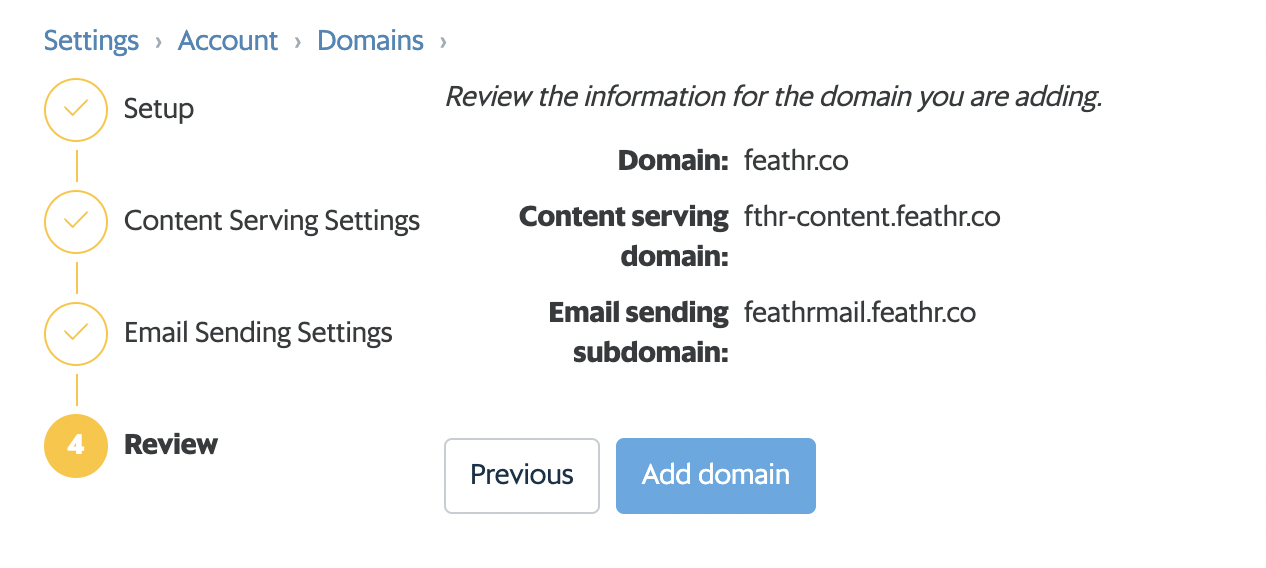 Create a name for your content serving domain. It is important that you create a content hosting domain that follows the following format:
something.yourcompany.com (do not use www)
For example, in the screenshot above, the content serving domain is pages.feathr.live and not just feathr.live. The reason you have to add the additional name is so any pages you create in Feathr do not conflict with pages on your organization's root domain. The name you choose to put in front of the root domain should not be anything that already exists on your website; you are creating a new sub-domain with this step, and it will be used only to host pages you build and publish in Feathr. It can have any name—pages, content, etc. Your choice.
The email sending domain, on the other hand, should be whatever domain your organization uses for its email addresses. So if your email address is yourname@yourcompany.com, enter yourcompany.com in this field.
The MX record in the next field is static. Do not change it—you'll need to refer to it later. Once you've added your two domain names, select Next.
NOTE: If you or a previous user has already set up a content serving domain, your wizard might look like this: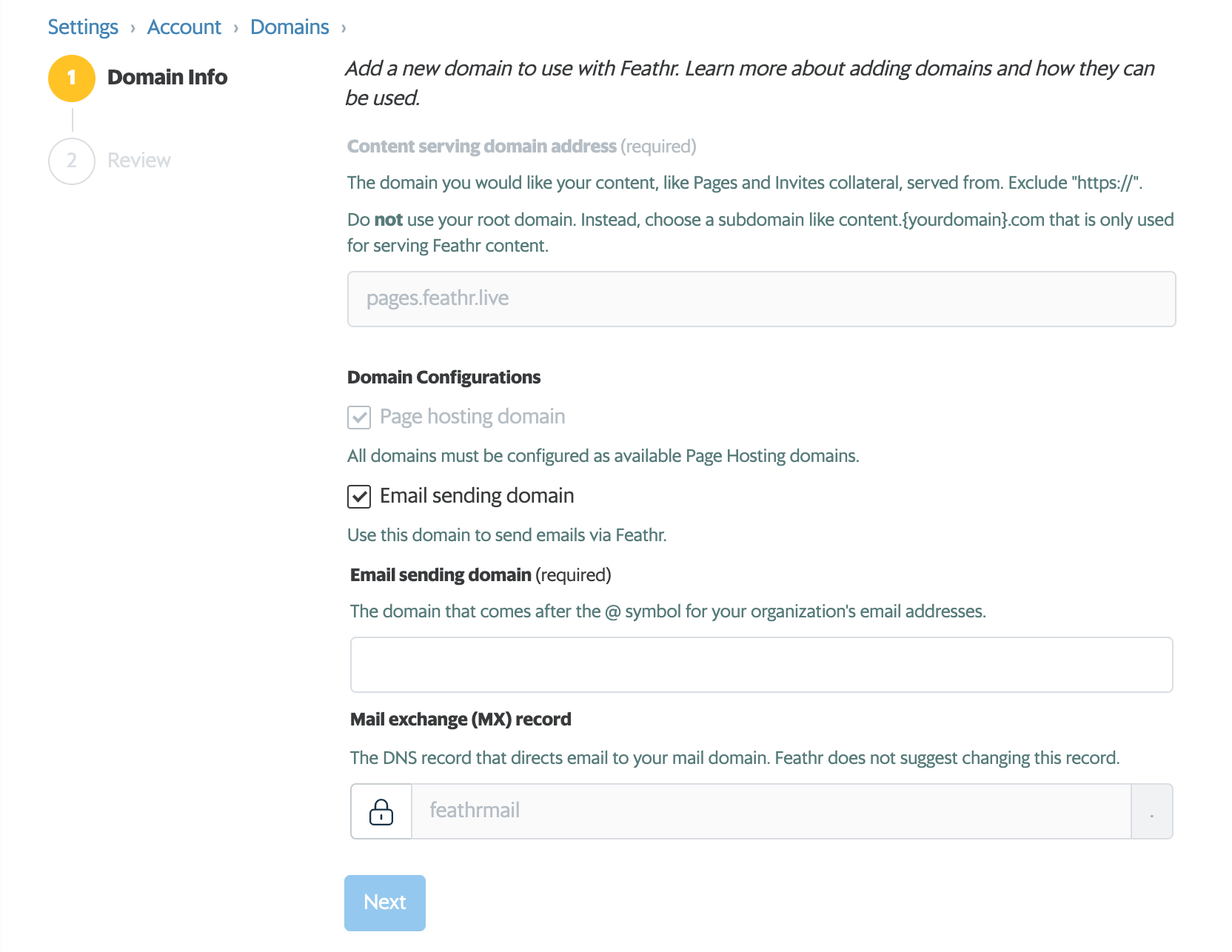 In this case, you will only need to enter an email sending domain, and in the following steps you will only need to add the email serving domain records to your domain registrar.
In the second step of the Domain Wizard, all you need to do is review what you entered for accuracy and then select Add domain. If you receive any error messages, please contact our support team from the chat window at the bottom right of your Feathr page.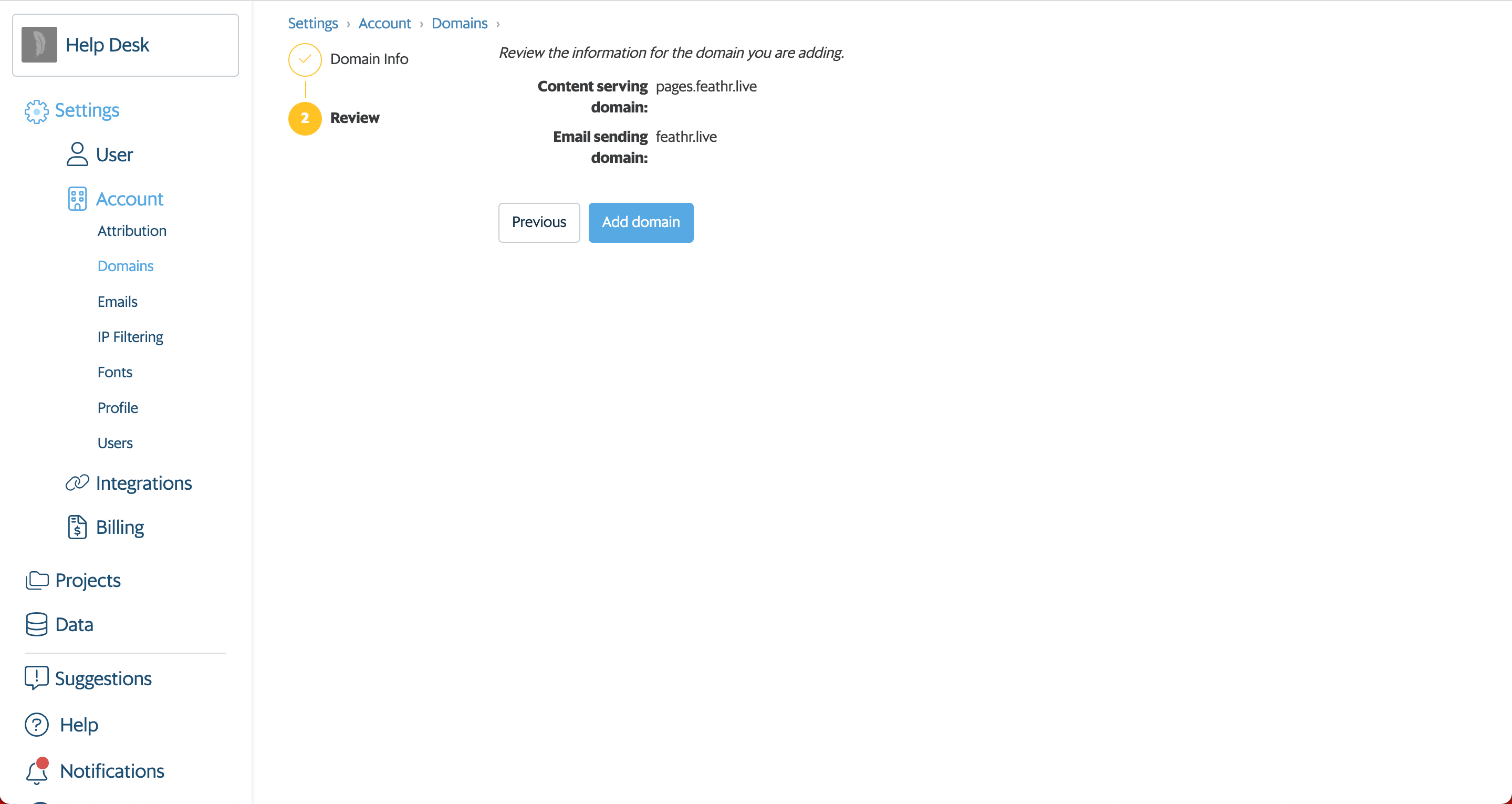 You will then be brought to a page with your domains listed on a table as pending, as well as links to download the records you'll need to add to your domain registrar:

Your domain statuses will say pending until the records are connected to your domain registrar in the next step.
The final step within Feathr is to select Save records for the domain(s) you added. This will prompt you to download a .csv file containing the information you will copy and paste into your domain registrar. The .csv files will look something like this when opened (some values redacted for data security):


In your domain registrar, you will enter each of these as displayed in the .csv files.
NOTE: You will see a numeral in front of the value in the MX record. This is the priority value. Depending on your registrar, that value may need to be separated and added in a separate field that asks for priority, as seen in the example below (from godaddy.com).

If your registrar does not show a separate field for priority, you can likely add the record exactly as downloaded from Feathr.
Because each registrar is slightly different, we always recommend consulting their help documentation and/or support team to ensure you are entering domain records correctly.
Read this article for more information on domain registrars.
Adding Records to your Domain Registrar
Because this step occurs outside of Feathr, we cannot provide platform-specific guidance or screenshots. However, as mentioned above, the steps to add these records are virtually identical for every registrar, it just depends on what you click to get there.
If you have an IT department, you can forward them the .csv files and ask them to add the records to whatever domain registrar you use.
If you will be performing this task yourself and it is foreign to you, start by searching the web or your domain registrar's help articles for "how to add domain records to registrar X." This is an essential piece of any registrar, so the information should be easy to discover.
Once you have located the page within your domain registrar's site where you will add the records, simply select the appropriate record type, and add the name and value exactly as written in the .csv files. Repeat this process for every record in the .csv files, and save.
That's it! Please note that there can be a day or two of processing time before the domain records appear in Feathr as ready. Once all the data has been processed, your domains table should look like this:

Common Domain Registrars
For your convenience, here is a collection of help articles that describe the process for a handful of the most popular domain registrars. If you don't see yours here, do a web search for help documentation pertaining to DNS records for your specific registrar. It is a core functionality of any domain registrar and they will certainly offer documentation of their process.
Note: all of these link away from the Feathr help desk and we do not control these URLs, so these links are subject to break without our knowledge.