To get the most out of an Invites campaign, it's important to communicate with your Partners. Messages about their shareable collateral, updates to the campaign, leaderboards...there are plenty of reasons you might reach out to your Partners, and Feathr's Partner Message Tool makes it simple (and beautiful).
Two Options to Get Started
To use the Partner Message Tool, you can either go directly to the tool from the left side menu (Projects > Partners > Messages), as seen in the screenshot below:

Or you can find it within a published Invites Campaign. Navigate to the Partners tab in your published campaign, and then choose the blue 'Message partners' button on the right, as seen below. For more on how to publish an Invites Campaign, read this article.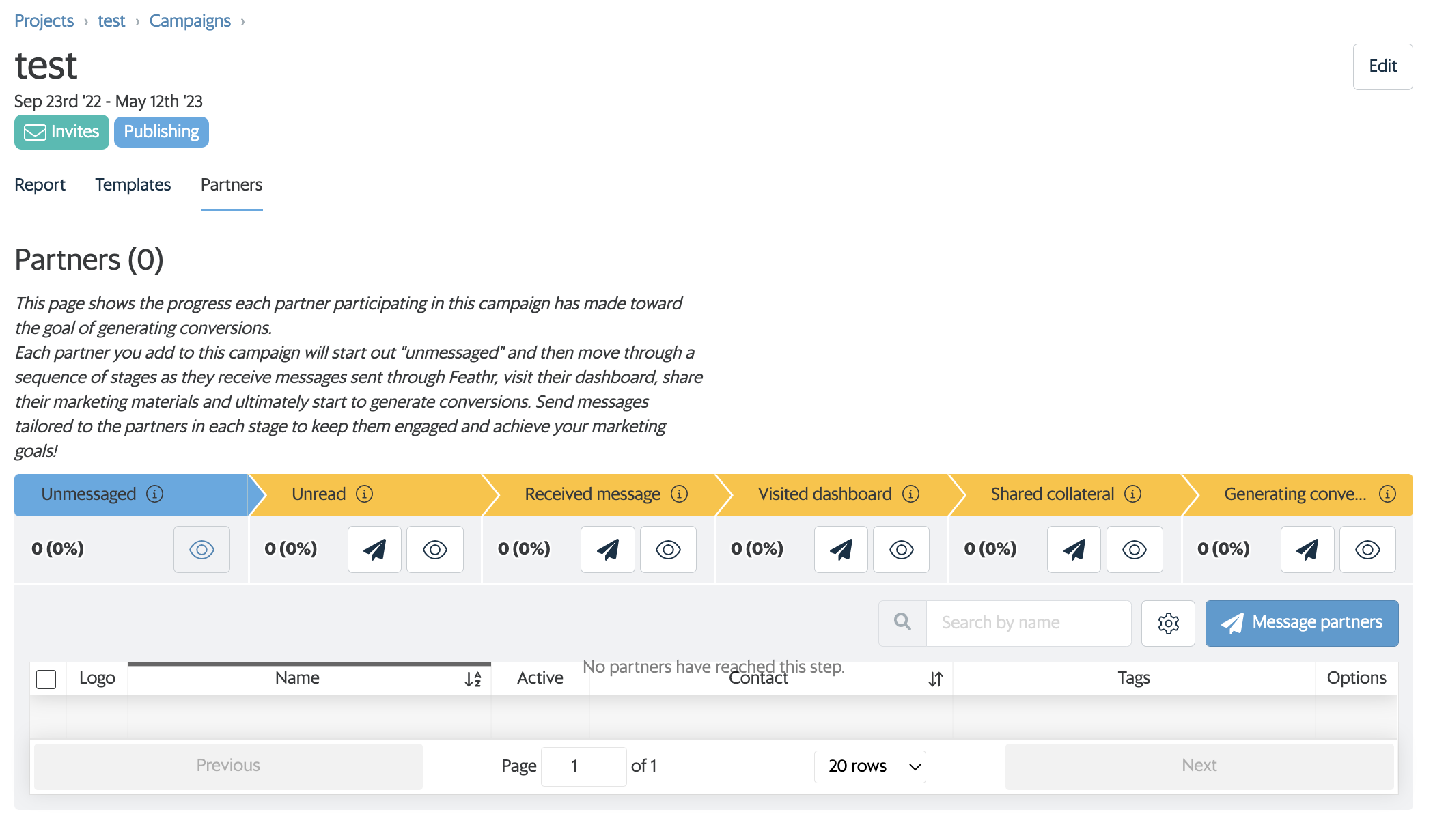 Crafting Your Message
Feathr's Partner Messaging Tool allows you to choose which partners to contact, choose your 'from' name, and craft a lovely email using pre-designed templates or building your own from scratch.
After giving your message a name (this name won't be seen by Partners, it just a way for you to keep track of different messages), the wizard will prompt you to choose (and verify, if necessary) a 'from' email address and display name. In this example, the message would come from me (chris@feathr.co) and be viewed in Partners' inboxes as "Chris from Feathr." It's up to you to pick the from name that represents your message best.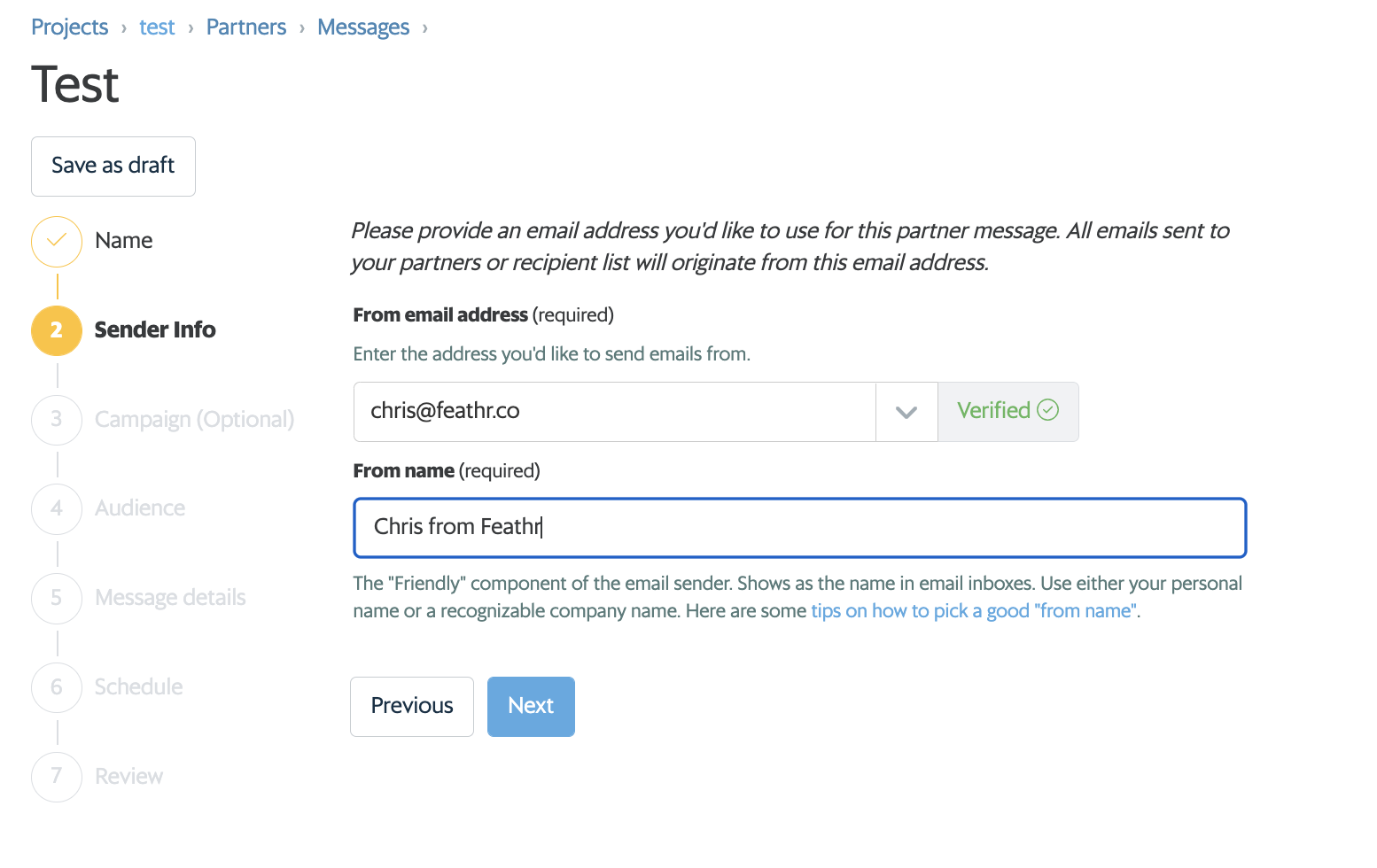 Next, you have the option of connecting your message to an existing Invites Campaign. It is not required, as you can craft Partner messages outside of campaigns too, but if your message will be part of an Invites campaign, this is where you tell Feathr to stitch it together.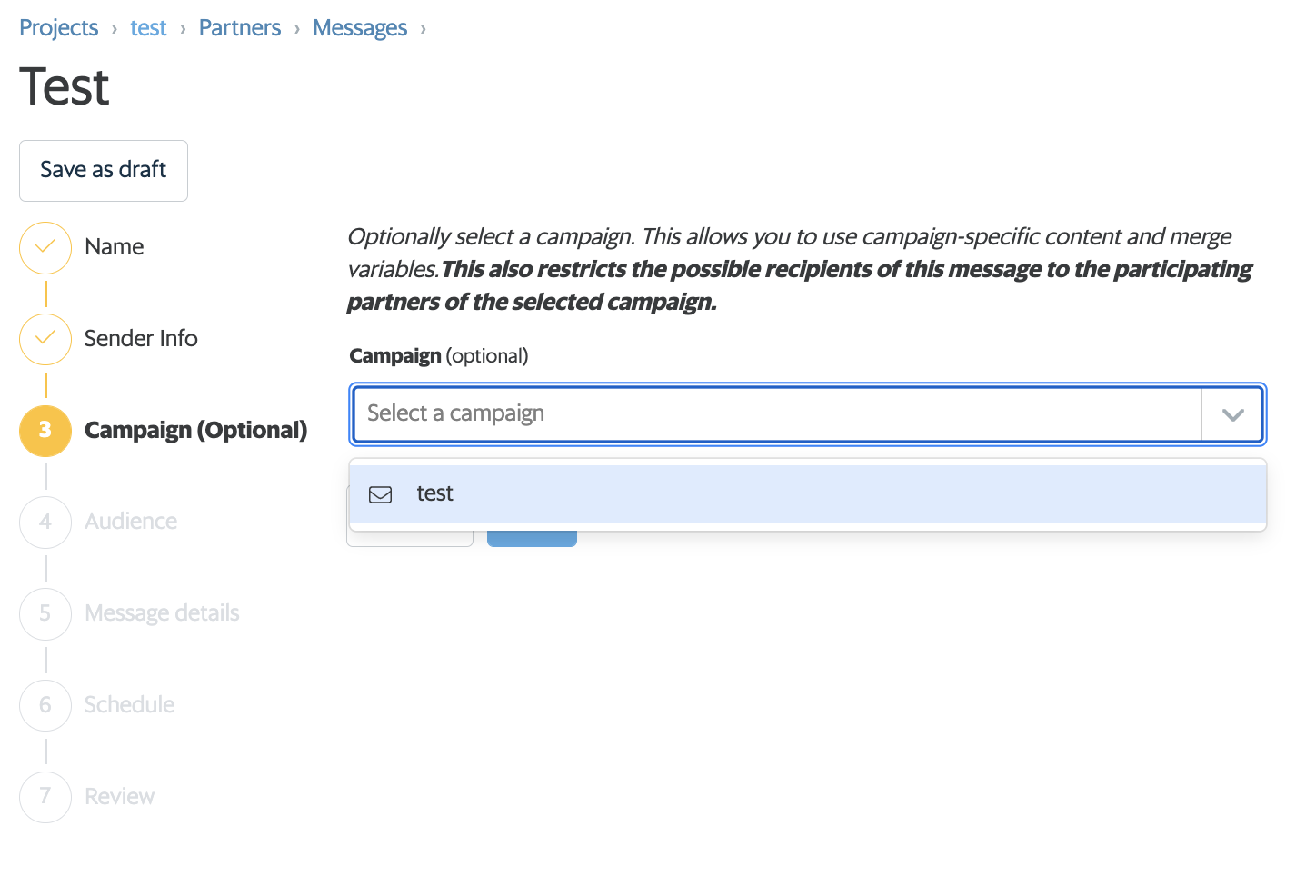 The next step allows you to choose which Partners will receive this message. You may choose to send it to every partner uploaded in the Project, or pick specific Partners. Choosing partners individually offers you the ability to filter them by tag, status, and name. This is especially helpful in distinguishing by exhibitors vs. sponsors, or active vs. inactive Partners. Read more about Partner tags here.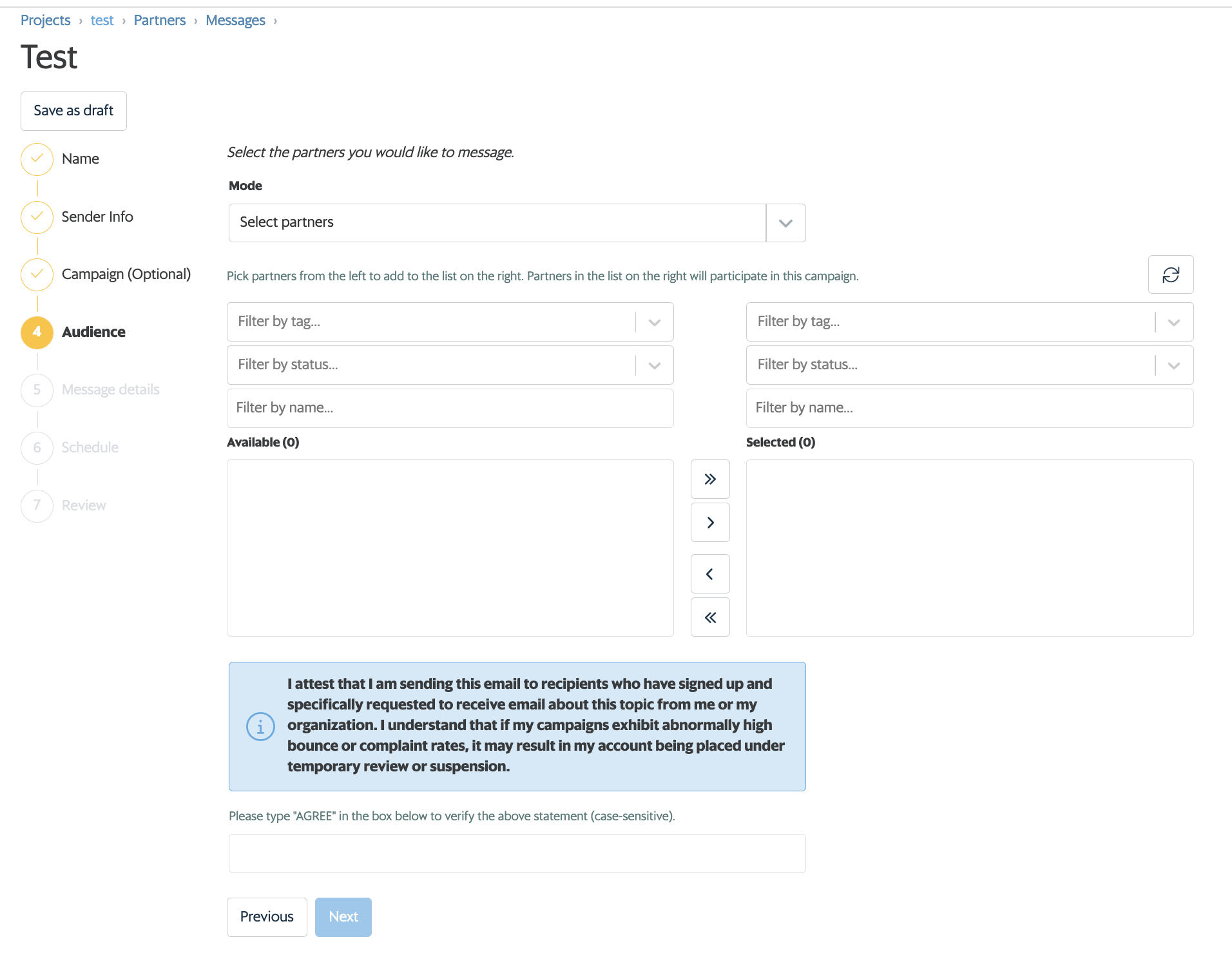 The next step is where you write and design your actual email. This can be as simple or as sophisticated as you'd like to get. Write a catchy subject, then choose a template for your message.
The Partner Message Template tool is built on the same engine as the Pages and Invites template builder, so refer to this article for specific guidance on building your own.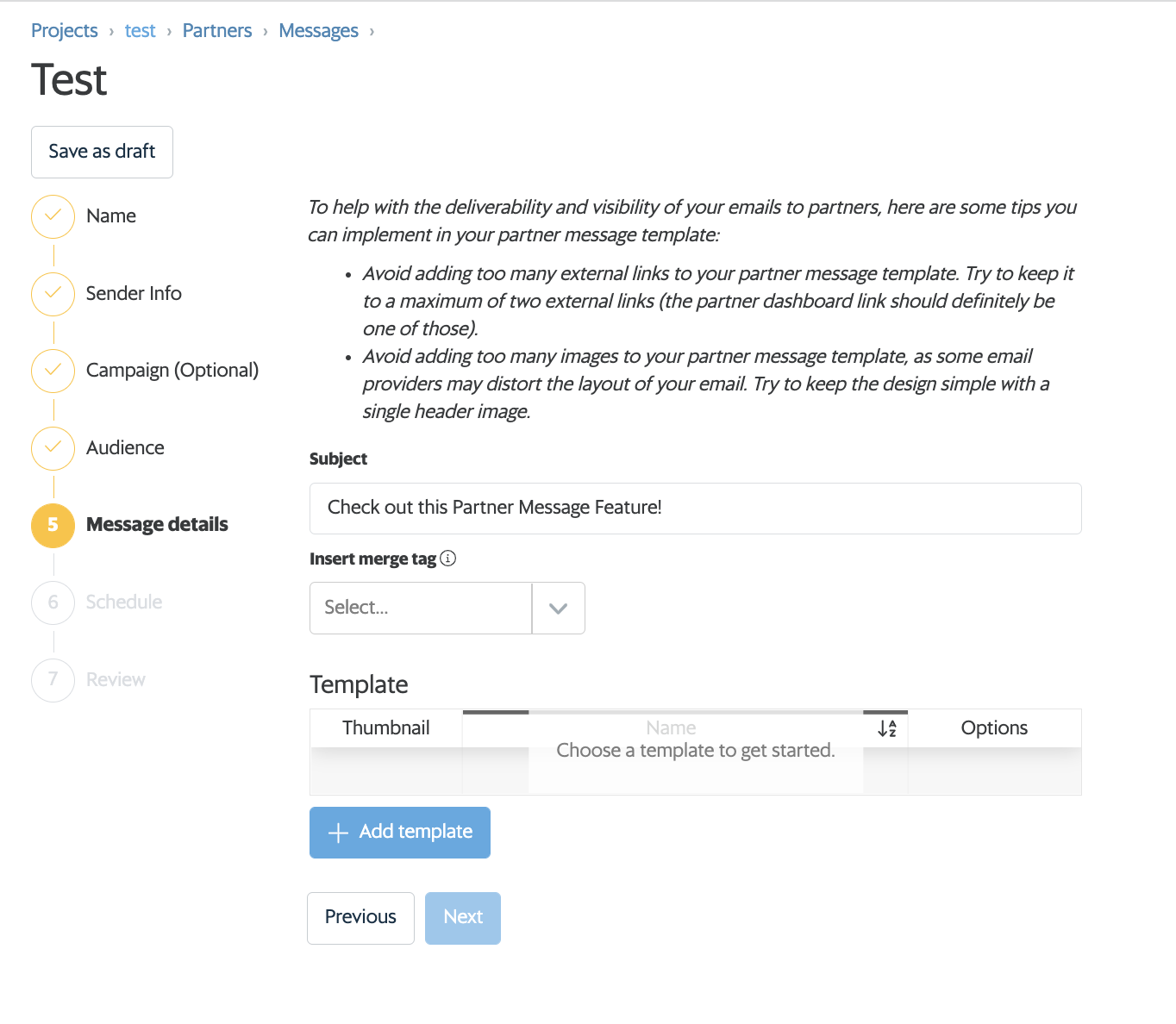 Once you've connected your Template, all that's left is to schedule the message to be sent and review to double check your work.