Lookalike campaigns can expand your digital audience and help you reach new prospects. Lookalike campaigns in Feathr's Ads Module feature two different types of lookalike targets: Auto and Custom. Learn about each type and our recommendations below.
What's a lookalike audience?
Lookalike Campaign Targets are either made from third-party data automatically derived from one of your Segments, or categorized third-party data you select.
In the case of an automatic target, we use the online behavior of people in your selected seed segment to find sets of third-party data that represent people that are statistically similar to the people in that segment.
For custom lookalike targets, you select a third-party data object from our comprehensive library of third-party data categorized by industry, demographic, and market.
Auto Lookalike

Selecting the Auto Lookalike target will populate a drop-down menu with all of your Segments with at least 30,000 reachable people. Choose one, then when you Publish the campaign, Feathr will automatically choose a third-party data segment to target for you based on the unique, shared characteristics of your Segment.
Custom Lookalike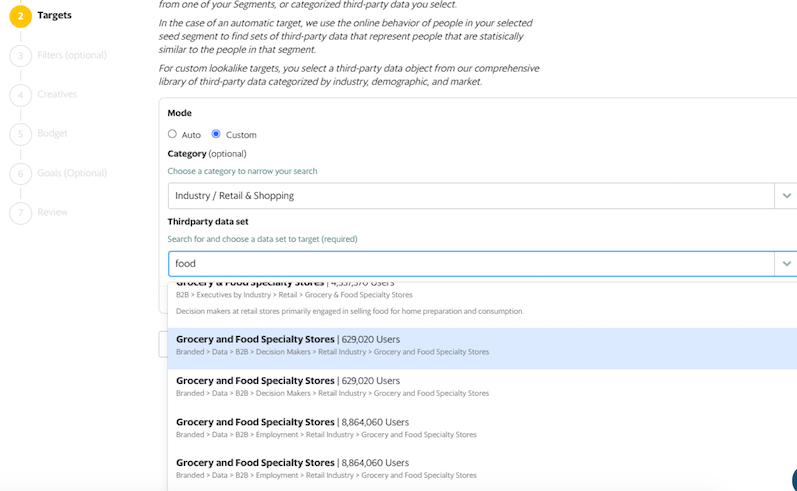 The Custom Lookalike target is a great option for Feathr customers with fewer than 30,000 reachable people or for organizations with several unique prospect profiles.
You can begin by selecting a category to narrow the search, or type a search term directly into the Third-party data set search bar. The Categories include Industry, Demographics, and In-Market.
How do I choose from all of these data sets?
The list of data sets is long, and it's regularly updated, so you are faced with a wide range of possible options! Consider the audience you want to reach with your campaign. Are you targeting employees in your industry, consumers shopping for your products, or a wide group of people based on demographics like education? We recommended choosing a Category, then previewing the resulting data sets for more information (descriptions in gray, below the data set name). Sometimes, the description will include geographic information, telling you the audience is based in Hong Kong, for example. Pay attention to the descriptions to identify the best target audience for your campaign.
In the example for CookieCon above, the Industry / Retail & Shopping Category was chosen, then "food" was entered as a search term. The Grocery and Food Specialty Stores data sets included both "Decision Makers" and "Employment", so the smaller, more targeted "Decision Makers" audience was selected.
Geographic Filters (optional, but recommended)
While some data sets include geographic information in the description, most do not, so you'll want to add Filters to include only the areas where you want your ads to be seen.
Creatives
Follow our Best Practices for Designing Creatives for more details on creating great display ads.
Budget
Lookalike campaigns require a 5-day delay before the start date, and we recommend a duration of at least one month. Since the target audience will be large, Feathr will recommend a budget to ensure reach.
Goals
The goal of a Lookalike campaign is probably an audience expansion or awareness-building goal. You can add more than one goal, so you might add a site visit goal with a $0 goal value as well as a revenue-generating goal like membership application or event registration.