Invites Campaigns allow your Partners (sponsors, exhibitors, speakers) to refer and invite their customers and colleagues to your event or promote your other marketing initiatives. It is a group of up to 3 types of customized collateral made of Landing Page, Email, and/or Banner ad templates. Launching the Invites campaign is one step in the process, and Feathr recommends following these best practices to stay organized.
To launch an Invites Campaign, follow the steps below:
Navigate in to a Project
Click '+Add Campaign' from the Campaign table or from a Flight
Select Invites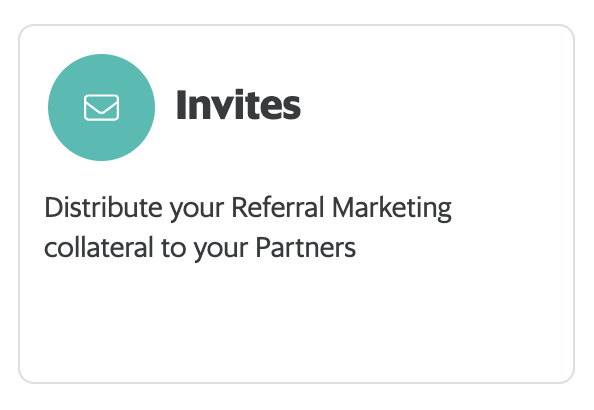 Info:
Name: Provide a descriptive name for your campaign so you can find it later. It helps to put the Partner type and goals, if any, of the campaign in the name; E.g., "Speakers - Registration".
Start and End Date: Select a date range to define the campaign report range. Typically, the start date is today and the end date is at the end of the marketing initiative. This is purely for your own information and does not affect the availability of Invites collateral.
Note, your Partners will not receive any of their custom marketing materials until you give them access to their Partner Dashboards.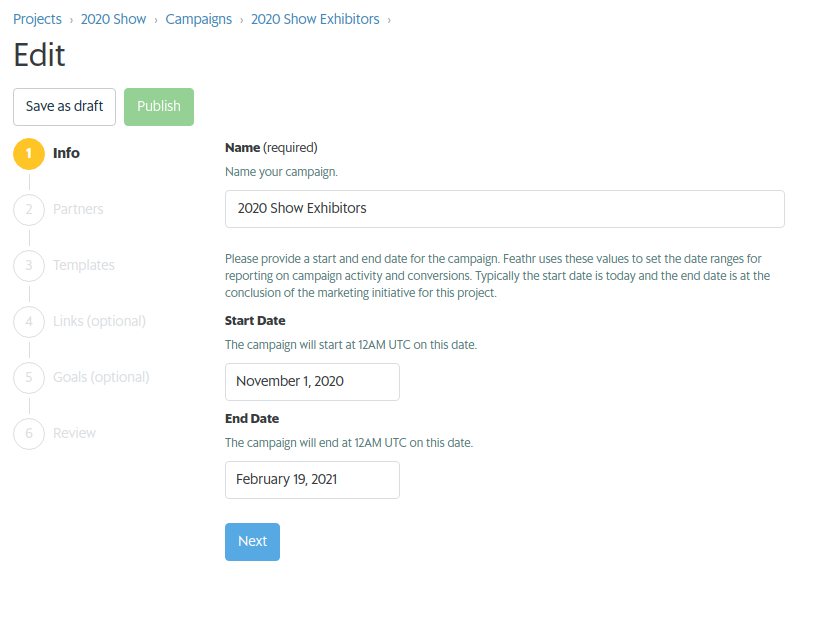 Partners:
Next you'll choose which Partners will participate in this campaign, or who will receive the customized marketing materials (templates) in this campaign. Haven't sold all your sponsorships yet? Only have information for half of your speaker sessions? Don't worry! You'll be able to add more over the course of the campaign (even after it's been published).
If you have previously added partners to the Project where you're building your Invites campaign, they will be selectable here. Continue reading below for instructions and resources on importing partners.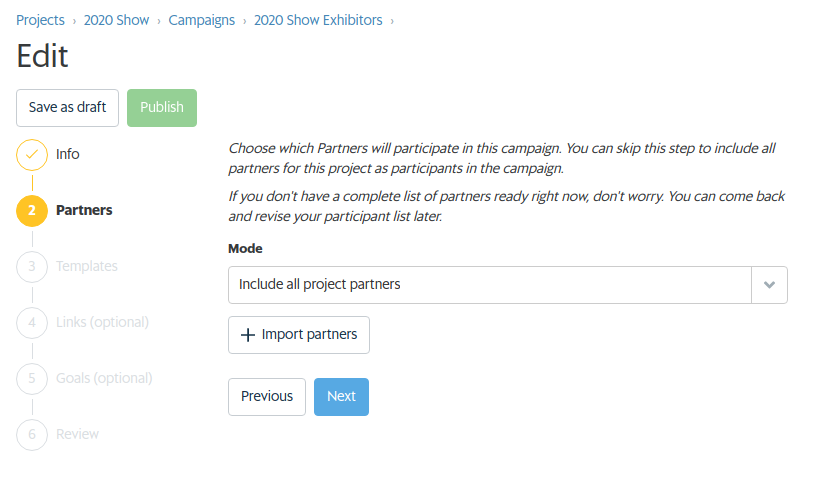 Mode: If you already Imported Partners to the Project, they will all be selected by default. Click the dropdown and choose 'Select Partners' to filter by Tag, Status (active or inactive), or Name. You can also use the arrows to (un)select individual Partners.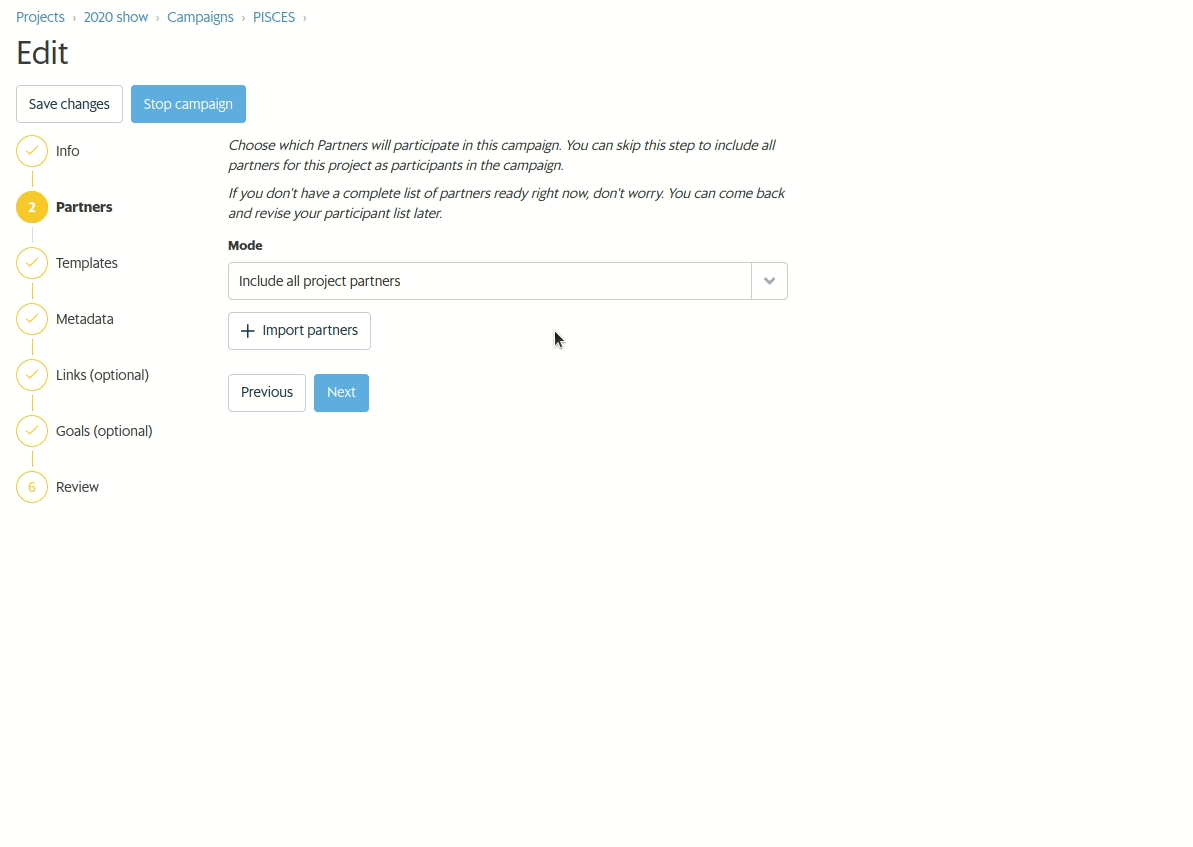 Click + Import Partners to add additional Partners. You will be prompted to save the campaign to continue to the Partner Import window. Follow these instructions to Format your Partner list. You will return to your draft campaign when the Import is complete.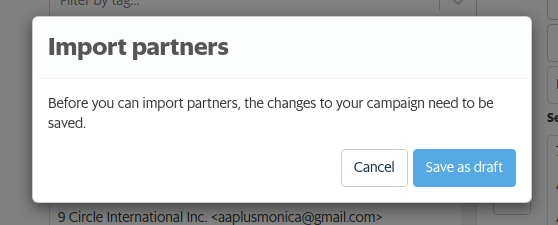 Templates:
You can select and edit Templates directly within the campaign to create your custom marketing materials, or build Templates outside of the campaign context by navigating to your Project, then to Templates on the left side menu. You can start from one of our examples, one of your own customized templates, or a blank template. Learn more in the Templates section of the help desk. If you choose a Template from one of your other campaigns (Your Customized Templates), this campaign will create a copy. This means any edits made to the copy will not affect the original.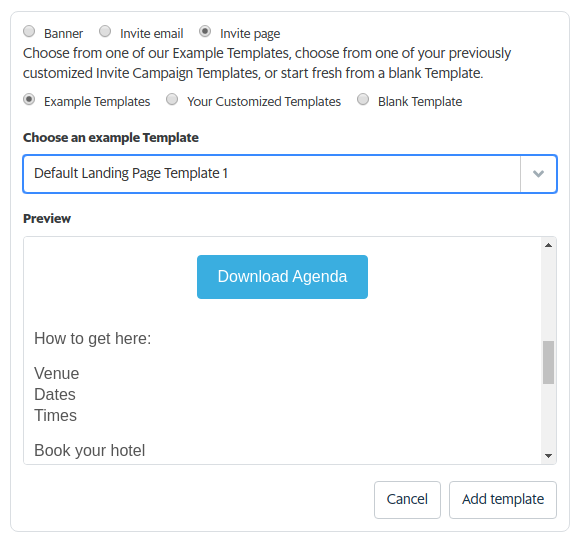 Note, your campaign must be saved as a draft to edit Templates.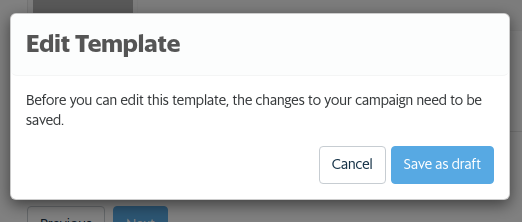 Click the vertical ellipsis in the Options column to edit or remove Templates from the campaign.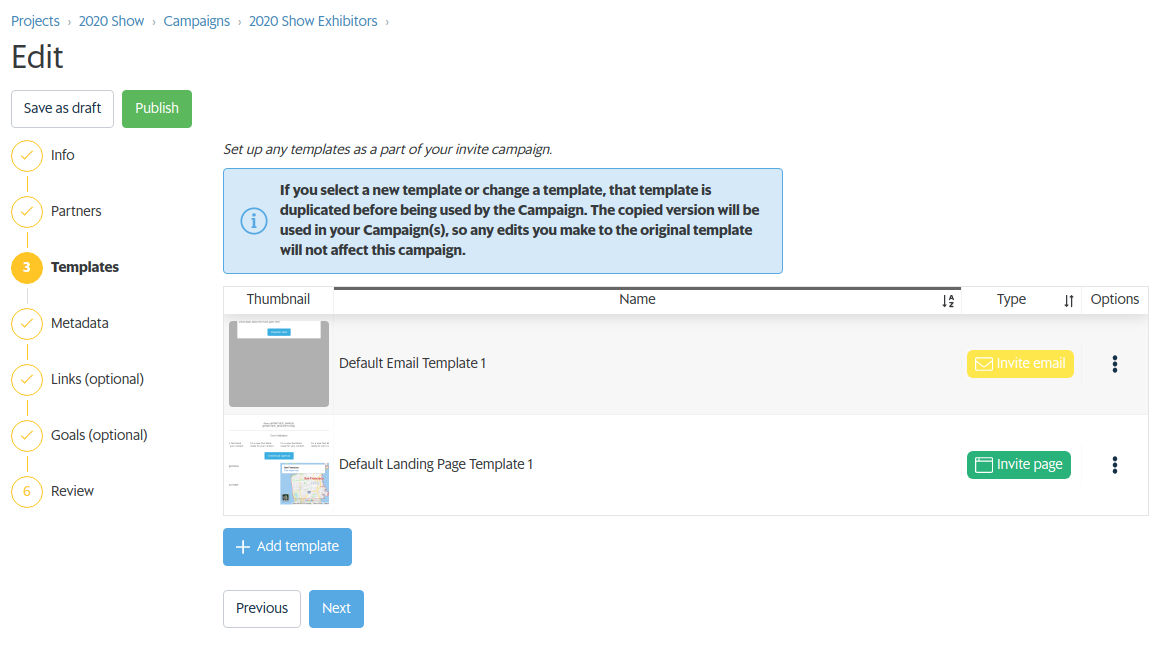 Metadata:
The Metadata fields will populate based on the Template types in the campaign. Banners require a Destination URL (where people are directed when they click the banner ad). Landing pages can include optional social share text and hashtags.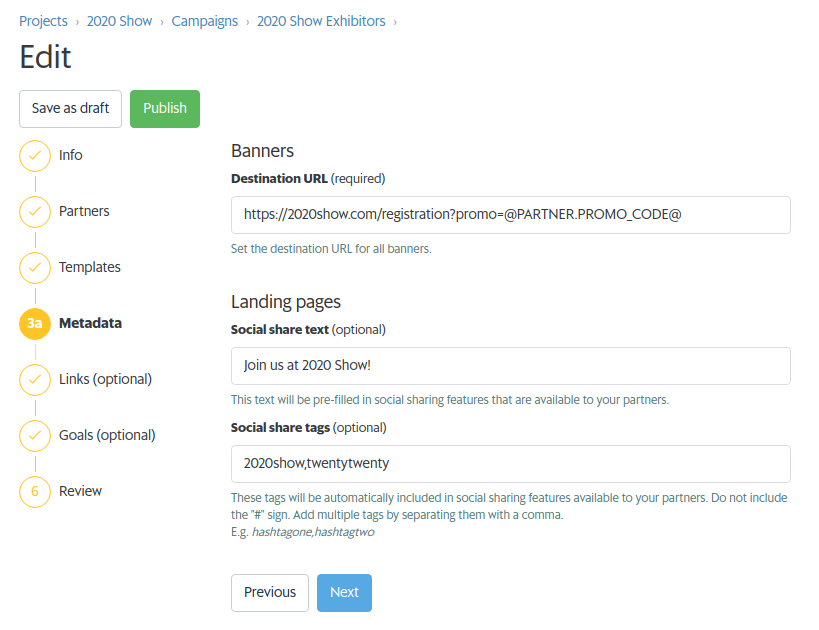 Links:
In addition to the custom marketing material (Templates), you might want to share links to other resources like media kits, event schedules, or floor maps. Add each link with a descriptive title. Each link will appear with that title in the Dashboard for all campaign Partners.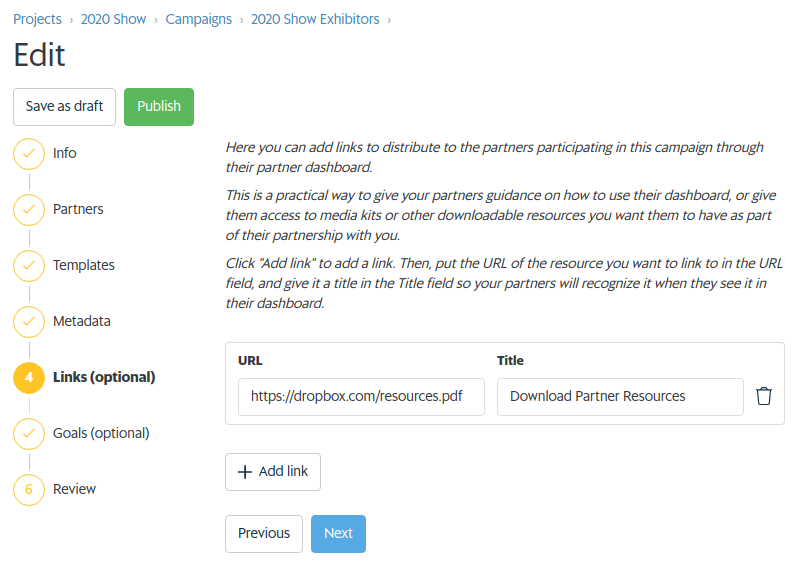 Goals:
If your Invites Campaign has a clear call to action, setting the Goal is easy! Choose the behavior you want the recipient to perform, like registering for an event, then set the revenue from each activity as the Goal Value. Learn more about setting Goals in Feathr in this article.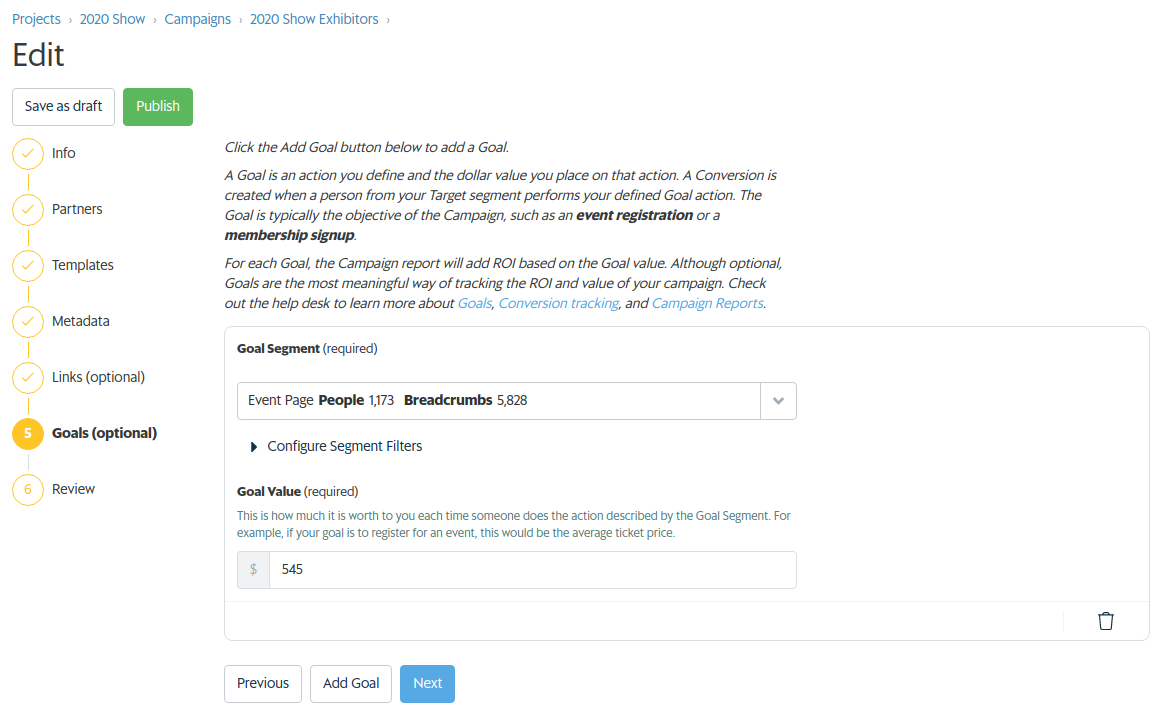 Review:
Finally, review the campaign details and click Publish. Remember, this does not give any Partners access to any materials yet, and you can continue to make edits to the campaign like adding more Partners and editing Templates. Follow our best practices to complete the Invites Campaign process.