Tracked Link campaigns allow you to measure the impact of all of your marketing efforts right from your Feathr account. A tracked link is simply a URL with UTM parameters attached to it so Feathr can easily identify what someone clicked before landing on a page with your Super Pixel. Use these short links in your email marketing, paid search campaigns, and social media posts to track clicks and additional engagement metrics, including conversions.
Create a Tracked Link campaign
1. Click '+Add Campaign' from the Campaign table or from a Flight
2. Select Tracked Link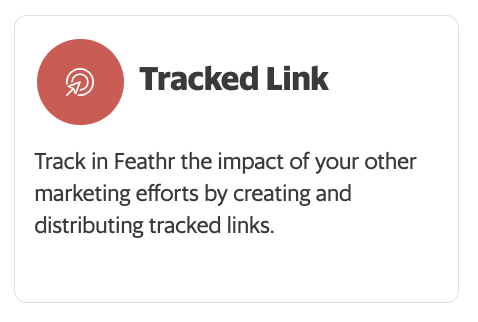 3. Give the campaign a descriptive Name.
4. Add Links! First, you will select the link domain. If you have already created a Custom Domain in your account settings, select your domain from the dropdown. If not, select the l.feathr.co domain.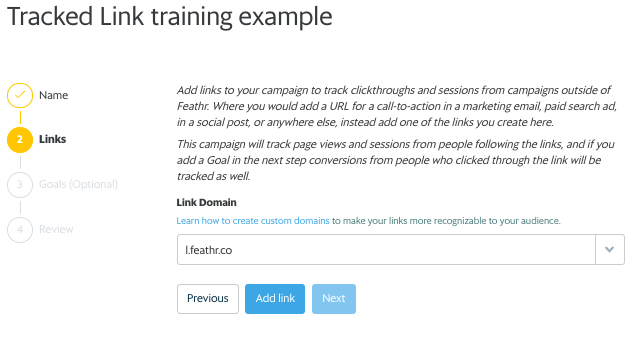 5. Add a unique Short Link. Be mindful of the fact that your visitors will see this link.
6. Add the Destination URL, or the page where people will land when they click the linked marketing material. This page must have your Feathr Super Pixel correctly placed.
7. Select the UTM Source from the dropdown options: Email Marketing, Paid Search, LinkedIn, Twitter, or Facebook. Begin typing to add a custom source.
8. (Optional) Add additional UTM parameters to categorize your links.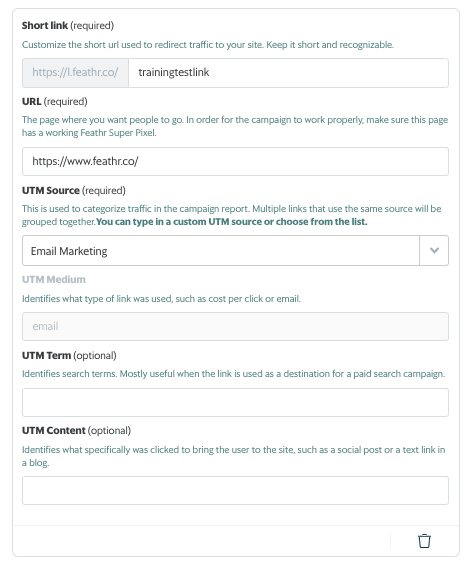 9. (Optional) Add a Goal to measure success across your marketing initiatives. Choose one of your existing Goals or create a new one within your campaign. (Read How to Build a Group if you read a refresher!) Set a Goal Value, or how much the goal activity is worth (e.g., if your goal is recruiting new members, the value would be the cost of one new membership).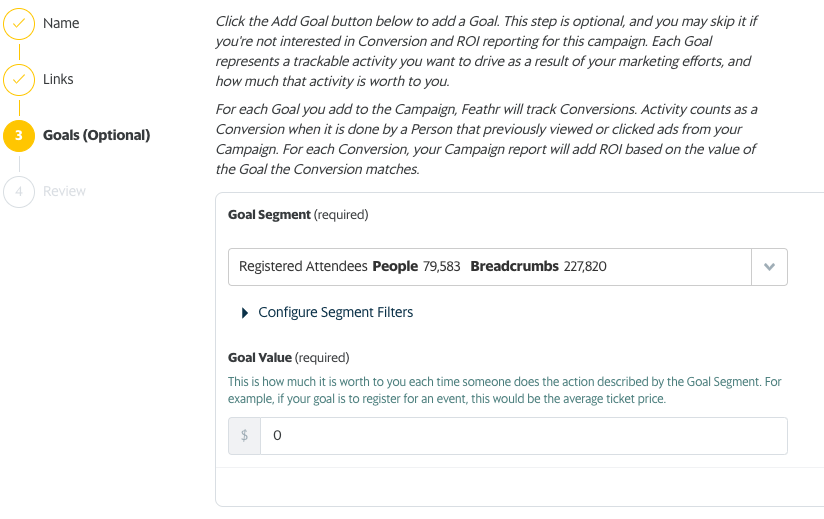 10. Review your campaign and publish
Now that you've launched the campaign, it's time to use your links!
11. Click on the name of your published campaign to navigate to the campaign Report.

12. Click Copy short link, then add the tracked link to your marketing material.
Note, both Google AdWords and external Facebook campaigns cannot use the shortened link, so click the arrow dropdown to copy the full URL.
Once your links are active, visit this article to learn how to read your Tracked Link Report.