The Super Pixel tracks Activities and Attributes associated with users visiting your site. You can use those Attributes and Activities to filter and create Groups, which can be used as targeted audiences in retargeting campaigns, to track conversions via goals, or as distinct audiences for web analytics purposes.
Creating a New Group
1. First, navigate to the Community section found on the left navigation pane.
2. From the People area, preview preset filters or create Custom filters.
3. Edit filters to build a targeted audience that has performed the activities you've identified as indicative of the audience to whom you wish to market.
This is the most important step. Select the variables that will determine which users will be included in the Group you create. The default choice is URL, which will filter by page visits. In the example below, we are filtering by people who have visited pages on the feathr.co site. There are many more filtering options, selectable by clicking on URL and viewing the dropdown menu. Click the following links for a full list of Activity Fields and Attribute Fields.
Note: Hovering your cursor over each variable gives a description of what it does.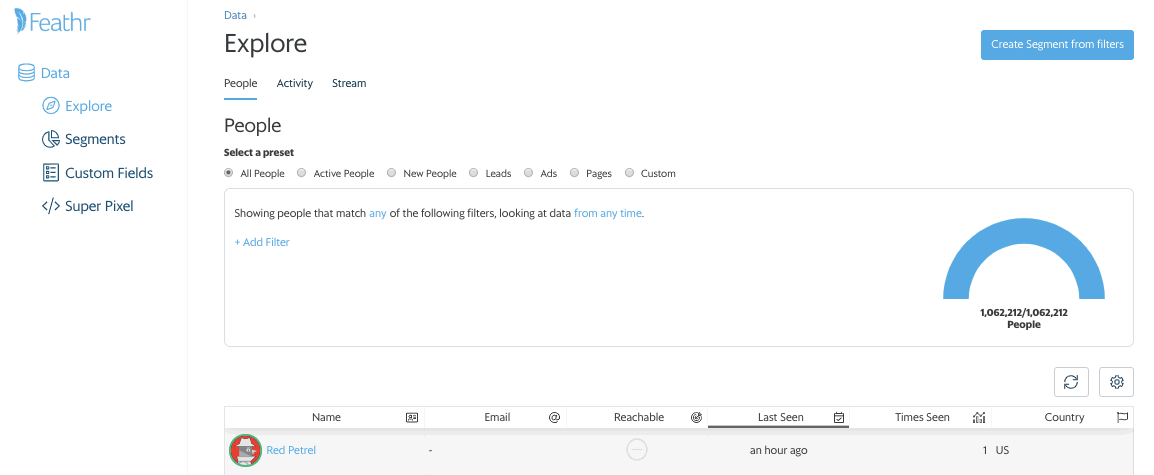 You can add as many Filters as you'd like by clicking + Add Filter. If you've added more than one filter, take note of the link in the window that says "any." Toggling between "any" and "all" enables you to choose whether the users in your Group must have performed all of the filter activities in order to be included, or if performing any one of the multiple filter activities will include them.
Notice in the example below how big of a difference in the audience size "any" vs. "all" makes.

4. Set the date range of the Group. Click on the link displaying "from any time." You'll see the options change as you click to either "starting from" or "within the last." Both of these options allow you to set a custom date range for your Group. If you leave it as "from any time," the Group will default to including all data the Super Pixel has seen.
5. When you're ready, click Create Group from filters in the top right corner to save your filters as a Group. An Edit Group modal should appear.

6. We recommend using a consistent naming convention when naming Groups to help keep them organized. Tags are optional, but they can help group Groups by Project or Campaign. Click Save Changes to finish!
Your Groups can be viewed and edited from the Groups area of the Community menu. You can also create and edit Groups within a retargeting campaign.