Feathr makes it easy to launch your Facebook campaigns directly from your Feathr app and target your Feathr Segments. To get started, follow these instructions to integrate Feathr and a Facebook ad account, then read on to learn how to create a campaign.
1. From your Campaign list, click + Add Campaign and select Facebook Retargeting Campaign.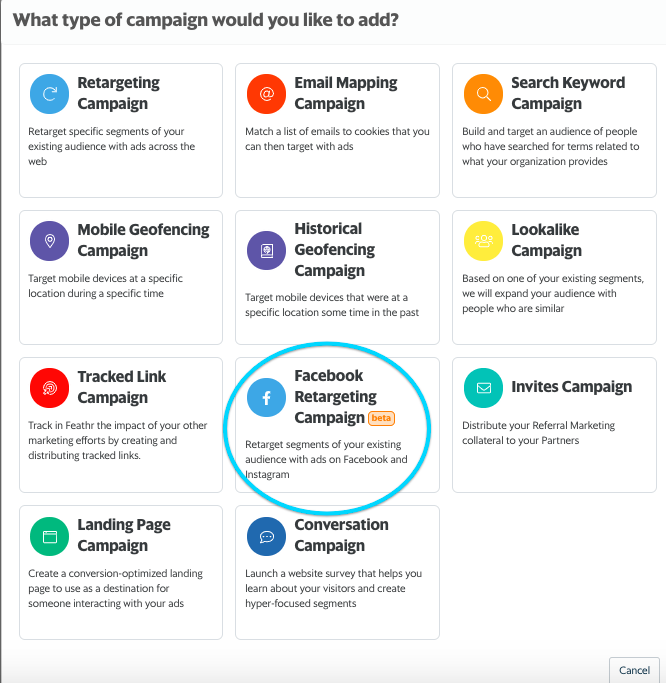 Creating a Facebook Retargeting Campaign is almost identical to a Retargeting Campaign (review the basics in this article with a video walkthrough), but the key difference is in the Creatives Step.
2. Give your campaign a descriptive Name
3. Select your Targets from your Segments.
4. Add your Creatives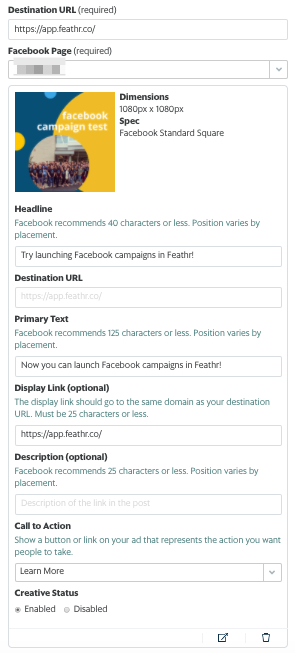 Destination URL Designate where people land when they click the ad
Facebook Page Select the Facebook page that will sponsor the ad
Special Ad Category Facebook requires that all ads on their platform explicitly indicate whether they belong to specific topical categories to prevent discriminatory advertising practices. Select Housing, Credit, Employment, or Issues, Elections, and Politics if your ad features any of those topics (including ads for job boards or career pages).
Image Acceptable Facebook creatives must be static (no .gifs), 1200 x 628 or 1080 x 1080 (Instagram-friendly), and contain less than 20% text
Headline The bold text below the image, 40 characters or fewer
Destination URL You can set a unique Destination URL for each creative in the campaign (overriding the one you initially set)
Primary Text The text above the image, 125 characters or fewer
Display Link Optional link that displays below the image, 25 characters or fewer (consider using shortened links here)
Description Optional text, fewer than 25 characters
Call to Action Select CTA button text from the dropdown options
Click the pop-out icon in the bottom right corner to see a Preview of your creative.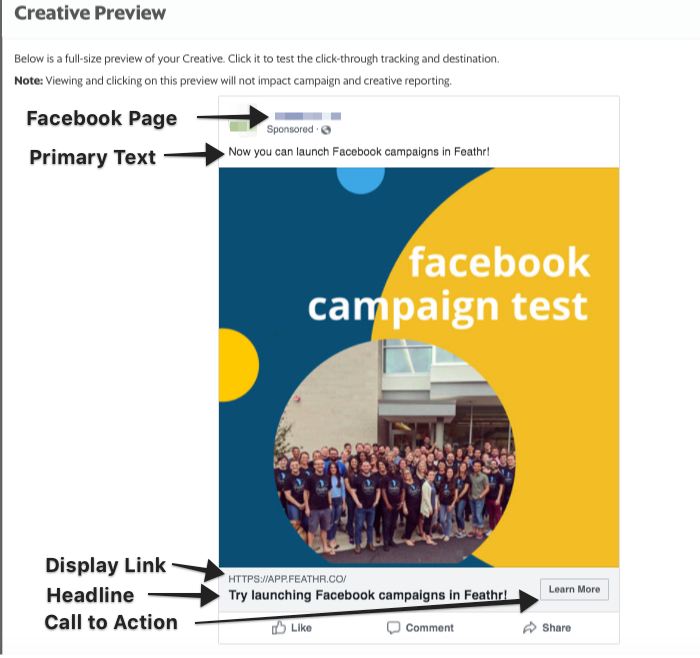 5. Set the campaign duration and Budget. Facebook requires a $1/day minimum budget, and ad spend will be charged directly through your Facebook payment method. There is no additional charge from Feathr!
6. Goals (optional) If you want to track Conversions, set a Goal.
7. Review and publish!