Feathr makes it easy to launch your Facebook campaigns directly from your Feathr app and target your Feathr Segments. Before you can publish a Facebook campaign, be sure to follow these instructions to integrate Feathr with your Facebook ad account, then read on to learn how to create a campaign.
1. From your Campaign list, click + Add Campaign and select Facebook Retargeting.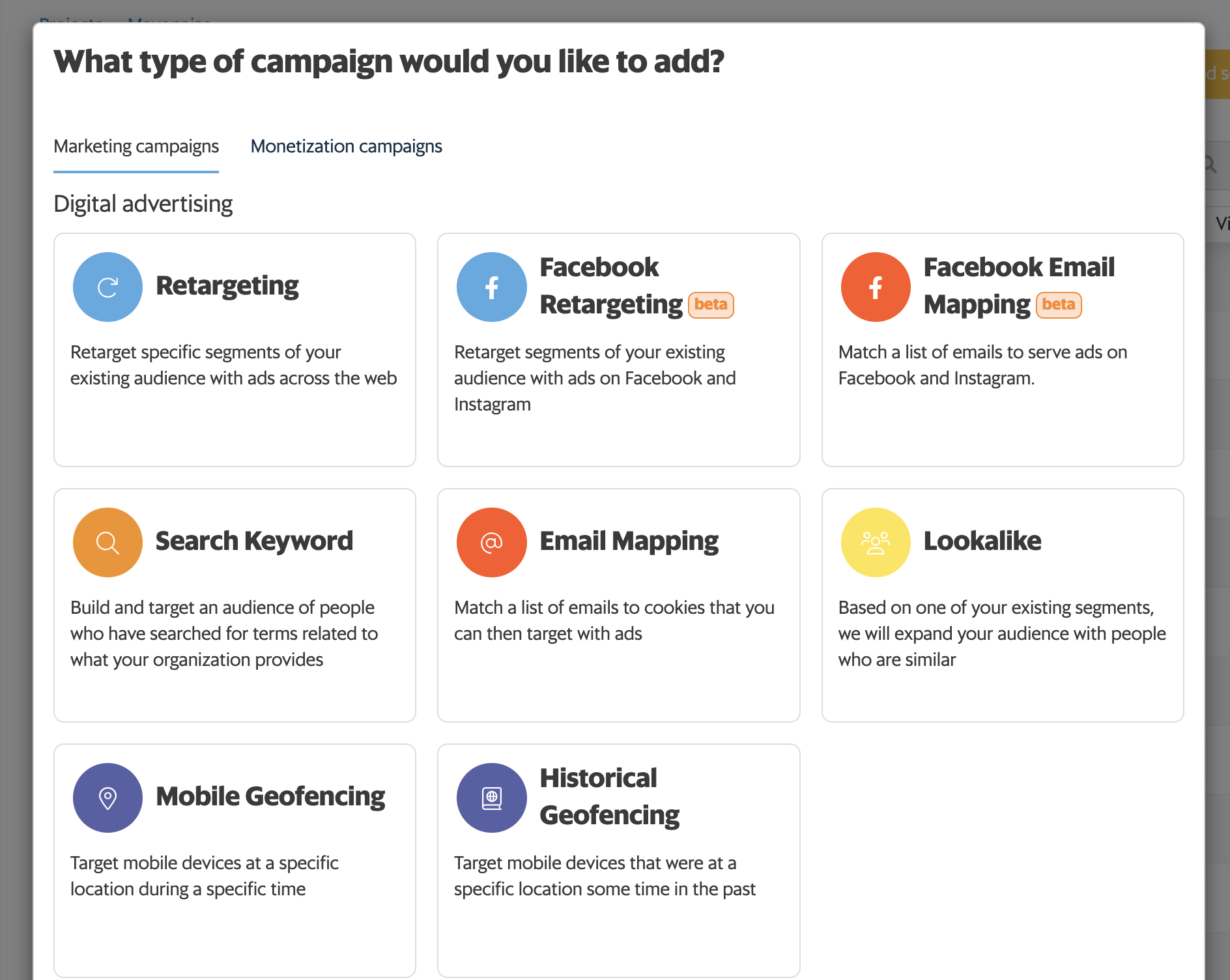 Next, give your campaign a descriptive name, and select the campaign objective. For more about Facebook campaign objectives, refer to this article directly from Facebook.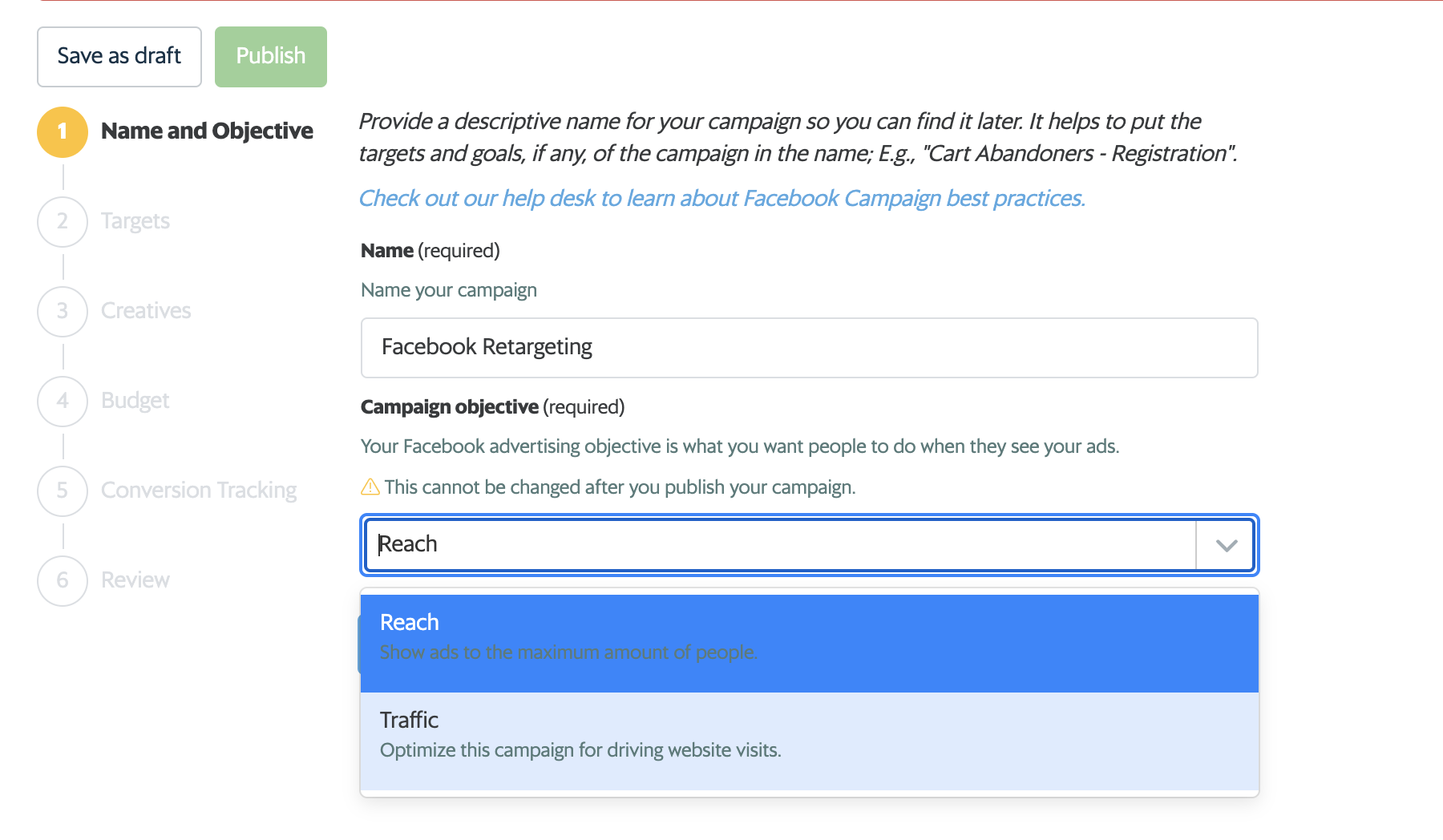 The next step is to choose your target audience. Using Feathr, you are able to choose your own audience segments, which ensures your Facebook audience has been seen by your Feathr Super Pixel. If you're curious, read more about Segments here.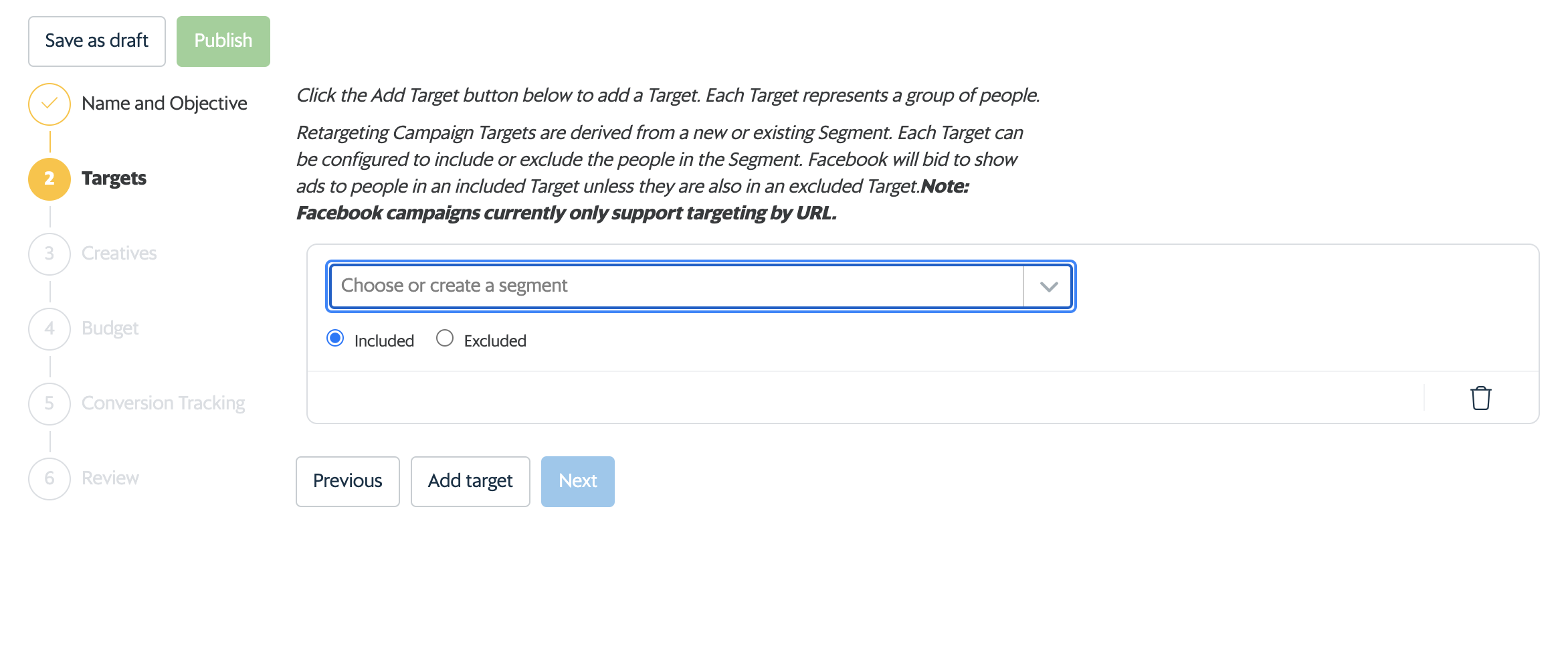 Next comes creatives. Facebook has different image specs and more rigid requirements for creatives than a standard Feathr retargeting campaign. Be aware of these when designing your creatives. Fortunately, specs are published within the Feathr campaign wizard as well as in this article. In the creatives step you will also choose your special ad category (if applicable) and choose which country you want to target.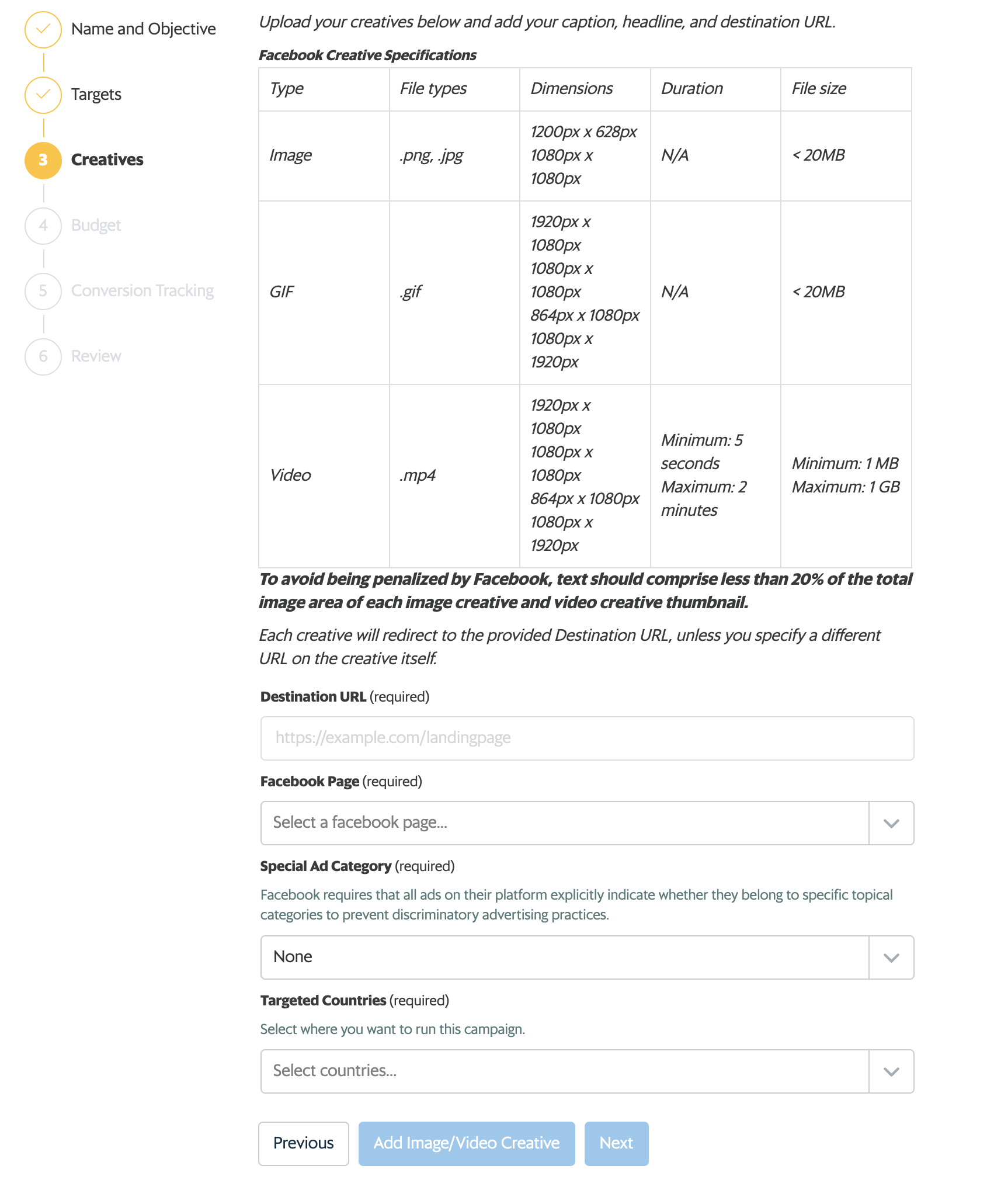 Click "Add Image/Video Creative" to upload your file(s) and choose headline, destination URL (if different from the main campaign destination URL), primary text, display link, description, and call to action. Here is a handy list of definitions:
Destination URL Designate where people land when they click the ad
Facebook Page Select the Facebook page that will sponsor the ad
Special Ad Category Facebook requires that all ads on their platform explicitly indicate whether they belong to specific topical categories to prevent discriminatory advertising practices. Select Housing, Credit, Employment, or Issues, Elections, and Politics if your ad features any of those topics (including ads for job boards or career pages).
Image Acceptable Facebook creatives must be static (no .gifs), 1200 x 628 or 1080 x 1080 (Instagram-friendly), and contain less than 20% text
Headline The bold text below the image, 40 characters or fewer
Destination URL You can set a unique Destination URL for each creative in the campaign (overriding the one you initially set)
Primary Text The text above the image, 125 characters or fewer
Display Link Optional link that displays below the image, 25 characters or fewer (consider using shortened links here)
Description Optional text, fewer than 25 characters
Call to Action Select CTA button text from the dropdown options
These are the same categories you would find in the native Facebook Ads Manager.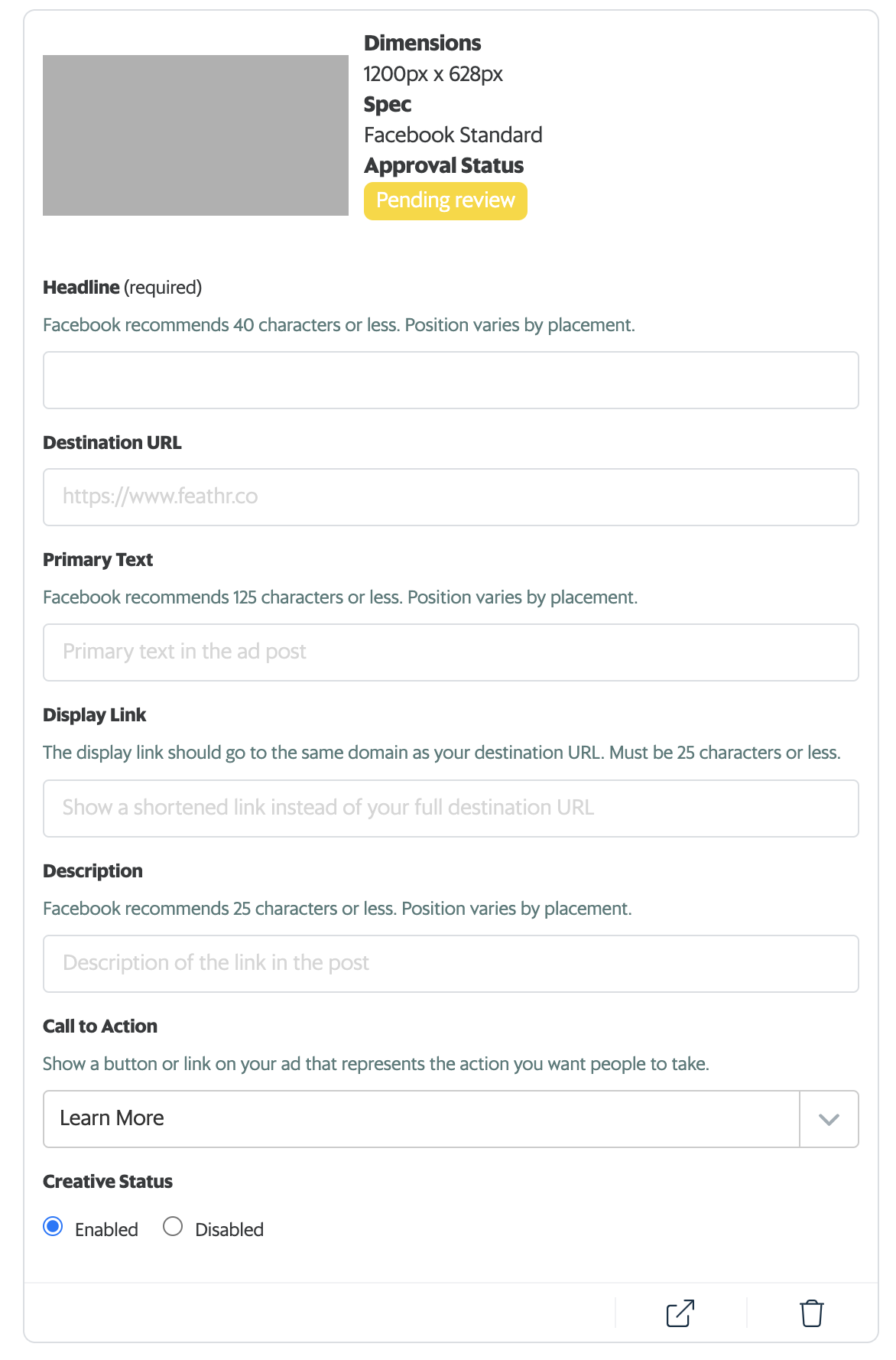 To preview the creative you've added, click the pop-out icon (seen next to the trash icon above) to preview how the ad will display. Below is a guide to each element of your creative upload: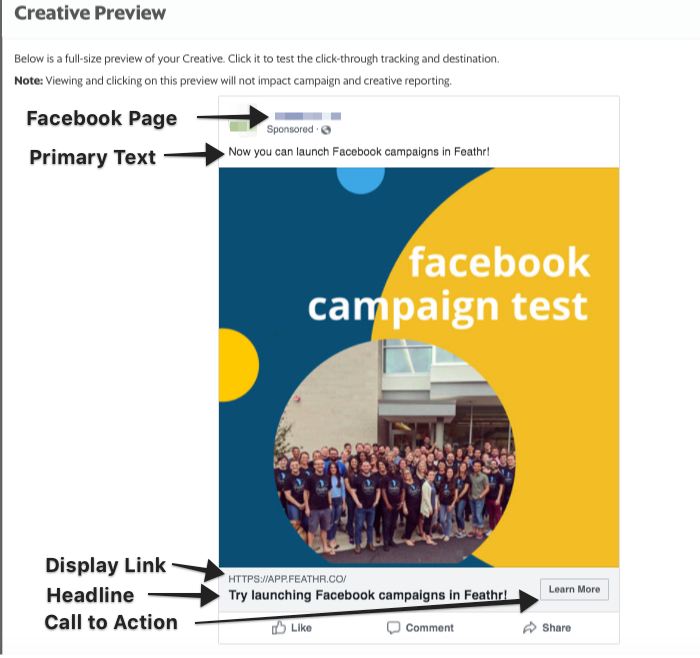 Once you've added your creatives and selected the options necessary options, the rest is identical to any other display campaign in Feathr. You will choose your campaign run dates and budget: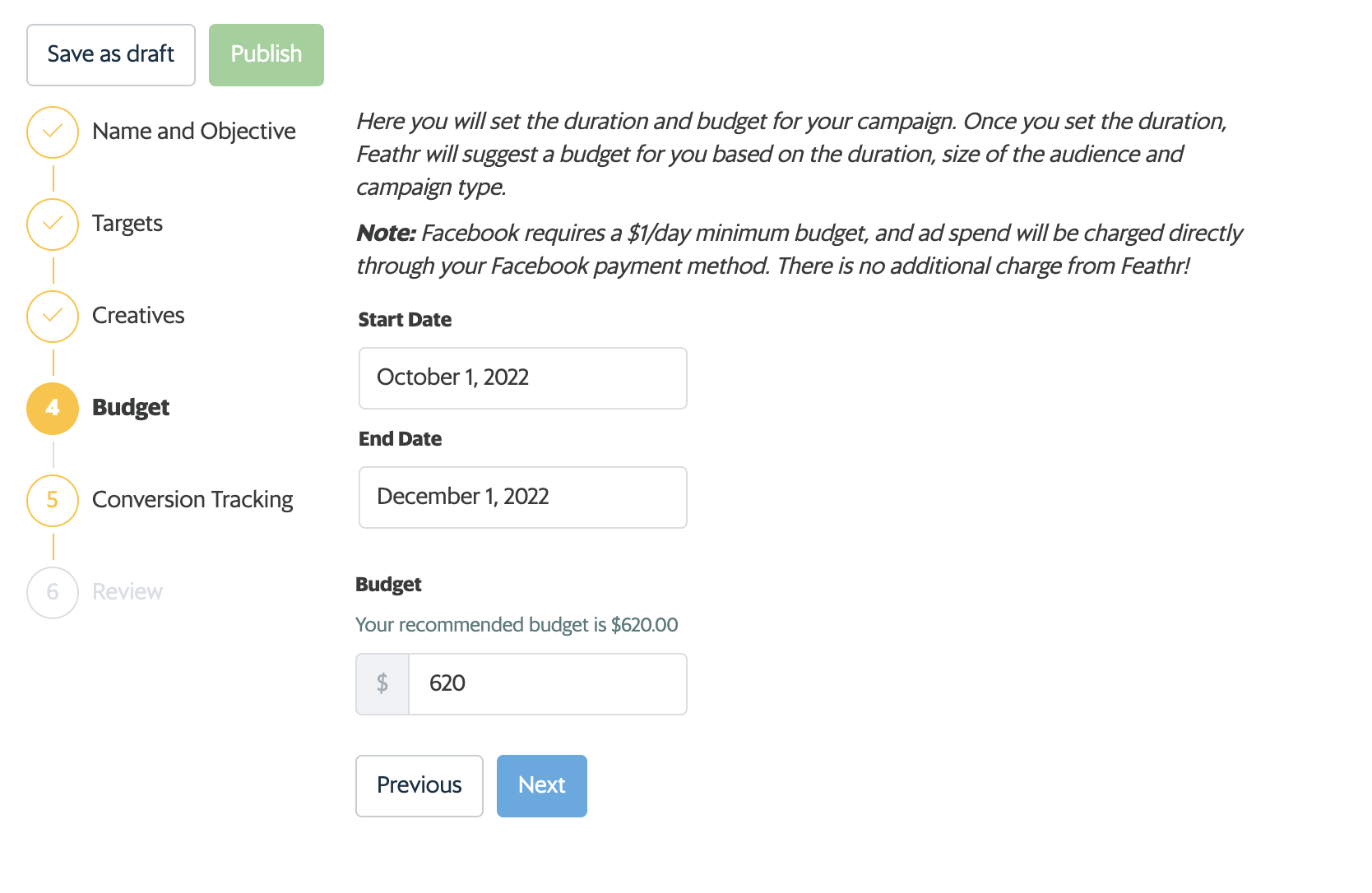 Read more about campaign budgeting here.
Then, you will decide whether you'd like to include a conversion goal in your campaign: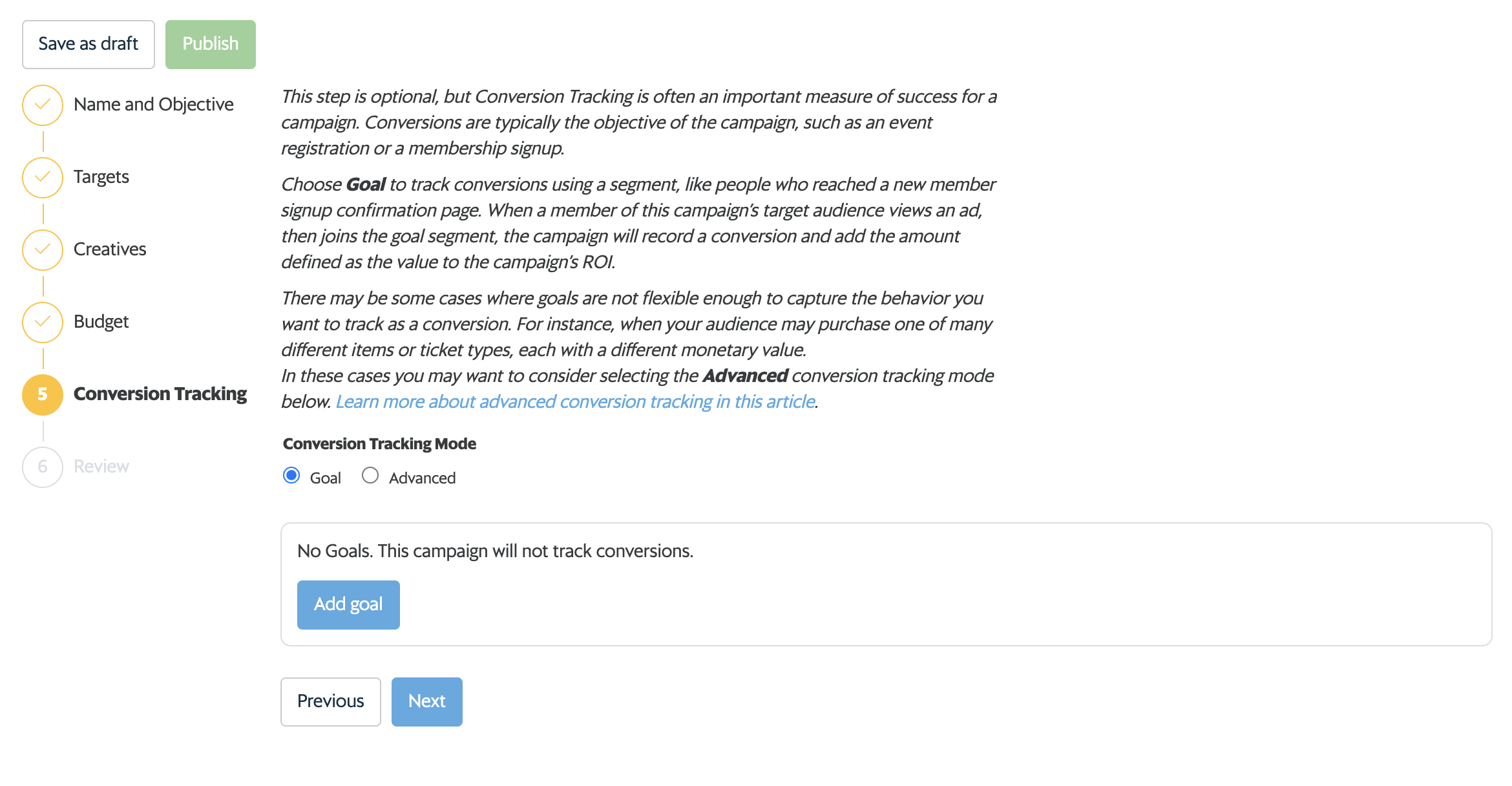 The final step will display your campaign choices and the publish button.