The Super Pixel is Feathr's proprietary tracking code that tracks your site visitors, so you can build Groups based on their behavior and activity, and ultimately retarget them. Here are the basic steps to place your Super Pixel:
1. Login to Feathr, Click 'Community' and select 'Super Pixel' from the left side panel.
2. You will see a snippet of code: This is your unique Super Pixel! It never changes, so you can use this same pixel to track your audiences across all of your events. Click 'Copy to clipboard.' If you are sending the snippet to a web team member, save the snippet as a .txt file and attach instead of copying directly into an email message.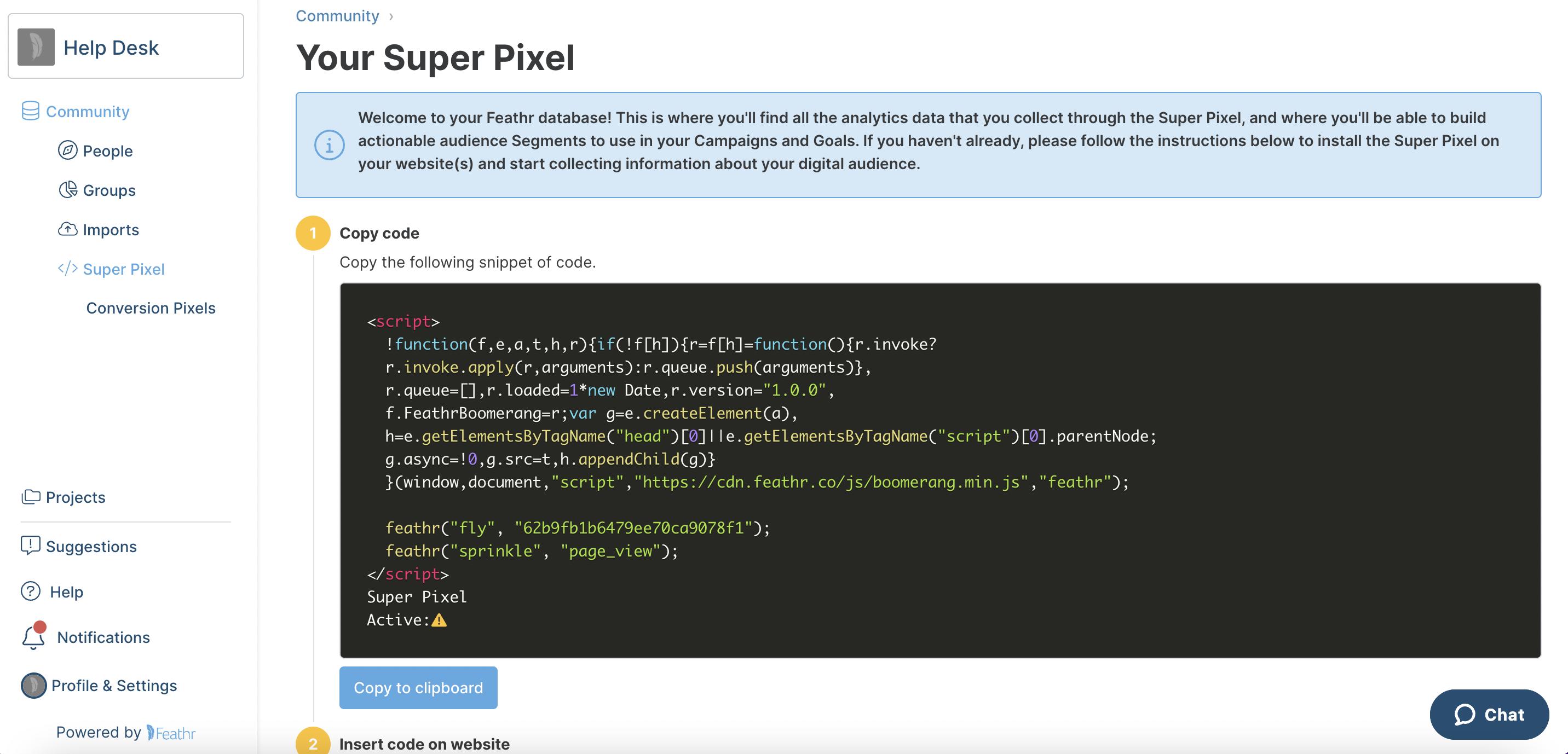 3. Place the Super Pixel
Paste the snippet of code on all pages of your site you wish to track.
The most dependable place to put the code is in the footer at the end of all pages, right before the closing </body> tag.
Do not place the Super Pixel in an iframe.
If your site employs a Universal Header or Footer, we recommended pasting the code in that section to allow for automatic inclusion of all pages.
Make sure that no other Javascript code overrides the window.onload without preserving and executing the previous one (as exemplified by our tracking code). If that happens, then our code may fail to execute even if it is placed on page(s).
Once the code is in place, if everything is set up correctly, the Super Pixel Status should turn active within 1 to 24 hours, depending on your site traffic.
*Important note: Changes made to your website or registration site may result in the removal of the Super Pixel and interruption of audience tracking which can hinder the progress of campaigns. If any changes are made to your website, please check with your web team to ensure the pixel was not removed or altered. Use the Canary to verify placement on any page.
Common Questions
Which pages should I put the Super Pixel on?
You should put the Super Pixel on any (and every) page of your website where you would like us to track audiences.
We recommend putting the pixel on any pages related to your event, association, and any digital publications you own whose site visitors might be interested in attending, sponsoring, or joining.
It is also important to place the tracking pixel on the event registration or new membership confirmation page so that we can accurately track conversions.
You may need to contact your registration vendor to have them place it.
Should I use the same Super Pixel for all my events?
Yes! You group your users based on URLs, so there's no need to have a different Super Pixel for each of your events. Because we're able to differentiate between them in the app, you get the separate tracking you need and want, plus, you can target the groups you've already built for one event across multiple events for cross-promotion.