You may now use Feathr to run ad campaigns on Instagram in addition to Facebook, as they are both Meta platforms. Technical limitations require an Instagram page to first be connected to Facebook before it can be connected to Feathr.
The steps are as follows:
Ensure you are an admin of your organization's Facebook Page and Facebook Business Manager.
Connect your Instagram account to the Facebook Page by following these instructions from Meta.
Once your Facebook and Instagram pages are connected, follow the instructions in this article to complete the Meta integration with Feathr.
Once completed, you will see the Instagram account name, along with the Instagram icon, in your Meta integrations table as in the example below.
Follow the instructions in this article to get started launching a campaign on Instagram.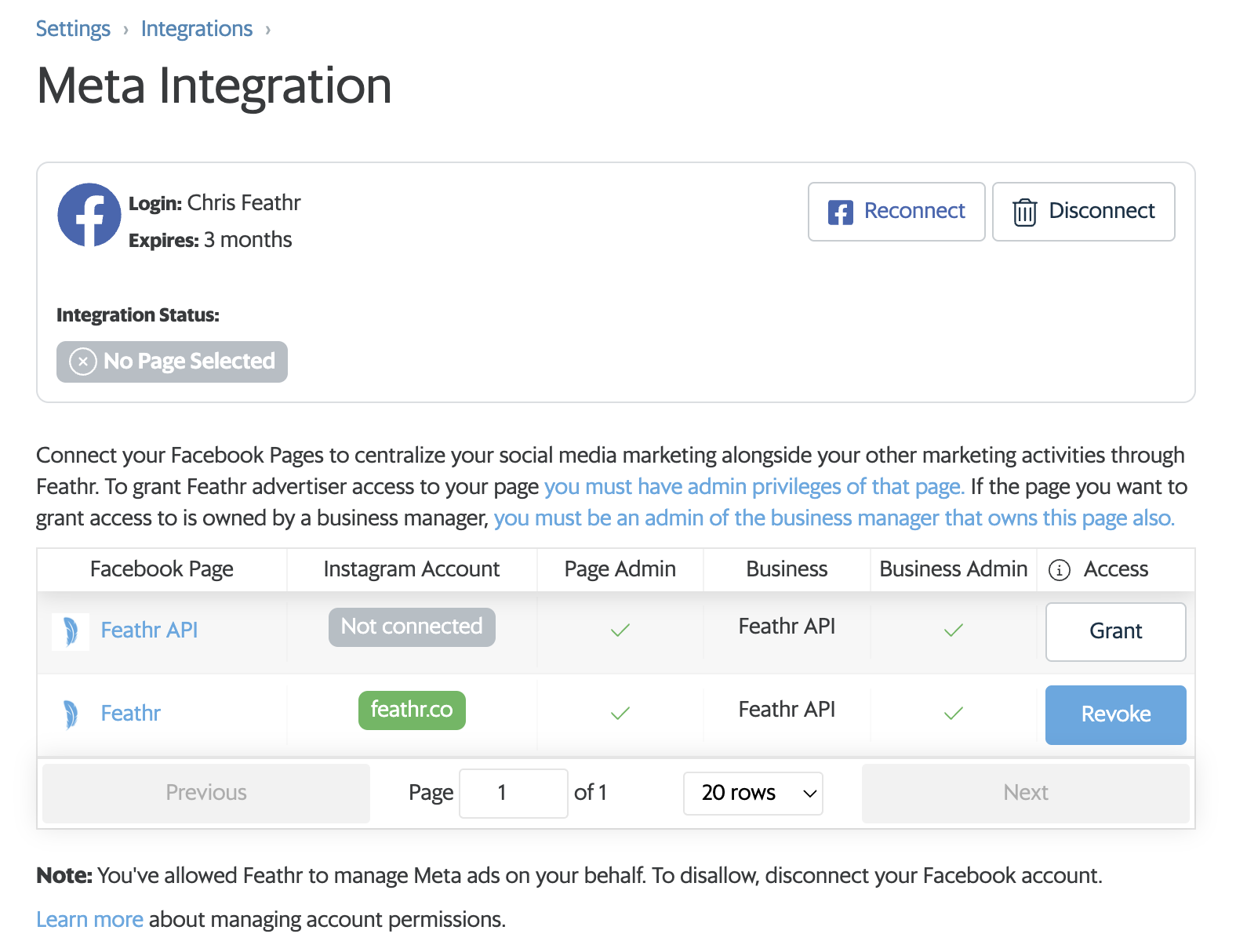 Note the green Instagram account displayed in the Meta page integration table.
If you have already added a Facebook account and wish to add an Instagram account:
Many customers may have integrated their Feathr and Facebook pages before the Instagram integration was available. There is a simple process for those who fall into this category:
First, make sure your Instagram and Facebook pages are connected, following these instructions from Meta.
Next, log in to your Feathr account and navigate to Profile & Settings > Account Settings > Integrations, then click on the Meta tile.
Towards the top of the page, click the "Reconnect" button.
When prompted, log in to Facebook and accept all terms of access.
Once you are returned to the Feathr Meta Integrations page, you should see your Instagram account listed in the Facebook table. This means your account is now ready to run Instagram campaigns. If you do not see your Instagram account listed, refresh the page.