This article describes Feathr's multi-convert feature as well as use cases that should help you choose whether to use multi- or single-convert.
Some campaign goals, such as event registrations, are unlikely to be met twice by the same individual. Because of this, Feathr's default conversion tracking model automatically de-duplicates and removes conversions when the same individual meets a campaign goal more than once. Different forms of campaign goals—such as donations—strongly encourage the goal to be met multiple times by the same individual. Using multi-convert, such conversions can be tracked accurately.
What is Multi-Convert?
Multi-convert is a campaign and reporting option that tells Feathr to count multiple goal activities by the same individual as unique conversions in a campaign report.
For example, in a campaign with multi-convert enabled, if someone sees an ad from your campaign, then performs the goal activity (such as donating money), then performs the goal activity again (such as donating more money), the campaign report will show two unique conversions. Or three, or four, or a million. Whatever actual number of times an individual meets a goal activity will be reported as that same number of conversions.
Note: There is a 3-minute cooldown period after a goal activity is performed in which additional goal activities are not counted as conversions. This is to combat unintentional, fraudulent, or bot-generated goal activity.
Use Cases
Because you can select between single-convert and multi-convert, it's important to understand when each is beneficial and applicable to your campaign. The key decision to make is whether your campaign goal is likely to be met more than once by any given individual.
A goal activity that tracks event registration, as mentioned above, is a good example of a campaign goal unlikely to benefit from multi-convert. Individuals generally purchase one registration, or purchase group registrations all at once.
A goal activity that tracks charitable donations, however, likely benefits from multi-convert because it is important to measure and segment repeat donors.
How to use Multi-Convert when building a campaign or Flight
When building a campaign, the goal step will prompt you to choose your goal tracking mode. Simply select the radio button to count multiple conversions by the same person.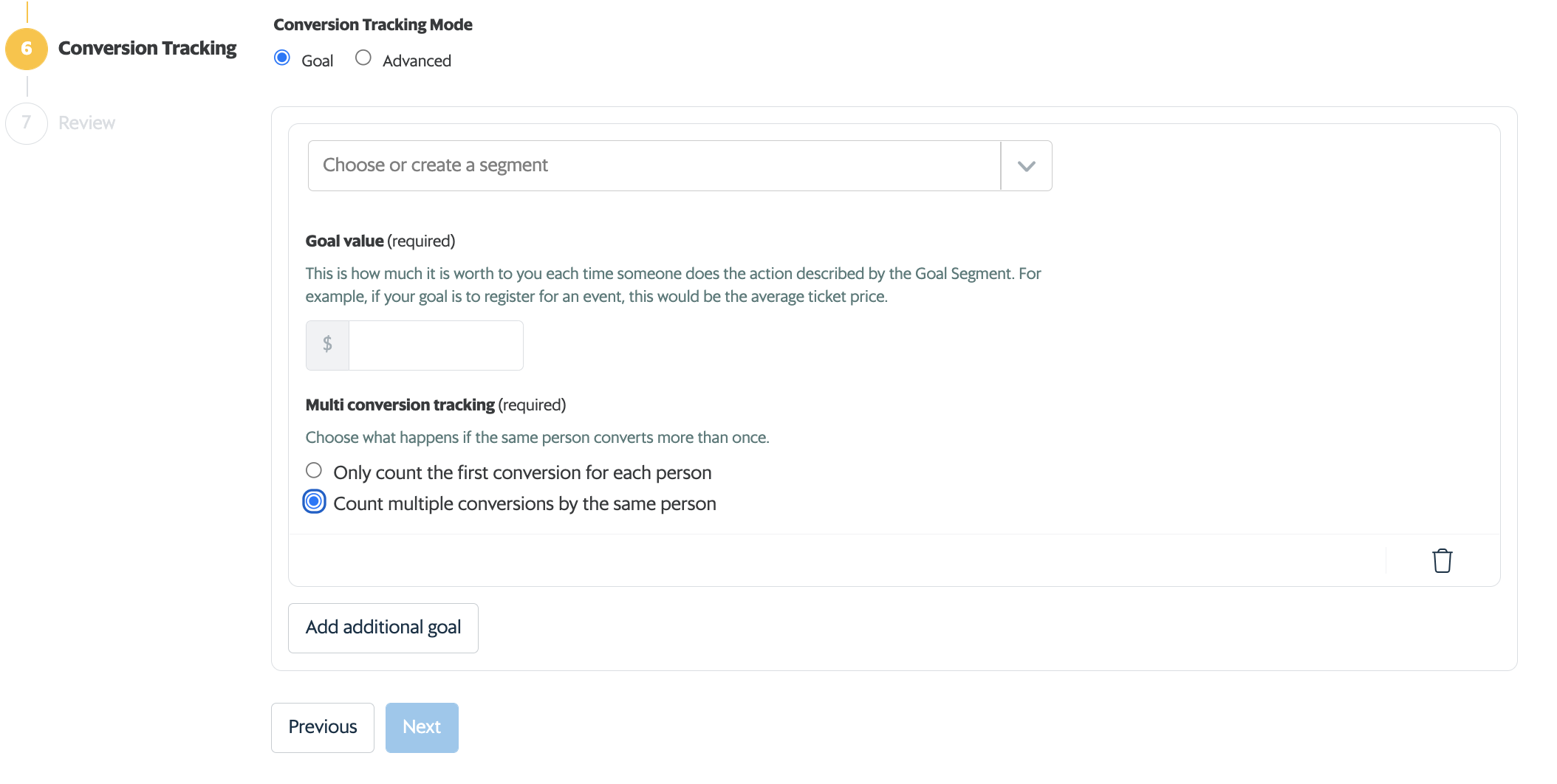 Multi-convert is also available in advanced mode, which uses an additional pixel to track differing conversion amounts: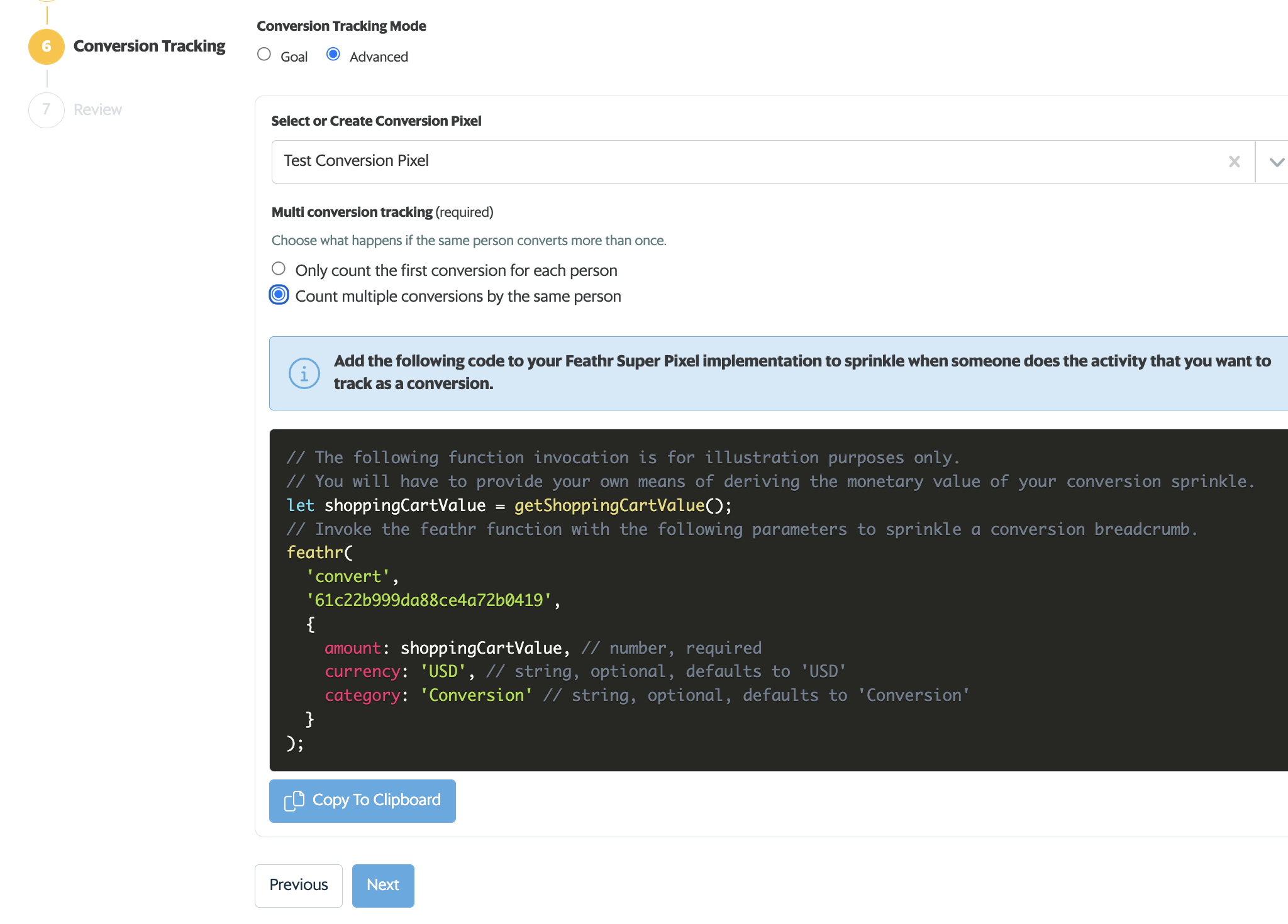 When properly configured, this will not only track that the same individual may have converted more than once, it will track the dollar amount value of each separate conversion.
Multi-convert works the same way in Flights, and can be configured from the edit button at the top right of the Flights view. Once you are editing the Flight, choose "count multiple conversions by the same person" from the edit menu under Conversion Tracking: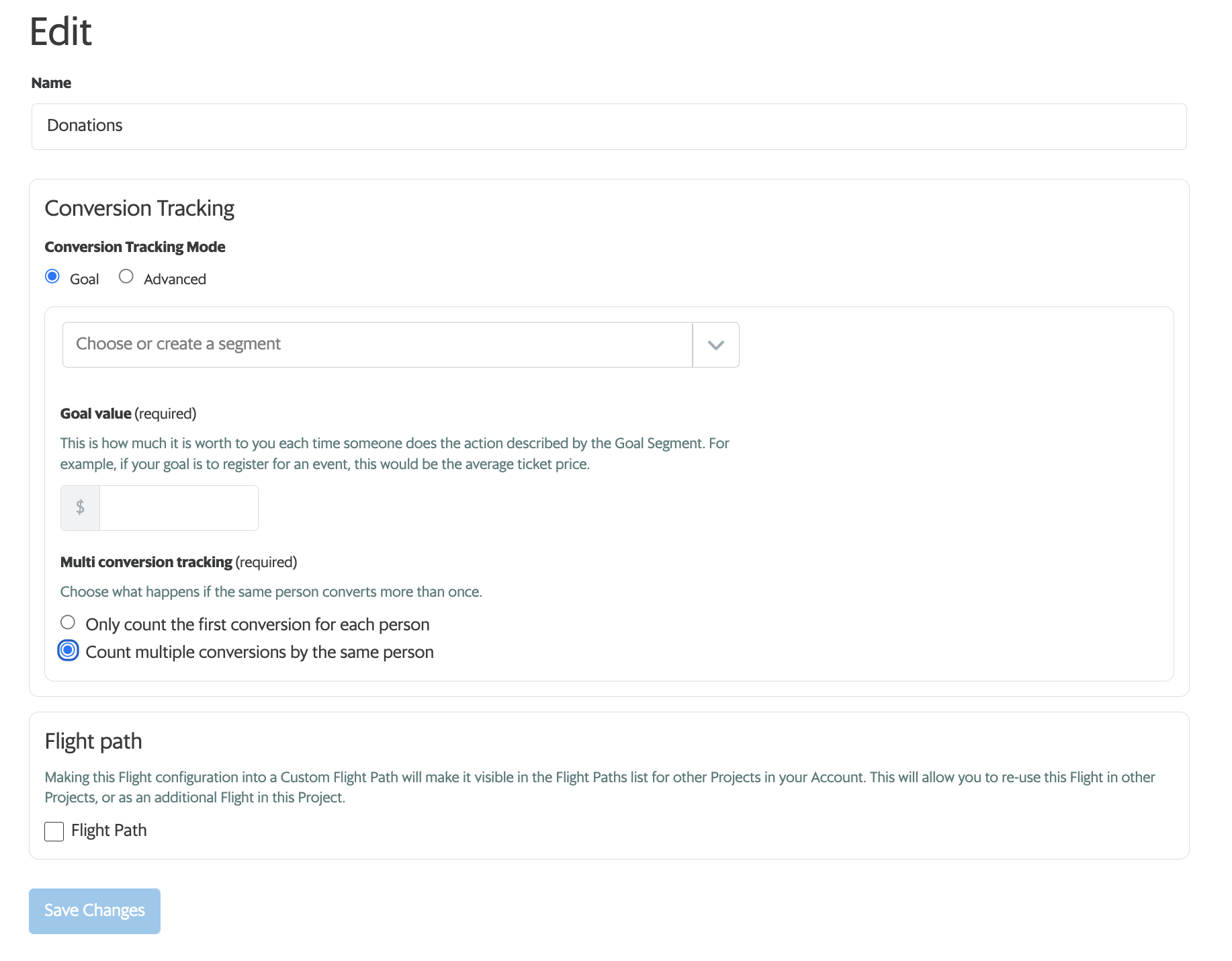 How to recalculate previous campaigns using Multi-Convert
Feathr's multi-convert feature is available retroactively as well. If you have completed campaigns that may benefit from a more accurate accounting of conversions due to multiple goal activities being met by the same individual, it is simple to recalculate conversions.
Begin by navigating to the past campaign and selecting edit at the top right of the campaign report. Then navigate to the Conversion Tracking step and change the radio button option to "count multiple conversions by the same person."
Next, navigate back to the campaign report and scroll to the Conversions table.

Click the "Recalculate conversions" button to begin the recalculation. Note: only click the button once. Clicking more than once will cause a cascading data pull that may break your report.
Recalculating conversions can take some time, so we recommend waiting 30 minutes before you refresh or re-open the page. The conversions will still recalculate even if you close the page. Be sure you update the radio button first, or the recalculate conversions button won't do anything.