Flights is a Campaign planning tool in Feathr that allows you to plan and visualize an entire set of Campaigns over the length of a promotional period or project. Flights also offers an additional layer of reporting and Goal tracking. Just as you can set a Goal for any individual Campaign, you can do the same with a Flight, enabling accurate reporting for a single conversion activity across all Flight Campaigns (as well as retaining any unique Goal tracking in the individual Flight Campaigns).
If you're unfamiliar with Goals in Feathr, please read this article first.
Before setting a Goal in your Flight, you must first create a Flight. Follow the steps in this article for pre-made Flights, or in this article for custom Flights.
Adding a Goal
Once you have a Flight drafted, click the Edit button from the Flight overview page. This will bring up a page that allows you to name your Flight, set a Goal and Goal value, and mark your Flight as a Flight Path, which saves it as a template for future use.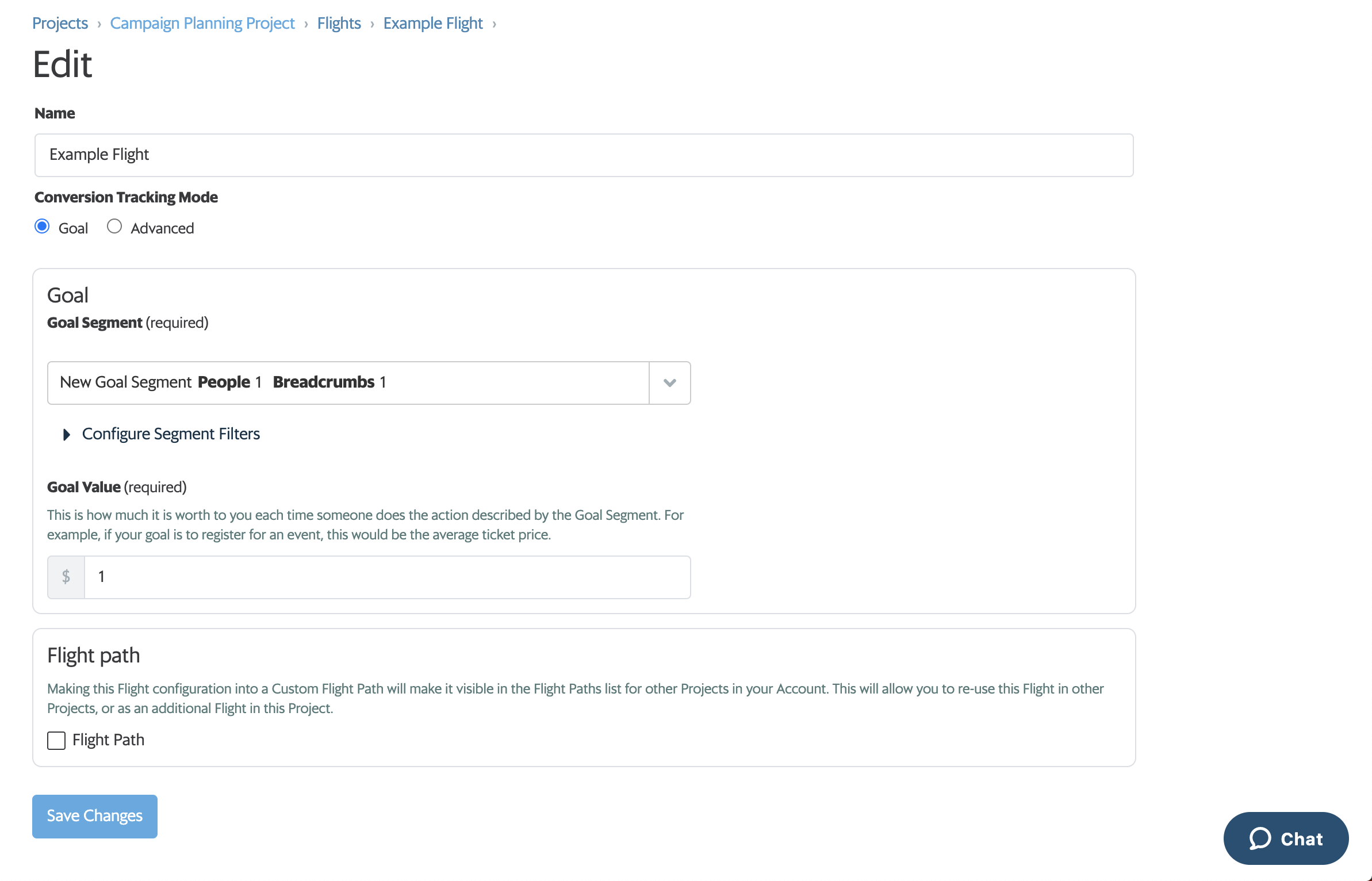 Goals in Flights work the same as in any Feathr Campaign: by identifying an audience Group that you wish to grow as a result of your Campaigns' influence on their audiences. The only difference between a Campaign Goal and a Flight Goal is the Flight Goal tracks conversions across every Campaign within the Flight, offering you insight into the effectiveness of not only individual Campaigns, but your entire strategy.
If your Goal is to increase online registrations, you must first build a Group comprised of people who have registered (consult your Customer Success Manager for advice if you have not done this previously). Then, identify that Group in the Goal section of the Flight settings, as seen above.
Goal Value
Generally speaking, the Goal value is multiplied by the number of conversions your Flight earns and reported to you as ROI in dollars. For example, if you enter a Goal value of $100 and your Flight earns 50 conversions, your Flight report will display a $5000 ROI.
It's important to note that the Goal value does not touch any real money; it is only a convenient multiplier for reporting purposes.
Many Feathr customers use face value ticket price as a Goal, some use actual net profit per tracked transaction, and some skip the value altogether. It is entirely up to you and your organization.
Advanced Mode
Using advanced mode for Flights Goal tracking uses custom Conversion Pixels. Read how to use a custom Conversion Pixel in this article.