Many Feathr customers need to have access to multiple accounts, so we made an easy way for users to toggle between their organizations' shows, agency clients, or co-hosted events.
Here are a few things to know about this update:
Each individual user still needs to be invited to join an account

Each Account still has a unique Super Pixel (although any page can have more than one pixel placed simultaneously)

Each time you log in, you'll return to the Account where you were last working
How to get started
Log in to an account that uses one of your alias-ed email addresses (e.g., name+1@org.com)

Invite yourself as a new user (your primary email address)
Log out of Feathr by clicking "Log out" under Profile and Settings
When you log back in with your primary email address, you'll be able to switch by clicking the Account button in the top left corner.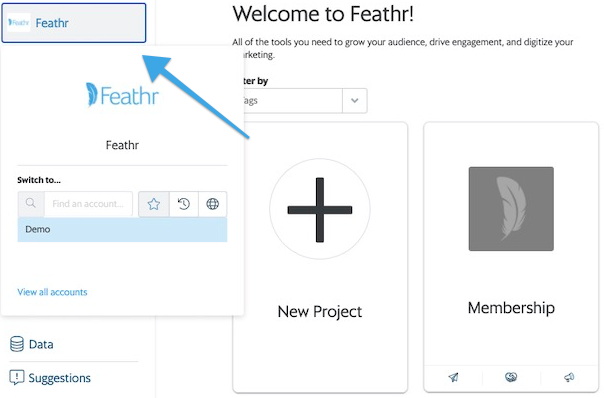 Super-users can create Favorite accounts in the account table. Reach your full list of accounts by clicking "View all accounts" or the globe icon. From the account table, click the star icon to add accounts to your favorite list.