In this article you'll learn how to use Feathr's new Historical Geofencing Campaign feature to target an audience based on where they were in the past. To get started, check out the video below for a quick walkthrough of the steps.
Next let's look at some key items to keep in mind when setting up an historical geofence campaign which make it distinct from other campaign types.
Note: Due to GDPR restrictions, Feathr cannot run Geofencing or Historical Geofencing campaigns to locations or devices within the EU.
Target
The main difference between an historical geofencing campaign and other types of campaigns is the Target step – it's very similar to the target step of the Mobile Geofencing campaign, but with a key difference. For each target in an historical geofencing campaign you also choose a date range, which represents a span of time in the past when people were near the locations associated with the target.
Whereas a mobile geofencing campaign allows you to target an audience while they are in a location, historical geofencing campaigns allow you to target that audience after they leave.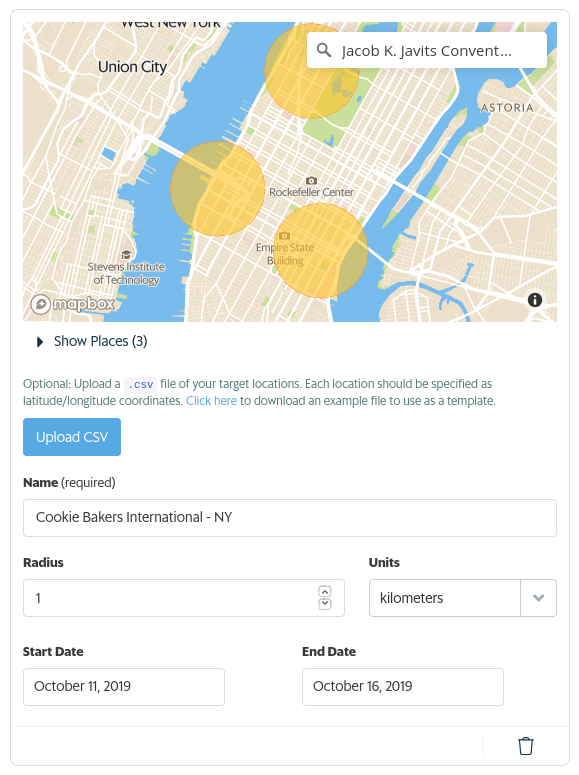 Some use cases to think about:
Target people who attended a large industry or competitor event in the past year to build awareness for your event, the benefits of membership in

your association

.

Target people who work at corporate headquarters in your industry, to build awareness of your upcoming event or the benefits of membership in your association

.
How far back can I target?
While the possible date range is one calendar month through one year in the past, campaigns targeting older audiences will be less reliable. Feathr recommends targeting events one calendar month to three months in the past for the best results. 30 days is the minimum lookback window for a Historical Geofencing campaign; we are unable to geofence locations from less than 30 days in the past.
To ensure peak performance for you historical geofencing campaign, keep the following best practices in mind:
Historical geofencing campaigns work best on large audiences: we need to be able to identify at least 50,000 unique mobile devices in order to run the campaign.

In order to target small

er

events, group multiple events together into one campaign

.

When geofencing a past event, you can increase your reach by including

lodging and transportation hubs that serviced the attendees of the event. Include hotels, train stations, airports

in the target.

When targeting corporate offices, use a generous date range

, like a month or a quarter,

in your target to maximize your reach

.
Campaign Length
One of the big advantages of historical geofence campaigns over mobile geofence campaigns is that you can target roughly the same audience over a much more flexible span of time. Take advantage of that flexibility! Run a campaign for a month or longer to make sure you get the opportunity to put your message in front of as many people as possible.