To check or adjust bids on Monetization campaigns you'll need to:

Navigate to the campaign you'd like to check/adjust.

Go to the "

Budget

" section of the campaign builder.

Click the dropdown arrow to show

Advanced Options

.

To adjust the

Base Bid

, use the dropdown arrow to select your custom bid amount. Note, the max bid is automatically double the base bid.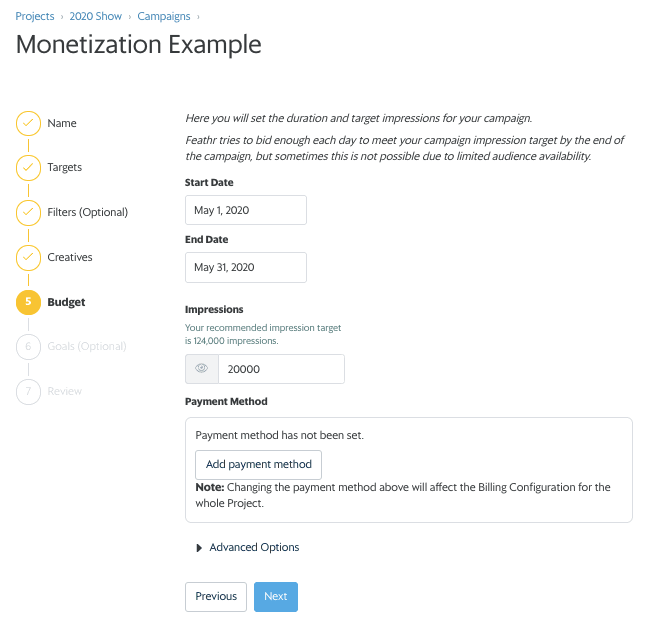 Common Questions
Should Sponsored Retargeting campaigns have higher or lower bids?
As with standard retargeting campaigns, higher bids increase win rates to secure placement on high traffic sites and maximize the percentage of your audience you can reach. However, with sponsored retargeting campaigns, you generally want to hit your impression number with the lowest CPM (Cost Per Mille, aka the cost per 1,000 impressions).
What is the recommended base bid for sponsored retargeting campaigns?
For Monetization campaigns, we only recommend adjusting the base bid to $3 if you have a large digital audience (over 20,000 reachable cookies). With a $3 base bid, the max bid is $6, bringing the typical average CPM to around $5.
Is it possible to exceed my desired budget?
Yes. Monetization campaigns run until they hit the impression budget, so your total spend is determined by the actual spend required to hit the total number of impressions. Lowering the campaign base bid can reduce the total spend.