Invites Campaigns allow your Partners (sponsors, exhibitors, speakers) to refer and invite their customers and colleagues to your event. It is a group of up to 3 types of customized collateral made of Landing Page, Email, and/or Banner ad templates. These marketing materials are shared with your Partners through unique Partner Dashboards to make it easy for them to share and promote their participation at your Event, while driving registrations for you. Learn more about Invites Campaigns here.
We recommend the following steps to create a successful campaign:
Data Implementation
Format and Import your Partners to your Project
Launch Invites Campaign
The Invites Campaign builder is where you will connect your Partners with the right materials (templates). It is common to have multiple Invites Campaigns for the same event (one for speakers, one for exhibitors). The campaign is where you'll choose which people get which templates and set campaign goals (like driving registrations). The help desk features articles to learn more about designing each Template type. Launching the Campaign does not give your partners access to materials yet, and you can continue to make edits to a Published campaign before sharing.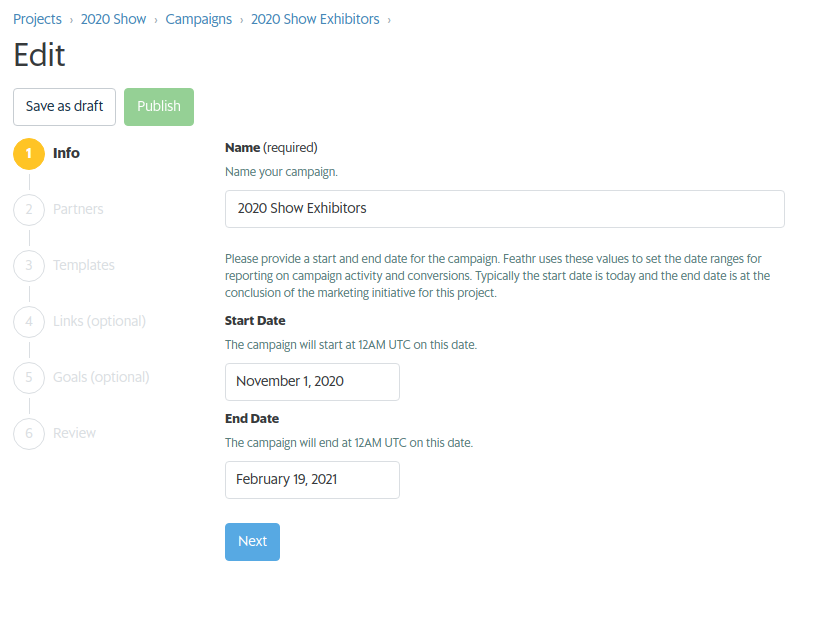 Create Partner Dashboards
After you Publish your campaign, you will edit the Partner Dashboard which gives your Partners access to their customized collateral and instructions on how to share.

Message Partners
You can send Partner Messages directly from Feathr to invite them to participate and send ongoing messages based on what actions they have performed. This is an easy way to share instructions on how to participate and give each Partner direct access to their unique Dashboard.
View Campaign Report
Access your Invites campaign report for real time updates on marketing material view, clicks, and conversions. View Partner activity status to learn who is participating (and who might need a nudge).