Email Mapping is a great way to reach new audience members or users who haven't visited your website in a while. The following article outlines how to format your email lists for uploading to Feathr to ensure your email list processes without delay or interruption. Read How to Launch an Ad Campaign for complete instructions on launching an Email Mapping campaign.
Guide to Formatting Email Lists for Feathr Email Mapping
The file should contain only a single column of email addresses.
The header "email" MUST be all lowercase.
Each cell should contain a single email address and no other information such as, name or title. If you have multiple emails for a single individual each email should be in its own cell.
Include only complete email addresses e.g. support@feathr.co
Make sure the file doesn't contain any extra characters like ( ) / ; : ' or "
Finally, save the file in a utf8-encoded .csv file format.
Improperly formatted lists can disrupt the matching process and may need to be re-uploaded causing delays to campaigns. It should end up looking like this: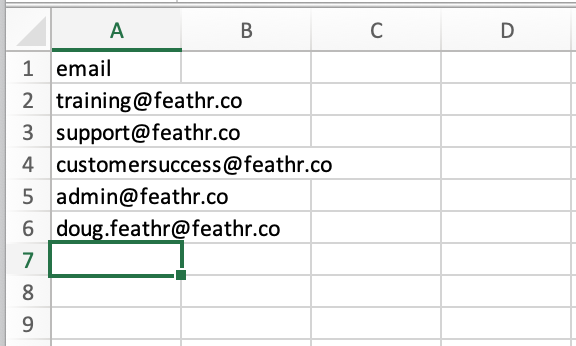 7. Upload your file in the Target step of an Email Mapping Campaign. Read How to Launch an Ad Campaign for complete instructions on launching your Email Mapping campaign.
Email data can take 5-10 days to process (match the emails to available cookie data) so we encourage you to flight campaigns at least 5 days in advance of when you would like them to run. Your Ad Campaign will not spend any budget (or serve any ads) if it is only targeting email data until the data finishes processing.
Note: Please ensure that your file does not have a password-protected setup to prevent any issues when uploading the document.
Common Questions
Do I need to de-duplicate my list(s)?
No, it is not required that you de-duplicate your list(s) before uploading because Feathr only matches unique email addresses to cookies. However, de-duplicating is recommended if you think you may have an audience of fewer than 2,500 unique email addresses.
Why 2,500 unique email addresses?
Feathr's ability to match your email lists depends on the existence of pre-existing, 3rd party web cookies. To ensure a reasonable audience size for targeting an audience of 1000 cookies is required post-matching before your list is considered to have finished "Processing" and because cookies expire, email addresses become inactive, and users regularly delete their cookies, email to cookie match rates average between 40-60% so we recommend uploading at least 2500 unique email addresses incase the match rate for your list falls in the lower range.
What if my audience does not reach 1000 unique cookies post-matching?
If your audience doesn't reach 1000 unique cookies during the 7-14 day processing period your list(s) will continue to process until new cookies are created and found that match with those emails. If you have multiple email audiences that are still processing we recommend combining them into a single audience to increase the cookie pool size available while you wait for the more segmented lists to finish processing, though for smaller lists it can take months.