Feathr's Flights feature is a new way of visualizing your campaigns to understand their impact on your organization's high-level goals, as well as the steps of the marketing funnel your audience moves through to accomplish those goals.
In short, Flights contains all the same Feathr features you're used to, and offers an invaluable wide-angle view of your entire marketing strategy.

A Flight consists of a series of campaigns that work together toward a discrete goal, such as attendance growth. Within a Flight, campaigns are grouped into sections called Legs. Best of all, Flights offers two simple ways to operate: you can design your own Flight that you think will best help achieve your organization's unique marketing goals, or you can select from Feathr's pre-configured Flights, called Flight Paths.
Flight Paths
Think of Flight Paths as prescribed marketing templates intended to achieve some of the common goals of events and associations. Though individual events may be unique, the marketing path to increase registrations, for example, is similar across all kinds of events.
Feathr's developers and Implementation Services team have spent years analyzing the data patterns that lead to reliable, repeatable growth, and distilling them into plug-and-play templates. Using Flight Paths, you can capitalize on our hard work, allowing you to market like an expert without having to be one.
Custom Flights
With Flights, you're not limited to using our prescribed templates. Don't see a Flight Path that matches your unique goal? Feathr makes it easy to build your own. Simply drag the Legs you'd like to use in the order you'd like to use them, and you can begin running campaigns right away.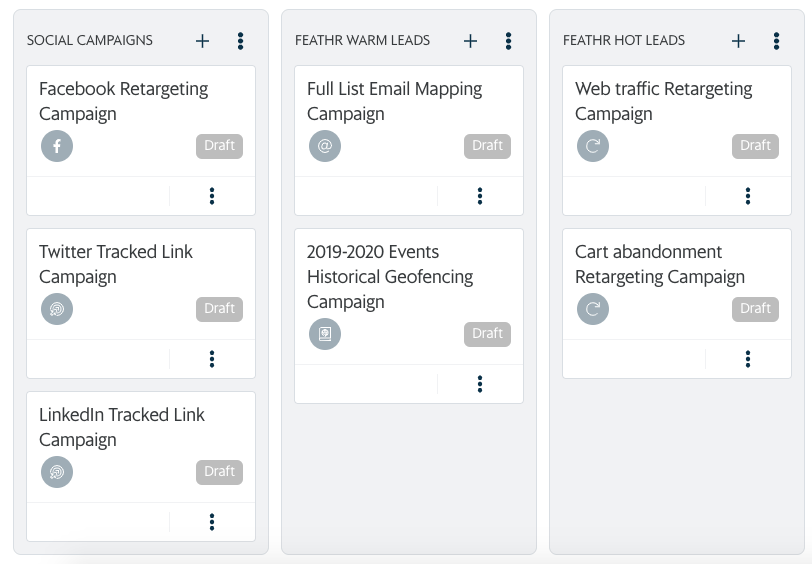 Flight Reports
Flight Reports display campaign metrics for the Flight Goal. The Report is similar to a Project Report, including the same customization and sharing options. The Campaigns table provides a quick visual comparison of how each campaign performed and links to the full campaign report.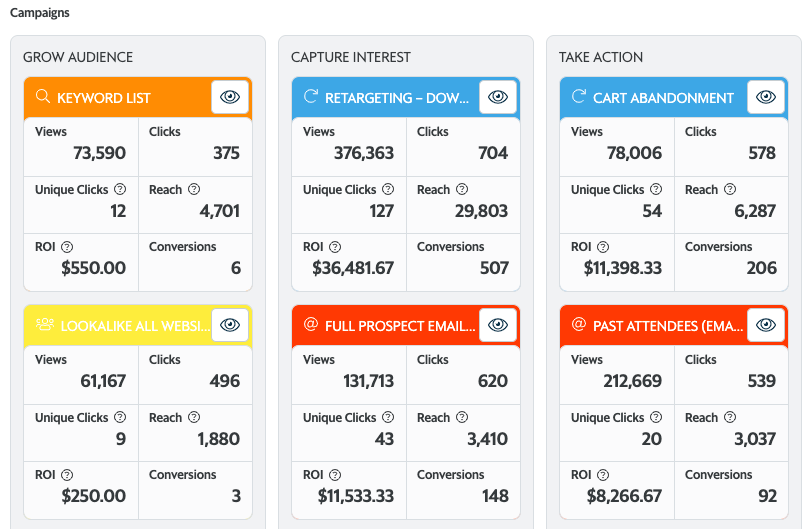 Who should use Flights?
Small to medium-sized teams can benefit from using Flights to save on bandwidth and lean on Feathr's data-driven industry expertise. Strategy is always the hardest part, and Feathr has done that work for you. Using our plug-and-play Flight Paths frees up smaller teams to tackle their many other challenges.
Enterprise-sized organizations can benefit from using Flights to establish consistent marketing plans across multiple teams and multiple events. Flights centralizes both the viewpoint and the strategy of digital marketing for events, allowing managers to distribute consistent plans to multiple divisions and maintain a single dashboard to monitor campaign performance.
Teams of any size can then multiply their most successful Flight and apply it to any marketing effort. Flights is repeatable, scalable, and centralized.