In addition to the multiple Activities you can use to filter your Feathr data, there is a category of variables called Attributes that allow you to base your Groups not just on what your audience does on your website, but who and where they are.
1. Where to find Attribute fields
The Attribute category of filtering options takes up the bottom half of the total list of variables in the Feathr audience filtering tool. If you're starting on your Community > People menu, click + Add filter and then the box marked URL to pull up the complete list of filter variables and scroll down until you see 'Person Attributes.'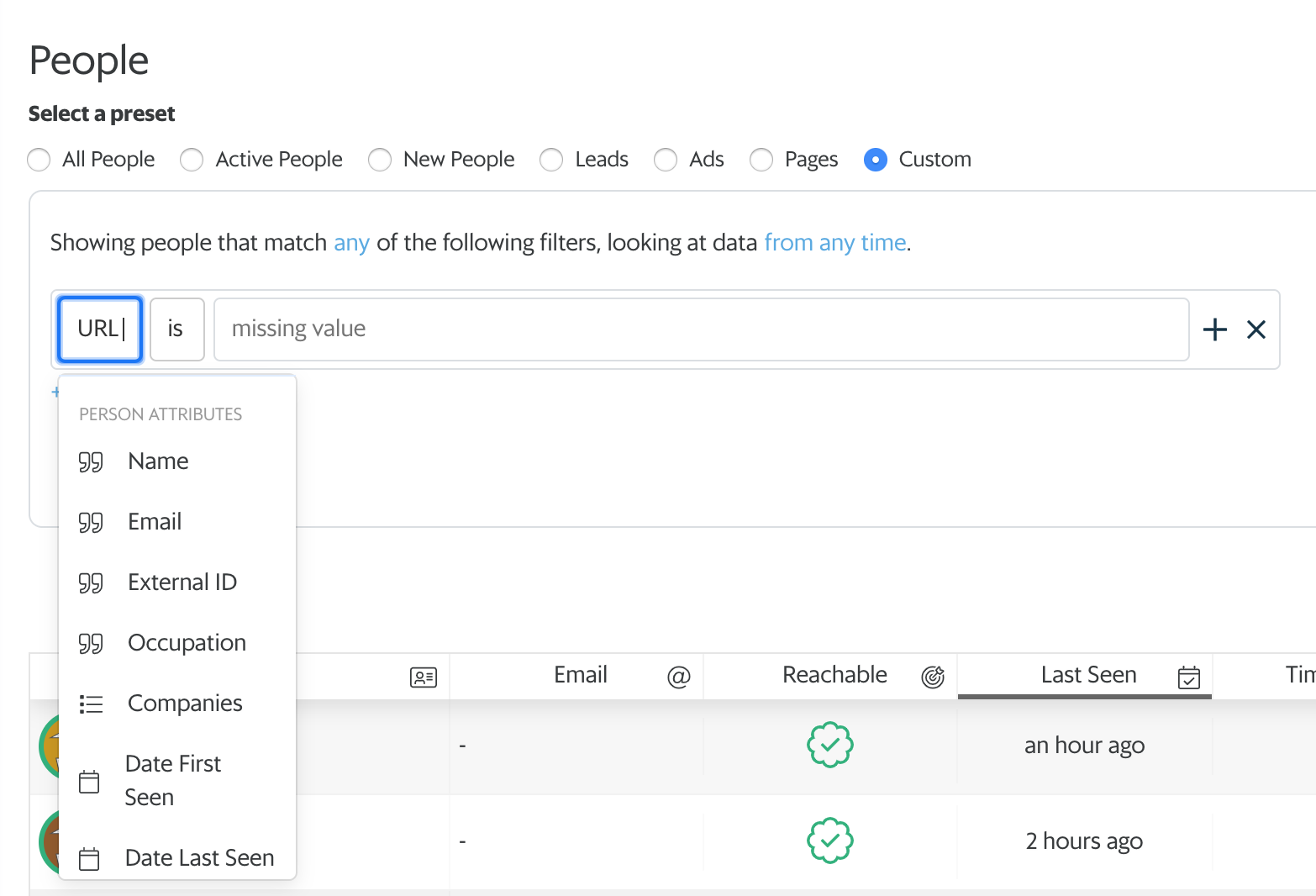 2. What are Attribute Filters?
The two categories of filter variables in Feathr are Activities and Attributes. Activities allow you to filter audiences based on how they have interacted with your Super Pixel, such as page views, ad clicks, referrers, and more. Attribute filters, on the other hand, rely on location data, metadata, and demographic data (if known).
Location data is based on IP address geolocation and provides a useful snapshot of where your audience is. While not pinpoint accurate due to changing mobile tower and web server usage, filtering audiences by location data can be useful to build regional targeted audiences. Filter variables using location data include Time Zone, Country, State/Province, and more.
Metadata is based on what is known about a visitor's device, as well as when and how many times that visitor has been on your website. Metadata can be useful in creating Groups of people that visited your website within a specific date range, or those who have visited your site more than a certain number of times. Filter variables using metadata include Date First Seen, Times Seen, Sessions, and more.
Demographic data is based on Personally Identifiable Information (PII). These are variables such as Name, Occupation, and Email. Because demographic data is non-anonymous, there are only two ways to populate it in Feathr:
By adding it manually to individual people records
By purchasing and implementing a Feathr Service Package that includes Custom Data and connecting it to forms on your website
Custom Data enables you to import PII from your website if a visitor explicitly volunteers the information by filling out a form. Most commonly, that would be through a registration or lead capture form. With information captured from forms on your website, you can build Groups based on demographic data.
The most common case for manually adding demographic data one piece at a time is not for marketing purposes, but to identify staff and other users from your own organization in order to prevent spending campaign budget advertising to your own organization. You can read more about that here.
For a complete glossary of Attributes in Feathr, click here.