When creating a page in Feathr, whether it be a Invite or Landing Page or as the destination URL in a Tracked Link campaign, the domain will default to
l.feathr.co
,
potentially creating a disconnect for your audience from your Event's website. Your audience expects to see landing pages from your organization that belong to your domain, not Feathr's.
Creating custom domains in Feathr allows you to serve your Invite and Landing Pages from your domain as an extension of your site, as well as send email marketing campaigns from email addresses on your domain.
Note: Your IT team can help you set up the DNS configuration that completes this process.
Creating Your Domain
Creating your Custom Domain in Feathr is easy! Follow the steps below to get started:
1. Click 'Profile & Settings' and click 'Domains' in Account Settings.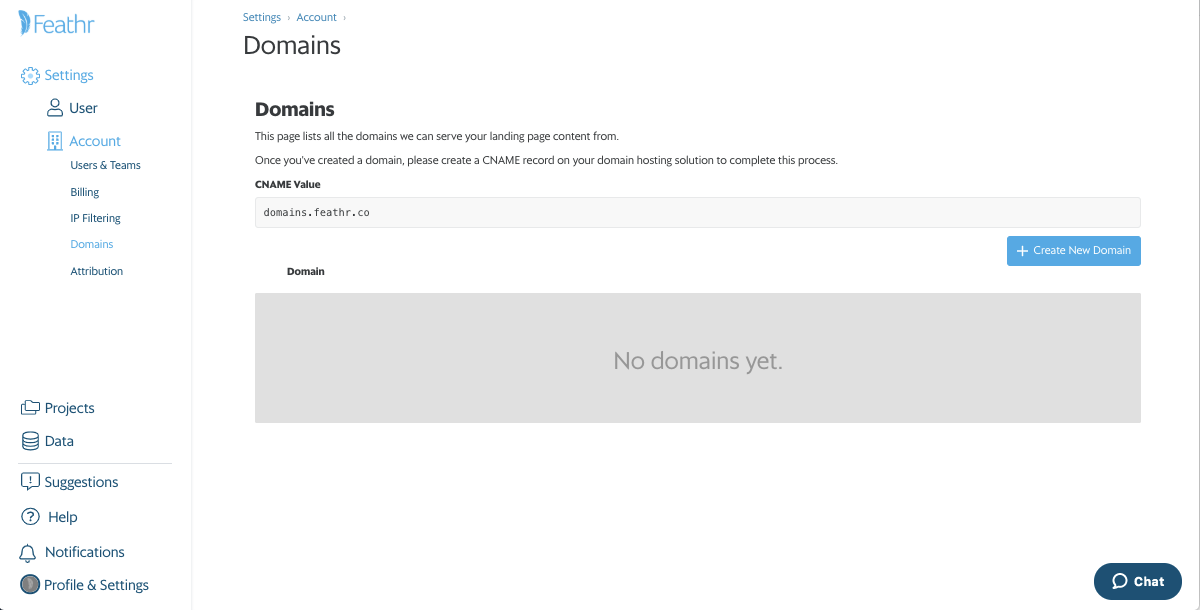 2. This will list any custom domains that you have previously created. To add a new domain, click '+ Create New Domain'.

3. The Domain modal will ask for the domain that you wish to host your Feathr pages from. If your domain already hosts a website, you will need to add a subdomain to prevent any pages from overriding your site. For example, instead of using feathr.co, your custom domain could be pages.feathr.co. Hit 'Submit' when you're done.
4. Once you've created a domain, ask your IT team to create a CNAME record in your domain hosting solution. The record has two parts, a Domain and a Value. The Domain is what you chose as your custom domain, e.g., pages.feathr.co and the value is always domains.feathr.co . This is a simple process your IT department should be able to finish in minutes.
NOTE: The above terminology is not 100% universal for every domain provider. Depending on your provider, "host" may also be labeled as "domain" and "value" may be labeled as "points to" in the CNAME configuration panel. If you are uncertain which label is which, please contact your domain provider for guidance.
5. You will notice a Timer Clock icon next to your domain. The clock indicates that your domain is not yet ready to be used. Once the CNAME is placed the clock icon will update to a green lock. Your Custom Domain is now ready to use!
Using Your Custom Domain
Once you have a domain configured (even if it's not verified yet), you can use it for new and existing landing pages. When editing a Project, you can choose from your existing domains, or use the default l.feathr.co if you don't have one. All new Invite/Landing pages under this event will use the configured domain.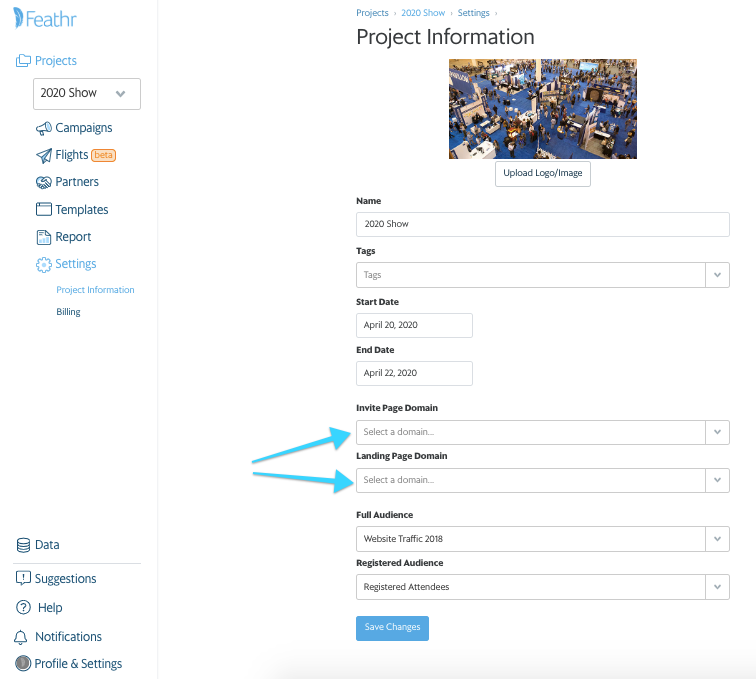 Common Questions
Are my pages secured?
Yes, all landing pages are HTTPS secured by default even if your domain is not.
Can I change my Custom Domain after a Landing/Invite Page has been created?
Yes! You can update your pages' Custom Domain at any time. If you update your Event's custom domain, you will need to re-save your Landing Page templates and your Invite Campaigns to re-render your the new URLs.